2019 Women's Cancun Challenge
Notre Dame Enters Cancun Challenge With Momentum On Their Side
Notre Dame Enters Cancun Challenge With Momentum On Their Side
Notre Dame enters the Cancun Challenge full of restored confidence after an impressive road win over No. 21 Michigan.
Nov 27, 2019
by Benjamin Rosof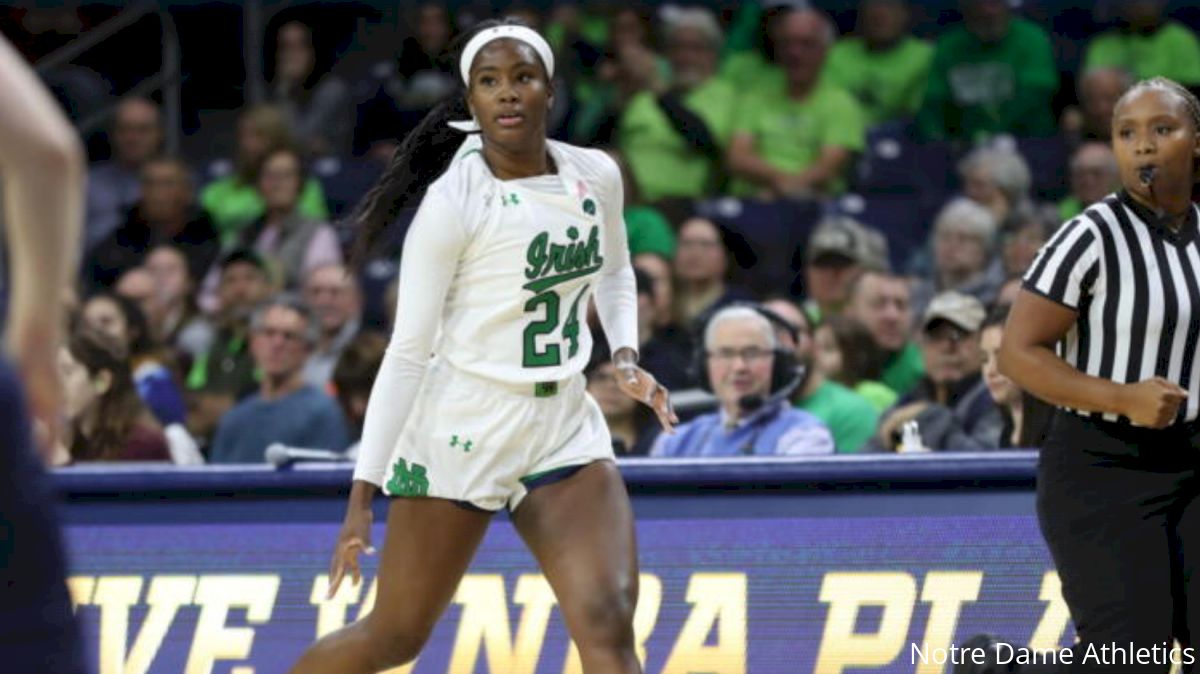 For Notre Dame, the sky might've seemed as if it was falling after losing two games last week and falling out of the AP Top 25 for the first time since the 2006-07 season.
The Fighting Irish had just lost back-to-back home games — a 74-63 setback to Tennessee and a 72-69 loss to Michigan State — for the first time since 2008. They followed that stretch by just barely sneaking by Toledo at home, 54-51.
Then Saturday happened, and the Irish rewrote the entire script of their season by claiming an impressive road win over the 21st-ranked Michigan Wolverines. An outstanding 27-point outburst by graduate transfer Destinee Walker along with a 19-11 fourth quarter advantage was enough for the Irish to prevail in the back-and-forth affair.
Watch Notre Dame at the 2019 Cancun Challenge LIVE on FloHoops
"I think it gives us great confidence to be able to come in here and beat a ranked team on the road," said head coach Muffet McGraw after the game. "I thought that falling out of the poll was a really good thing for us, I think you have to earn what you get and this team hadn't earned anything yet."
Next up for Notre Dame is a trip to Cancun, where they will square off against Florida Gulf Coast on Thursday and San Diego State on Friday — both teams that made the NCAA Tournament last year — as well as No. 22 South Florida on Saturday. Three solid opponents will challenge the Irish's depth, as Notre Dame played just seven players against Michigan.
"It's gonna be really difficult for us because we have no bench … we gotta figure that out." McGraw said. "Three games in three days … we're playing three teams that are just so well coached and shoot threes and just a lot of guards running around the perimeter."
Here is a preview of what viewers should expect to see from Notre Dame's three opponents in the Cancun Challenge:
Florida Gulf Coast
The Eagles will enter the contest against the Fighting Irish at 5-1, coming off of a 97-64 victory over Saint Francis on Friday.
Florida Gulf Coast is coming off an excellent season in which they went undefeated in their conference, posting a 16-0 mark in Atlantic Sun play and going 28-5 in 2018-19 overall. The Eagles finished the year by capturing the conference tournament championship — winning all three games in the competition by at least 13 — and a No. 13 seed in the NCAA Tournament, where they were defeated by No. 4 Miami in the opening round.
Though FGCU is led statistically this season by redshirt senior Davion Wingate who averages 19.8 points per game, second leading scorer and fellow senior Keri Jewett-Giles is also a factor on this team, as she eclipsed the 1000-point mark in the victory on Friday.
South Dakota State
The Irish battle South Dakota State on Friday, a team that sports a 3-2 record entering the Cancun Challenge with a Thursday matinee against No. 22 South Florida.
Another conference tournament champion from a season ago, the SDSU Jackrabbits went 28-7 in 2018-19 and 15-1 in the Summit League. They defeated South Dakota in the tournament championship and made the NCAA tournament as a No. 6 seed.
The Jackrabbits certainly made a statement in the postseason, beating No. 11 Quinnipiac and upsetting No. 3 Syracuse before falling to No. 2 Oregon -- an eventual Final Four participant — in the Sweet Sixteen. SDSU was the first Summit League team to reach that round of the NCAA Tournament.
Engineering the scoring attack this year for the Jackrabbits is sophomore Paiton Burckhard, who averages 17 points per game. Just a 6'0" forward, Burckhard has shot the ball with extreme efficiency, making field goals at 60% clip on the year.
South Florida
Possibly the toughest opponent Notre Dame will face in Mexico, the USF Bulls currently sit at 5-1, coming off a respectable 12-point loss on the road against second-ranked Baylor last Tuesday and a sizable 39-point victory against St. Francis (PA) on Sunday. USF kept the Baylor contest close, trailing by just 4 after three quarters before faltering in the final ten minutes.
Though not ranked in the preseason AP poll — the Bulls received nine votes but not enough to crack the Top 25 — their impressive beginning to the season has them currently sitting at No. 22 in the country.
Last year, USF went 19-16 overall but just 7-9 in American Athletic Conference play, falling to Connecticut in the conference tournament semifinals and to James Madison in the second round of the WNIT.
USF has seen balanced scoring through its first five games of the year, with four players averaging double-figure scoring numbers on the season — led by junior Bethy Mununga, posting 13.4 points per game. The Bulls still have two games to play before squaring off against the Irish, facing the other two opponents in the Mayan Tournament, SDSU on Thursday and FGCU on Friday.
Three solid opponents should provide the Fighting Irish a solid barometer to assess just how far the Irish can go this season after a boost of encouragement this past weekend in Michigan. Following the Challenge, the Irish return home to face Minnesota before a road showdown with UConn on Dec. 8.