Men's CAA Basketball
It's A Vibe: Undefeated Delaware Is On A Roll
It's A Vibe: Undefeated Delaware Is On A Roll
Delaware is off to its best start in school history thanks to a 'vibe' amongst the squad that is best reflected in its style of play.
Dec 6, 2019
by Kyle Kensing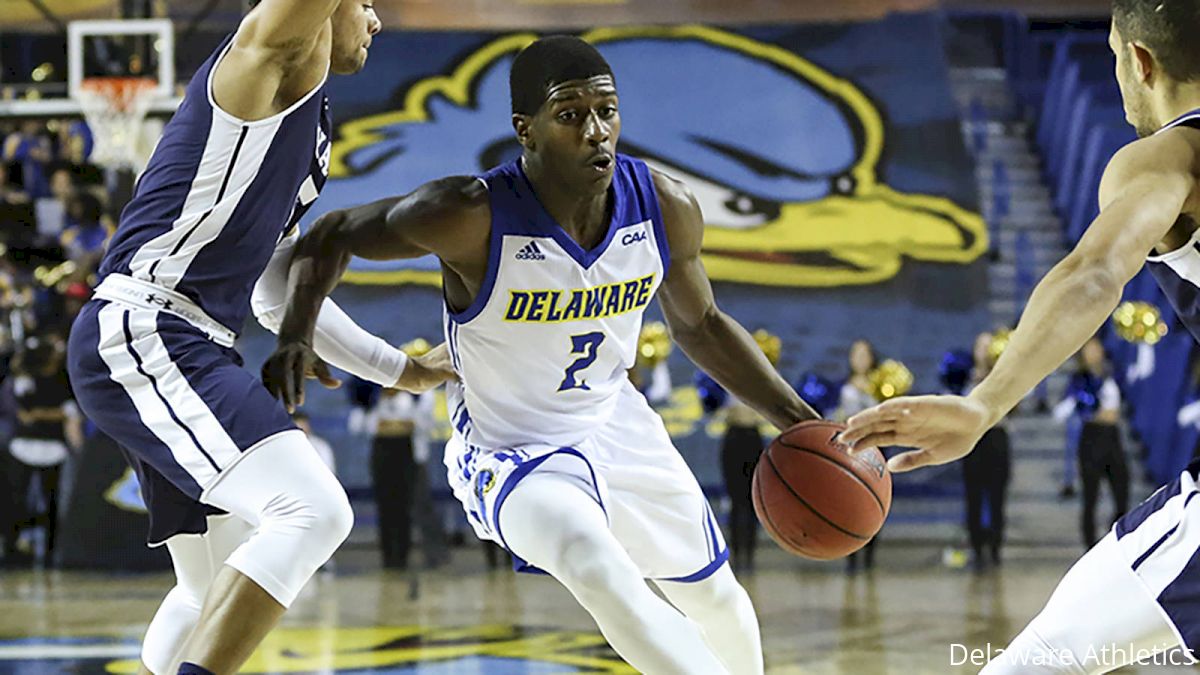 Just four Division I programs sit at 9-0 as of Dec. 5: Perennial Mountain West Conference contender San Diego State, Pac-12 powerhouse Arizona, preseason Top 10-ranked Maryland from the Big Ten, surprising DePaul from the Big East — and then there's Delaware.
The Fightin' Blue Hens, projected fifth in the preseason Colonial Athletic Association poll, have raced to the conference's best start. Their 9-0 run to open the 2019-20 campaign is a byproduct of both experience, and just having a lot of fun.
Forward Justyn Mutts, whose 15.2 points and 9.7 rebounds per game pace the Blue Hens, spoke of "the vibe" around Delaware basketball, and its place in the team's success.
"We all got to be really close," he said. "That's what's made it the most fun and easiest [to click on the court]."
Delaware's style of play has been awfully fun, too. In the program's fourth season under coach Martin Inglesby, the Blue Hens move the ball fluidly and get great looks at the basket.
They rank 49th in the nation in two-point field-goal percentage (54.5 percent), 60th from beyond the arc (36.9 percent), and have the 32nd-ranked effective field-goal percentage among all Div. I teams.
Add a low turnover rate, of just 16.5 percent of possessions per KenPom.com advanced metrics, and the end result is a 77.1-point per game offense.
What better place for a free-flowing, exciting brand of basketball to take root than in the Bahamas?
Inglesby said his team's summer tour on the island
"What a great experience for us, not only on the basketball court, but to connect and bond as a team down there," he said. "It's the most connected group we've had since I've been here. … And to be at the pool, on the beach, and see five, six guys walking together, going down the waterslides together, I think that really helped jump-start us and kick off our season."
"But we do have talent," Inglesby said, adding another important component in the Blue Hens' initial success. "And we have a group that works extremely hard."
It's one thing to get a lot and have fun. Doing so when you're handling business on the court makes it a lot easier.
Delaware isn't just flourishing because of its bond: The Blue Hens can play. Returning Preseason 2nd Team All-Colonial Athletic Association guard Ryan Allen, who averaged 16 points per game a season ago, and CAA honorable Kevin Anderson, who posted 10.7 points per game, provided a building block.
But after losing 5-of-6 to close the 2018-19 campaign – one of which was a 78-74 overtime decision to CAA regular-season Hofstra, which would have sent Delaware to the conference tournament title game -- Inglesby perhaps presciently saw this season's potential to elevate the goals of the program.
A longtime assistant to Mike Brey at Notre Dame, Inglesby introduced a similar approach at Delaware to the successful formula Brey implements in South Bend. The Blue Hens have improved their record every season under Inglesby, and are well on their way to continuing that trend in 2019-20.
This campaign's promise became evident to Inglesby both with what Delaware returned in game production, and what was waiting in practice.
"It's been a process," Inglesby said. "We've grown as a program, individually and as a group, each year. How we finished last year, we had great momentum heading into our offseason, and took it into summer."
Part of the process included transfers Mutts and Nate Darling gaining eligibility. Both spent a mandatory redshirt season on the sidelines after transferring. Mutts came in from High Point, Darling from UAB.
The two lead the Blue Hens in scoring, with Darling's 22.5 points per game currently ranked No. 13 in the nation.
"We've got a special team over here with guys like Ryan Allen, Kevin Anderson, Nate Darling," Mutts said. "When you have guys like that around, it's hard to fail."