CAA Men's Basketball
The Evolving Game & Rising Stardom Of William & Mary's Nathan Knight
The Evolving Game & Rising Stardom Of William & Mary's Nathan Knight
After posting one of the best individual stat lines in college basketball last season, Nathan Knight returned to William & Mary for one more run.
Dec 7, 2019
by Kyle Kensing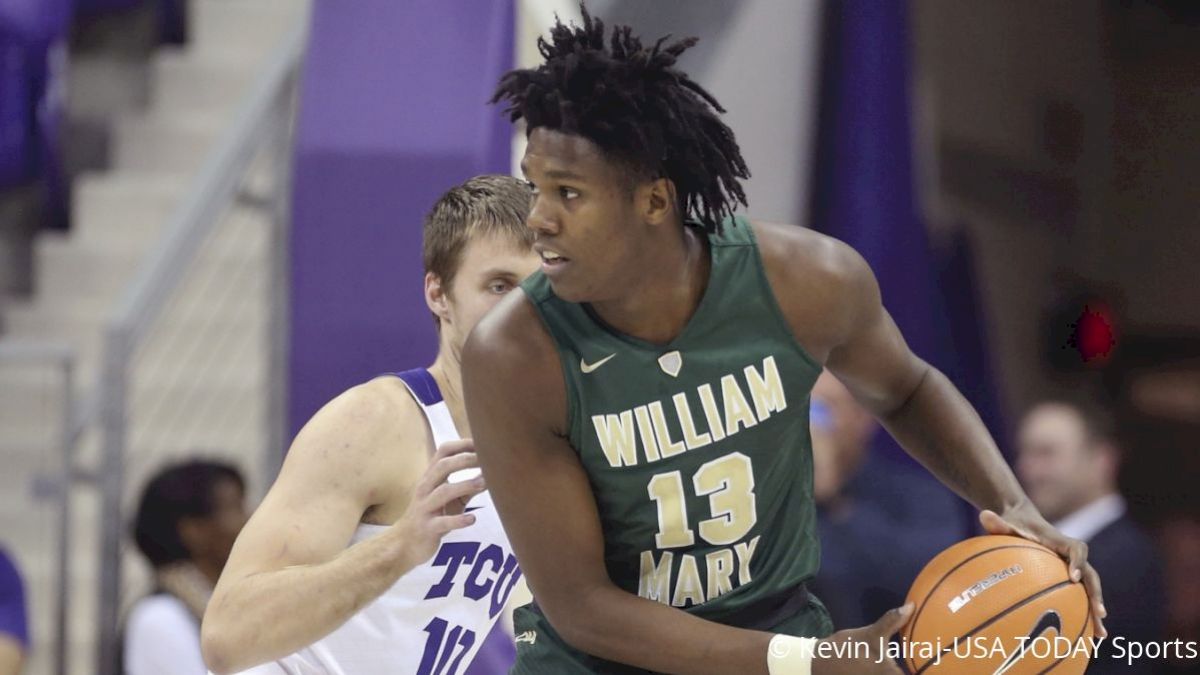 Nathan Knight is gaining plenty of on-the-job training this college basketball season.
William & Mary's center and Oscar Robertson Award watch list selection hosts a regular webseries, In the Locker, interviewing his Tribe teammates. Knight's quite good, too, exuding a natural presence that suggests he has a future in media.
Such a career move won't be for several more years, though — not with the promise of a pro basketball future, evident whenever the senior big man takes the court.
Knight posted 21 points, 8.6 rebounds and 3.5 assists per game in 2018-19, one of the best individual stat lines in the nation. He tested the NBA draft scene in the spring, taking advantage of a beneficial new rule the NCAA and NBA enacted that allows players to gain a clearer sense of where they stand before exhausting their collegiate eligibility.
The rule's been a boon for players and college programs alike. Knight and William & Mary offer a prime example. Knight returned this season armed with the knowledge of where he can better his game for his NBA prospects.
"The biggest thing for me is probably defensively," he said, a perhaps surprising point for a player who has averaged right in the neighborhood for two blocks per game throughout his college tenure. "Guarding one-through-five on the [ball-screen] switch, and then developing a more perimeter-oriented game to go with my ability to score down low."
The NBA, and elite-level basketball as a whole, has experienced an evolution in the past decade with a more spread-out style. The days of a center posting up on the low block exclusively are gone, and Knight is building his offensive repertoire to reflect that.
He's shooting a career-best 64.6 percent from inside the 3-point arc, and attempting more from long range than at any point before with three per game.
Knight evolving his own game boosts his own individual stock to be sure, but also is at the forefront of the Tribe's outstanding team offense through nine games.
William & Mary boasts the nation's No. 23-ranked effective field-goal percentage and No. 38 3-point shooting average.
Numbers are important to the backstory of Knight's return, in more ways than his stat line. After basketball, and maybe while he's carving out a niche in media, he will have opportunities in the world of commerce.
Knight said one of his primary reasons for withdrawing from the 2019 NBA draft was to finish his business analytics degree.
A little heads up. @WMTribeMBB Nathan Knight has had 30 point outings vs. Oklahoma & now Buffalo last night. Averaging 20 & 10, shooting 57% from the field. Syracuse native, a late bloomer, would be the Orange's second best player. Maybe best.

— Fran Fraschilla (@franfraschilla) December 2, 2019
With Knight's return, William & Mary — one of the four original NCAA members yet to make an NCAA Tournament appearance — readies for the Colonial Athletic Association gauntlet built around one of the best bigs in college basketball.
Crashing the Dance remains Tribe basketball's white whale, a goal now more than 80 years in the making. Upon being introduced as head coach in the spring, Dane Fischer addressed the topic too big to ignore.
Knight said the Tribe tries "not to get too far ahead of" themselves, thinking about March when three months of regular season remain ahead of them. But the prospect of making
"There's a lot of improvements that need to be. It's that whole championship process," he said. "Then when March comes, we'll be ready."
If one big man was not enough of a pillar around to construct a run at March, the Tribe have two. Seven-foot Wisconsin transfer Andy Van Vliet has been an effective wingman to Knight through the first month of the campaign, averaging 14 points and nine rebounds per game while shooting a shade below 40 percent from 3-point range.
In an era when basketball rotations focus less on height and more on versatility, William & Mary throws an impressive combination of size at opponents without sacrificing perimeter scoring. Van Vliet's perimeter-oriented offense works in concert with Knight's dominant play inside.
The dual-bigs look is so unique,that Knight — typically the one asking questions that get the other end of a conversation thinking on In the Locker — deliberated for a good, long while when coming up with the right Twin Tower comparison.
"[Domantas] Sabonis and Myles Turner," he said. "Andy actually loves Sabonis. He has to do everything like Sabonis."
You could do a lot worse than the Indiana Pacers duo, two of the NBA's most underrated young stars and catalysts of a franchise pursuing its third consecutive playoff appearance.
And a college student could do a whole lot worse with their experience than Knight has. If the university experience is about preparing for a career beyond school, he'll have options — in business, in media and on the hardwood.