2020 North Carolina A&T vs Morgan State | MEAC Men's Basketball
North Carolina A&T Looks To Get Back On Track In Unpredictable MEAC
North Carolina A&T Looks To Get Back On Track In Unpredictable MEAC
Competition for the Mid-Eastern Athletic Conference crown in 2020 promises to be especially tight and unpredictable. Just look at North Carolina A&T.
Jan 20, 2020
by Kyle Kensing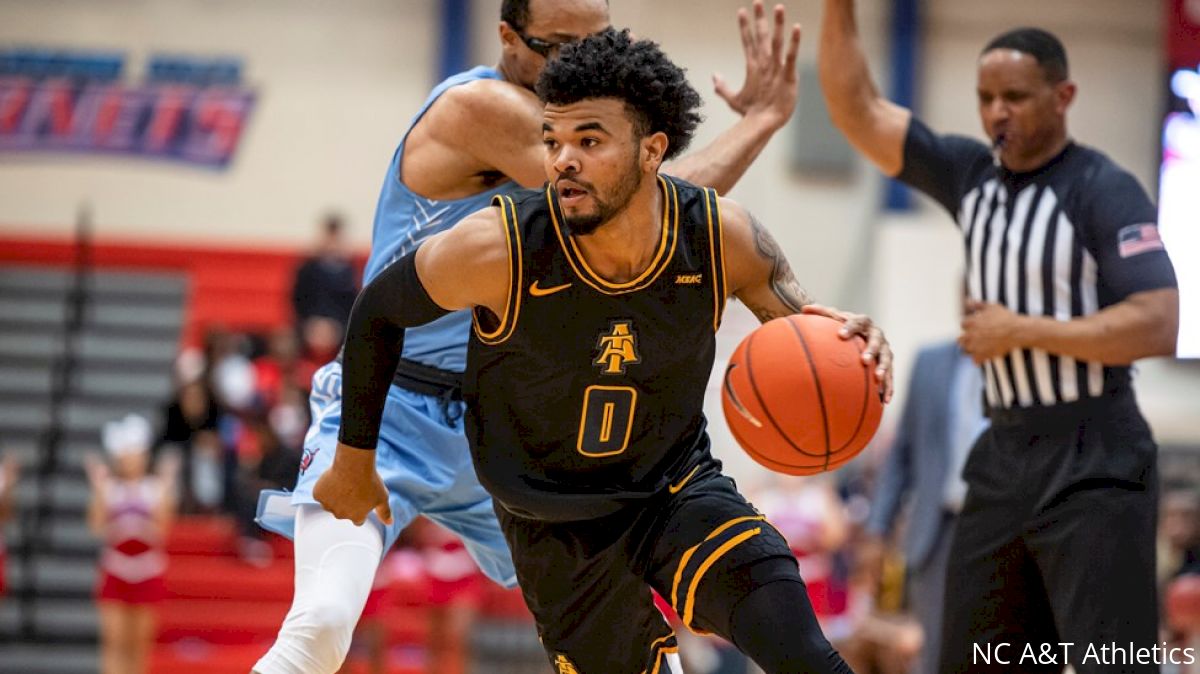 Competition for the Mid-Eastern Athletic Conference crown in 2020 promises to be especially tight and unpredictable. Just look at North Carolina A&T.
The Aggies opened MEAC play with a 3-0 start, part of a larger, 4-0 winning streak. They scored more than 90 points in all three of those conference wins, and were rolling unlike few squads in the MEAC.
Then, A&T tripped up at Coppin State, a team previously winless in MEAC play.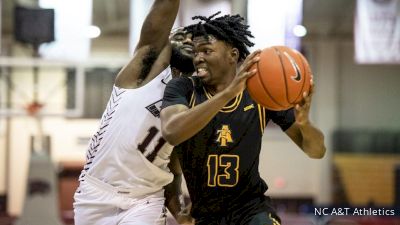 Unlock this video, live events, and more with a subscription!
Get Started
Already a subscriber? Log In
Watch the Full North Carolina A&T vs Morgan State Replay
Don't blame the Aggies too much for the four-point road loss. This is, after all, a Coppin State bunch that boasts one of the most impressive non-conference wins among all MEAC members, a 76-72 defeat of KenPom Top 100 team and 2018 Final Four semifinalist Loyola Chicago.
The Eagles also have wins over American Athletic Conference member East Carolina and Cornell. And all is necessary background to illustrate why a team near the bottom of the MEAC knocking off one approaching the top should come as no surprise.
In a college basketball season with the kind of parity Roger Goodell can only dream of, and basically nightly chaos, the MEAC has done its part to reflect the overall landscape.
More unpredictable upsets are on their way -- perhaps some in March, given Norfolk State's shocking loss in the 2019 MEAC Tournament -- but North Carolina A&T wants to limit how often it's on the wrong end of such decisions.
That puts a hefty premium on the Aggies' two-for Jan. 20 and 25. They finish the road swing that began with them tumbling at Coppin State against Morgan State, then return home to host Bethune-Cookman.
Upcoming MEAC Live Event Calendar
North Carolina A&T at Morgan State
Break the MEAC down into tiers, and Norfolk State arguably occupies a place on its own at the top. The second tier would presumably be more crowded and feature North Carolina Central, South Carolina State, North Carolina A&T, Bethune-Cookman and...Morgan State.
The Bears own a win over George Washington and took Evansville to triple overtime, just two weeks after the Aces stunned then-No. 1 Kentucky at Rupp Arena.
Morgan State features a dual wing threat of guard Stanley Davis and forward Troy Baxter. The two lead the Bears in both scoring and rebounding, and each brings a different dynamic to the squad.
Baxter won't hesitate to fire from long range, while Davis effectively gets to the free throw line and scores as a slasher.
January 16, 2020
At 6-foot-4 and 6-foot-8, Morgan State's leading duo gives the Bears some impressive length. However, it's not an especially big roster -- no one comparable to Coppin State's 7-foot-1 Brendan Medley-Bacon.
And even against such a sizable opponent, North Carolina A&T's Ronald Jackson still recorded a double-double. Jackson could make a realistic push to average a double-double for the campaign at 14 points and 9.4 rebounds per game, and contend for MEAC Player of the Year.
The coming weeks are obviously crucial to both pursuits.
Morgan State's defense against shooters inside the 3-point line leads the MEAC; at nearly 58 percent shooting from 2-point range, Jackson's one of the best interior scorers in the league. Likewise, Jackson ranks in the nation's top 150 for offensive rebounding percentage, which could be a pivotal factor against a Bears bunch that has given up offensive boards on 35.6 percent of opportunities.
Bethune-Cookman at North Carolina A&T
One player already posting a double-double per game is Bethune-Cookman's Cletrell Pope, and the Wildcats big man is a force. He's posting 14.4 points, 11.9 rebounds and blocking more than one shot per game.
North Carolina Central limited Pope's productivity in a win over the Wildcats on Saturday, but perhaps most interesting is how the Eagles effectively attacked the interior.
Congratulations to @Fcleve5#AggiePride pic.twitter.com/1RabrlBOW5

— AggieBasketball (@ATAggieHoops) January 14, 2020
The Aggies can go at the Wildcats on the inside to start with Jackson and Devin Haygood, drawing in the defense to set up Cleveland. Cleveland's 3-point shooting helped buoy A&T on its first start in conference play, and maximized the prolific potential of the Aggie offense.
Either way, expect an up-and-down affair. Bethune-Cookman boasts one of the MEAC's more effective offenses with a variety of options. Isaiah Bailey is a dynamic scoring option on the wing to complement Pope inside.