MEAC
Trio Of MEAC Matchups Kicks Off 'Ferocious February'
Trio Of MEAC Matchups Kicks Off 'Ferocious February'
March wouldn't be the same madness if not for the frenzy that precedes it the month before. This weekend kicks off "Ferocious February' in the MEAC.
Jan 31, 2020
by Kyle Kensing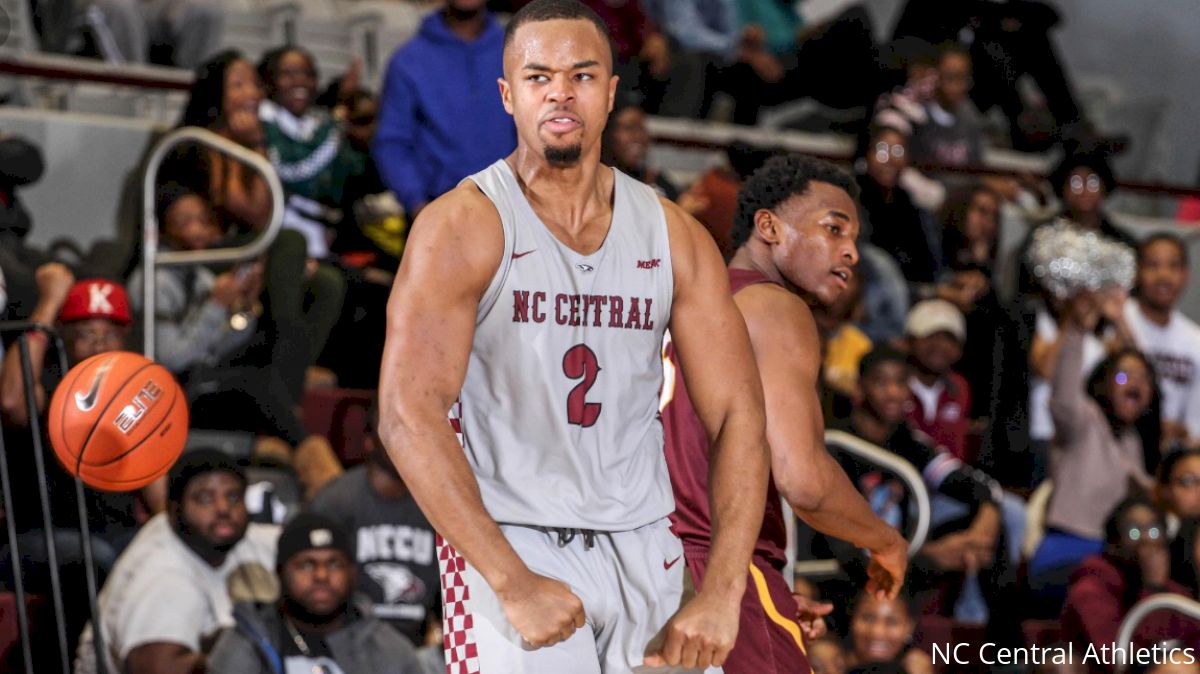 Whoever coined the old phrase March comes in like a lion and goes out like a lamb was not referring to college basketball – but they might as well have been.
Every March on the hardwood is mad because the month preceding it sends basketball into the month with a lion's ferocity. And this February tips off in Mid-Eastern Athletic Conference play with an appropriately stacked slate to begin the march to conference championship season.
Indeed, it's a Ferocious February leading into March Madness.
SOUTH CAROLINA STATE at NORTH CAROLINA CENTRAL
Watch SCSU vs NCCU LIVE on FloHoops!

Veteran-laden South Carolina State jumped out to a fast start in MEAC play at 4-1, putting up some impressive point totals along the way.
The Bulldogs averaged north of 82 points per game in their four conference wins, but in conference losses, that number drops by almost 16 points.
Damani Applewhite comes in ranked in the conference's top 10 both in scoring (13.7 points per game, eighth overall) and rebounding (7.0, seventh overall). Meanwhile, North Carolina Central's Jibri Blount checks in top 3 in both categories; second in scoring at 20.1 points per game, and third in rebounding at 9.3.
#ICYMI last night on @Sports_Night, here's my profile on @NCCU_MBB Senior @jibri_blount who's building his own legacy at @NCCUAthletics. He just may be the front-runner for @MEACSports Player of the Year. @Sports_Night @LeVelleMoton pic.twitter.com/9HBNF2bxcH

— J.B. Ricks Sr. (@JB_Ricks) January 29, 2020
Blount's coming off a 33-point, 10-rebound performance in the Eagles' 72-45 rout of Delaware State last Saturday. The victory marked a measure of revenge of last year's MEAC Tournament champions, who dropped a decision to the Hornets earlier in the month.
North Carolina Central also remains in the pack just behind MEAC-leading Norfolk State, with a showdown against the Spartans looming on Monday.
"All wins are good wins, especially as you're approaching February. We're holding teams under 30 [percent from behind the 3-point line] and 35 [percent from the floor]," Eagles coach LeVelle Moton said in his postgame press conference. "Any time you're holding teams to those percentages, you're going to give your team an opportunity to win."
North Carolina Central boasts the MEAC's second-best defense in terms of KenPom.com adjusted efficiency. Only Norfolk State has been better, another reason that the Feb. 3 meeting looms large.
But with that potential marquee matchup, South Carolina State has a prime opportunity to spring a trap on the road.
BETHUNE-COOKMAN at FLORIDA A&M
Watch BCU vs FAMU LIVE on FloHoops!

In-state rivals meet for the first time on the 2019-20 season. Florida A&M will conclude its campaign at BCU in March -- the Rattlers are not eligible for the postseason -- so that ups the ante even more on a rivalry contest.
FAMU may not be eligible to win the MEAC, but it can have plenty of impact on the conference landscape -- and already has. The Rattlers knocked off North Carolina Central last week, 66-57.
Beating last season's MEAC NCAA Tournament representatives was just the latest example of this FAMU bunch having the chops to spring a significant upset, having beaten Iowa State previously this season.
Bethune-Cookman brings the conference's most efficient offense to town, featuring a trio of double-digit-point scorers: slashing wing Isaiah Bailey, double-double machine Cletrell Pope, and spark plug Joe French.
January 28, 2020
The Wildcat trio fuels an offense that leads the MEAC in adjusted efficiency, and by a comfortable margin.
And while FAMU has shown its ability to surprise opponents this season, BCU comes in with a series of noteworthy near-misses. The Wildcats lost to KenPom.com national top 113 opponents Georgia Tech, UCF and Saint Louis by a combined 18 points.
MORGAN STATE at HOWARD
Morgan State finds itself in the mix on the top-half of the MEAC at 5-3, including wins in three of the last four. Among the victories in that stretch, a 10-point defeat of Howard at home.
The Bears opened the 2019-20 season scoring at a torrid pace, but have found success in MEAC competition when dictating a slower tempo. In none of its past three wins did Morgan State score any more than 68 points.
??Devonish-Prince Hits Game-winner in Wild Finish; Bears Beat Coppin State?50-48
Recap?https://t.co/FxQxwpbGTH#MORGvsCOP #MEAC #GoBears?? pic.twitter.com/NRCVUoL6X8

— Morgan State Bears (@MorganStBears) January 26, 2020
Seeking its first conference win of the season, Howard needs to find a way to pick up the pace. The good news for the host Bison, they have one of the most prolific scorers in the MEAC with Charles Williams.
Williams averages north of 18 points per game, but Morgan State held him to 12 in the Bears' Jan. 18 win.