CAA Men's Basketball
CAA Trio Embracing G-League Challenges
CAA Trio Embracing G-League Challenges
Charleston's Jarrell Brantley, UNCW's Devontae Cacok, and Hofstra's Justin Wright-Foreman are three former CAA studs making a mark at the pro level.
Feb 11, 2020
by Kyle Kensing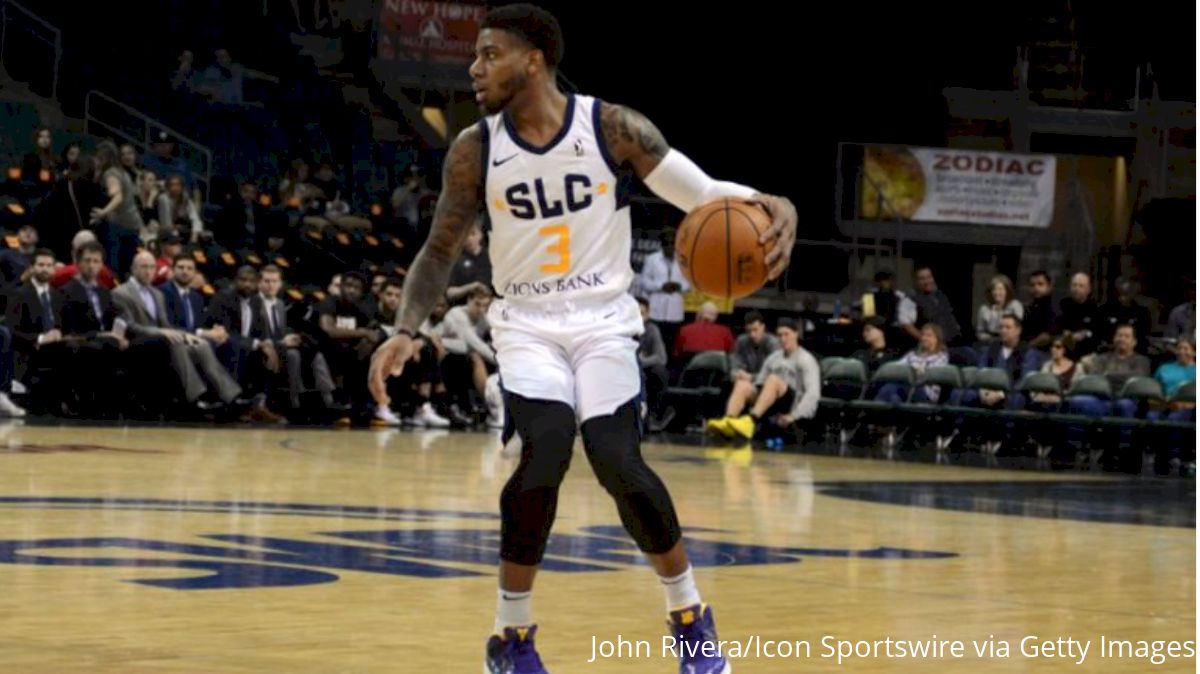 Jarrell Brantley, Devontae Cacok and Justin Wright-Foreman made up 60 percent of the All-Colonial Athletic Association team in 2018-19. Less than a year later, the honors and accolades continue to roll in for the CAA alumni.
All three were named to the Midseason All-NBA G League team, each flourishing in the professional ranks in their own way.
JARRELL BRANTLEY, CHARLESTON (Salt Lake City Stars)
A four-year starter at College of Charleston and 2018-19 All-CAA honoree, Jarrell Brantley has integrated seamlessly into the professional game. Just look at his G-League stats, which almost mirror his final season's line at Charleston:
2018-19: 19.4 points, 8.4 rebounds, 2.4 assists, 1.4 steals per game
2019-20: 19.3 points, 7.3 rebounds, 3.4 assists, 1.5 steals per game
The Utah Jazz organization's decision to trade for Brantley on draft night 2019 landed it a reliable two-way player: Brantley's appeared in three games with the Jazz, making his NBA debut on Oct. 25 against the Lakers when he grabbed three rebounds, dished an assist and blocked a shot.
"It's a challenge. You've got to go back-and-forth a lot, but at the same time, people pray for these opportunities," Brantley told KJZZ.com in January, speaking of divvying time between the G-League's Stars and a Jazz bunch contending in the NBA Western Conference.
With a promising future in the pro game, Brantley continues embracing his Charleston roots. He sent Cougars coach Earl Grant an autographed Jazz jersey this season, a token of appreciation for the gamble Grant and his staff took on Brantley as an under-recruited prospect.
"That was one of the coaches who gave me a chance," Brantley said to KJZZ. "Not a lot of teams recruited me."
DEVONTAE CACOK, UNC WILMINGTON (South Bay Lakers)
Devontae Cacok could be the face of what it means to represent in Summer League. Undrafted in June, the UNC Wilmington product capitalized on his opportunity with the Lakers summer team.
He was one of the most impressive players in Las Vegas during the July showcase, which landed Cacok an opportunity in the Lakers organization. Cacok was waived at the end of training camp, but retained on an Exhibit 10 deal before landing a two-way deal.
With such tenacity, it's no wonder Cacok has shined for the Lakers' G-League affiliate.
Cacok hits the break averaging 18.6 points and 12 rebounds per game. He missed about a month of due to a stress fracture in his foot, but posted 32 points on 15-of-16 shooting with 11 rebounds in his second game back.
JUSTIN WRIGHT-FOREMAN, HOFSTRA (Salt Lake City Stars)
Justin Wright-Foreman won two CAA Player of the Year awards and became the Colonial's first draftee since 2015, thanks in no small part to his explosive scoring touch. Since transitioning to the pro game, however, Wright-Foreman is evolving into a traditional point guard.
The move isn't unlike that of one of Wright-Foreman's former coaches who previously made the jump from Hofstra to the NBA, Craig "Speedy" Claxton. Last spring, Claxton said Wright-Foreman has NBA game, and compared him to 2016-17 All-NBA selection Isaiah Thomas.
As part of the Jazz organization, another standout pro has played a role in Wright-Foreman's professional development: veteran guard Mike Conley. Per the Salt Lake Tribune, Wright-Foreman has been assigned one-on-one duties with the Jazz point guard during the former Hofstra standout's call-ups to the NBA club.
And while he's evolving his game into more of a facilitating style, much of the same scoring punch that shaped his Hofstra career is still evident: Wright-Foreman is shooting nearly 40 percent from 3-point range en route to 17.4 points per game for the Salt Lake City Stars.