CAA
Hofstra Makes Another Statement, Collects Fifth Straight Victory
Hofstra Makes Another Statement, Collects Fifth Straight Victory
In what was billed as one of the games of the year in the CAA, Hofstra delivered a 76-63 victory over Grant Riller-led Charleston on Thursday.
Feb 14, 2020
by Jerry Beach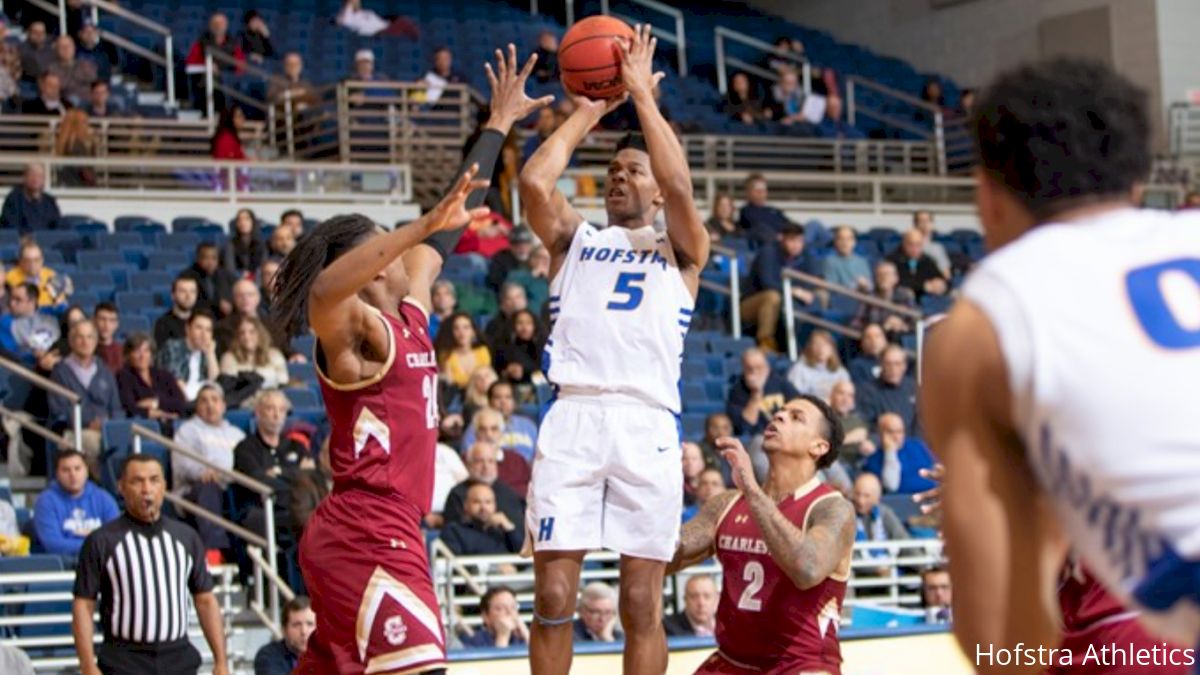 By Joe Mihalich's estimation, Hofstra was going to get 10 or 15 minutes to enjoy Thursday night's 76-63 win over Charleston. Players had meals to eat, rest and recovery to be embarked upon and classes to prepare for Friday morning.
For the coaches, there was game film to watch of Saturday afternoon's opponent, UNC Wilmington, as well as the omnipresent specter of unpredictability and uncertainty in the CAA, where the gains made Thursday night can be completely erased by sunset Saturday.
But those 10 or 15 minutes were enough for Mihalich to realize what the Pride did Thursday night, when it not only remained in first place by beating Charleston but delivered a statement win by leading the Cougars from start to finish.
"We do have a long way to go, but we use that term a lot," Mihalich said of the statement win phrase. "That's OK. That's OK. Because you don't have to make just one statement through the course of the year. You can make a couple of statements."
Or, in Hofstra's case, four statements in 19 days. The Pride's five-game winning streak began Jan. 25, when it stopped a two-game skid by coming back from an eight-point second half deficit to beat Drexel, 72-59.
Five days later, Hofstra beat Elon, 86-63. Two days later, the Pride routed host William & Mary, 83-60, to gain a bit of revenge for an 88-61 loss in Hempstead on Jan. 2.
Last Saturday, Hofstra opened a three-game homestand by falling behind Northeastern by 16 points in the first eight minutes before storming back to earn a 75-71 win. It was the fourth comeback from a double-digit deficit this season for the Pride, tied for the most in the CAA with Delaware.
On Thursday, playing in front of an enthusiastic crowd of 2,502 and a CBS Sports Network audience with first place on the line in a game with enormous potential tiebreaker implications, the Pride scored the first seven points and never saw its lead fall below four points.
"Too many times at home this year, we've had to call a timeout two or three minutes into the game down 13-4 or 9-0 or 7-0," Mihalich said. "And we played 40 minutes tonight."
Charleston only got within six points once in the second half and trailed by double digits for the final 13:29.1
"William & Mary, that was probably a statement win," Mihalich said. "This game tonight was a statement, because it basically says Charleston didn't beat us twice (the Cougars beat the Pride, 69-67, on Jan. 18). Only beat us once."
The statement Thursday was multi-layered. As it did against William & Mary earlier this month, the Pride, the CAA's top defense team per KenPom.com, allowed the opponent's best player to produce at his usual clip while managing to minimize his effect on both ends of the floor.
Tribe star Nathan Knight (19 points, 16 rebounds) had his usual monster game on Feb. 1, but Hofstra center Issac Kante (13 points, 11 rebounds) had his own double-double and only one other William & Mary player got into double figures.
On Thursday, Cougars star guard Grant Riller scored 27 points, but he had just six points in the first half, when he shot 3-of-9 from the field. Of Riller's 10 field goals, three were dunks on fast breaks and five more were layups in the paint. No other player scored in double figures for Charleston — the first time this season Hofstra has limited an opponent to a single double-digit scorer.
"We tried some things with him — you've just got to make him give the ball up, maybe catch it a little further away than he wants to catch it," Mihalich said. "He's a great player. I just told him walking through the (handshake) line 'I don't know if we're going to see each other again, but if we don't, it was a pleasure to watch you play for four years.'"
The loudest part of the statement Thursday might have been made by Eli Pemberton, the senior guard and preseason first-team All-CAA pick who has been usurped as the Pride's top offensive weapon by Desure Buie.
Pemberton scored just two points on 1-of-8 shooting against Charleston on Jan. 18 but looked like former Pride star Loren Stokes Thursday, when he slashed and dashed his way to tying a career-high with 28 points while going 10-of-14 from the field and 6-of-6 from the free throw line.
"A high-level performance from Elijah — I mean, a high-level performance from Elijah," Mihalich said.
There's still two-plus weeks left to go in a chaotic CAA season, so nobody at Hofstra on Thursday night was envisioning a 1 vs. 8/9 matchup in Washington. D.C. in the conference tournament quarterfinals.
But the victory certainly put Hofstra in a position to control its destiny in the race for the regular season crown and the no. 1 seed. The Pride, a game up on Delaware and 1 1/2 games ahead of both Charleston and William & Mary, has split the season series with the Cougars and Tribe and hasn't lost to any of the bottom six teams in the conference.
And to win like the Pride did Thursday, when it maintained a defensive intensity it hasn't often shown under Mihalich, received a superstar-like performance from its first-team All-CAA preseason pick and won by 13 despite tying a season-high with 17 turnovers?
"I still feel like who can't win it?" Mihalich said. "There are way more teams that can than teams that can't."
But on Thursday night, Hofstra made a statement: The Pride absolutely can win it.