2020 MEAC Men's & Women's Basketball Tournaments
The MEAC Race Is As Tight As It Gets
The MEAC Race Is As Tight As It Gets
The MEAC regular season conference title race couldn't be any closer, as the top six teams in the league are separated by just two games.
Feb 28, 2020
by Kyle Kensing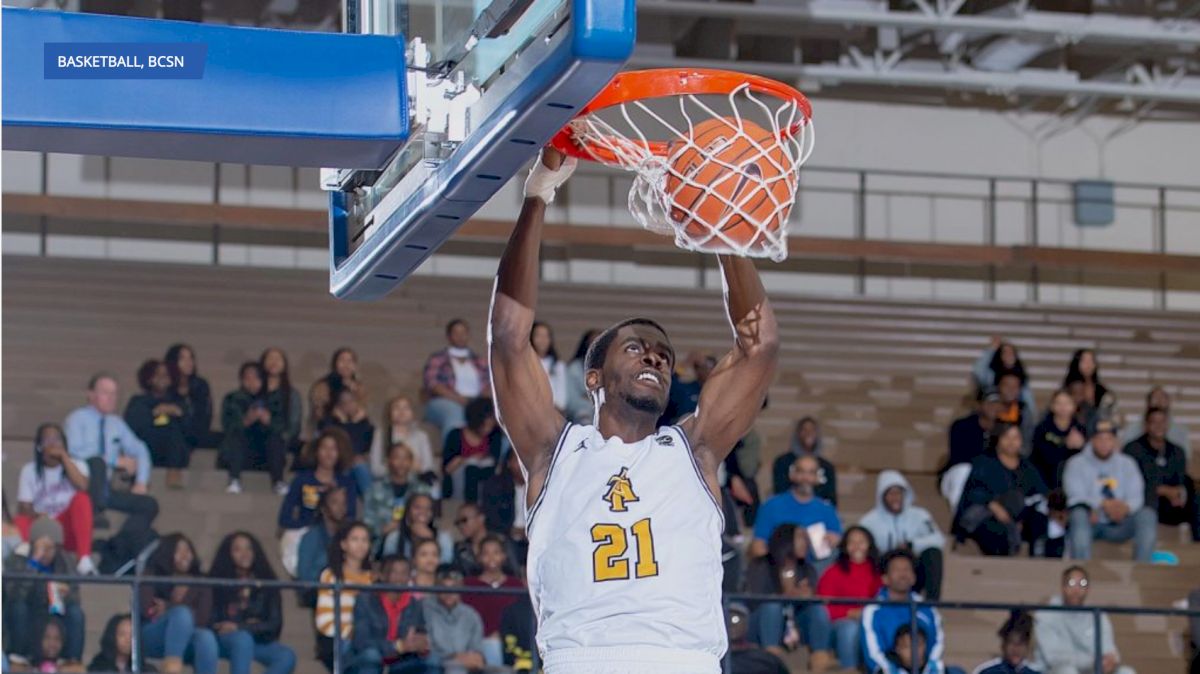 Two games separate the top six teams as the Mid-Eastern Athletic Conference regular-season campaign winds down. A combination featuring each of the six face off in the final week.
Watch the MEAC Men's and Women's Tournaments Live & On Demand
The road to Norfolk could not be much tighter.
Five of those six teams are leading contenders to earn the MEAC's automatic bid in the NCAA Tournament. Florida A&M is ineligible, thus won't participate at the MEAC Tournament, but the Rattlers already played spoiler once down the stretch against Norfolk State, and could do so again vs. rival Bethune-Cookman.
BETHUNE-COOKMAN
Record: 15-13, 9-5 MEAC
Remaining Games: March 2 at North Carolina Central; March 5 vs. Florida A&M
Heating up at the right time, Bethune-Cookman rolls into the final week of the regular season a winner of three straight and 5-of-6. The Wildcats boast impressive wins over that stretch, including a defeat of league-leading North Carolina A&T, a couple of thrillers against Delaware State and South Carolina State, and a blowout of Norfolk State.
Another weekly honor for Cletrell! : https://t.co/Tddgi5jnL7

— ?BCU MBB (@BCUhoops) February 18, 2020
Cletrell Pope, the nation's third-leading rebounder, has taken his board work to another level. He brings a four-game double-double streak into the home stretch, while Isaiah Bailey's done a bit of everything to lead BCU in its strong February.
FLORIDA A&M
Record: 12-14, 10-5 MEAC
Remaining Games: March 5 at Bethune-Cookman
Florida A&M is serving a postseason ban, relegating the Rattlers to the spoiler's role. Considering the remaining opponent they can spoil things for is rival Bethune-Cookman, that's a pretty decent consolation.
The Rattlers completed a perfect MEAC home slate with wins over Norfolk State and South Carolina State last week. A&M boasts other wins in Tallahassee over North Carolina Central, North Carolina A&T, BCU, Morgan State … in other words, the Rattlers have proven they can beat anyone and everyone in the MEAC.
M.J. Randolph heads into his final game of the season with a case as the MEAC's Most Improved Player of 2019-20. Randolph has been particularly outstanding down the stretch, scoring in double-figures five straight games and dishing multiple assists in 4-of-5 over that same spell.
MORGAN STATE
Record: 15-14, 9-5
Remaining Games: Feb. 29 vs. Coppin State; March 5 vs. Norfolk State
After winning 5-of-6 from mid-January into early February, Morgan State cooled down somewhat with a 2-2 mark over its last four. The defeats came against some of the MEAC's upper echelon, North Carolina Central and the first encounter with Norfolk State.
Of course, those losses were by a grand total of six points.
For more Bear Shots??https://t.co/1ljctWZHOg#MORGvsDSU #MEAC#GoBears?? pic.twitter.com/OdyHy3tOLD

— Morgan State Bears (@MorganStBears) February 25, 2020
The Bears finish up with a pair of home games, one of which is the rematch with Norfolk State. The two are tied with Bethune-Cookman in the win column at nine wins each, with the prospect of climbing in the final.
That puts the March 5 finale at a particular premium. When they met in Norfolk State's 62-57 win on Feb. 15, Stanley Davis' 11-point, 11-rebound double-double led the way, but 22 turnovers were the Bears' undoing.
NORFOLK STATE
Record: 13-14, 9-4
Remaining Games: Feb. 29 vs. Howard; March 2 at Delaware State; March 5 at Morgan State
Last season's MEAC regular-season champion saw its odds for repeat take a considerable hit last week in Florida. Back-to-back losses to Florida A&M and Bethune-Cookman marked the Spartans' second consecutive-game losing skid of the conference season.
The last time such a losing skid occurred, however, the Spartans rallied to roll off three straight. Norfolk State finishes its final regular-season with three games.
Saint Louis transfer Jermaine Bishop has scored in double-figures every game beginning Dec. 29, including games of 18 points with five rebounds against Morgan State, and 24 points and five rebounds against Coppin State during the three-game winning streak earlier this month.
NORTH CAROLINA A&T
Record: 15-14, 11-3
Remaining Games: March 2 at South Carolina State; March 5 at North Carolina Central
North Carolina A&T sits in the driver's seat for the MEAC regular-season title in its final season with the conference. The Aggies can seal it with two wins, but have to go on the road twice to do so -- including a meeting with its rival, North Carolina Central.
Hey, we know that guy ? @iJump_tooMuch https://t.co/PUoRchUgm9

— N.C. A&T Athletics (@NCATAGGIES) February 25, 2020
The Aggies beat both their final two opponents at home by double-digits, and both wins featured A&T's MEAC Player of the Year candidate Ronald Jackson at his best. He posted 16 points and 13 rebounds against South Carolina State and a season-high 28 points against North Carolina Central.
NORTH CAROLINA CENTRAL
Record: 14-13, 10-3
Remaining Games: Feb. 29 at South Carolina State; March 2 vs. Bethune-Cookman; March 5 vs. North Carolina A&T
Arguably no team faces a more challenging final week than last year's MEAC representative in the NCAA Tournament. North Carolina Central draws not only three games in five days, but the latter two are against opponents still in the mix for, or leading, the conference-title race.
Fortunately for the Eagles, perhaps no team in the MEAC is as hot ahead of this stretch.
Our fans and students had McDougald Rocking tonight! See you all on Monday! Thanks again for making McDougald McLendon a hard place to play! ?? https://t.co/TnE1j3fygu

— NCCU Men's Basketball (@NCCU_MBB) February 25, 2020
NCCU is a winner of seven of its last eight, and its star, Jibri Blount, has been outstanding of late. Blount's posted 20-plus points in three of the last four, went off for 28 and 18 and 20 and 11 in the Eagles' last two...and his only single-digit since Nov. 17 came against rival North Carolina A&T.