2020 MEAC Men's & Women's Basketball Tournaments
Everything You Need To Know About The 2020 MEAC Championship
Everything You Need To Know About The 2020 MEAC Championship
North Carolina Central looks to pull off the unthinkable and make it four consecutive MEAC conference championships and yet another March Madness berth.
Mar 7, 2020
by Kyle Kensing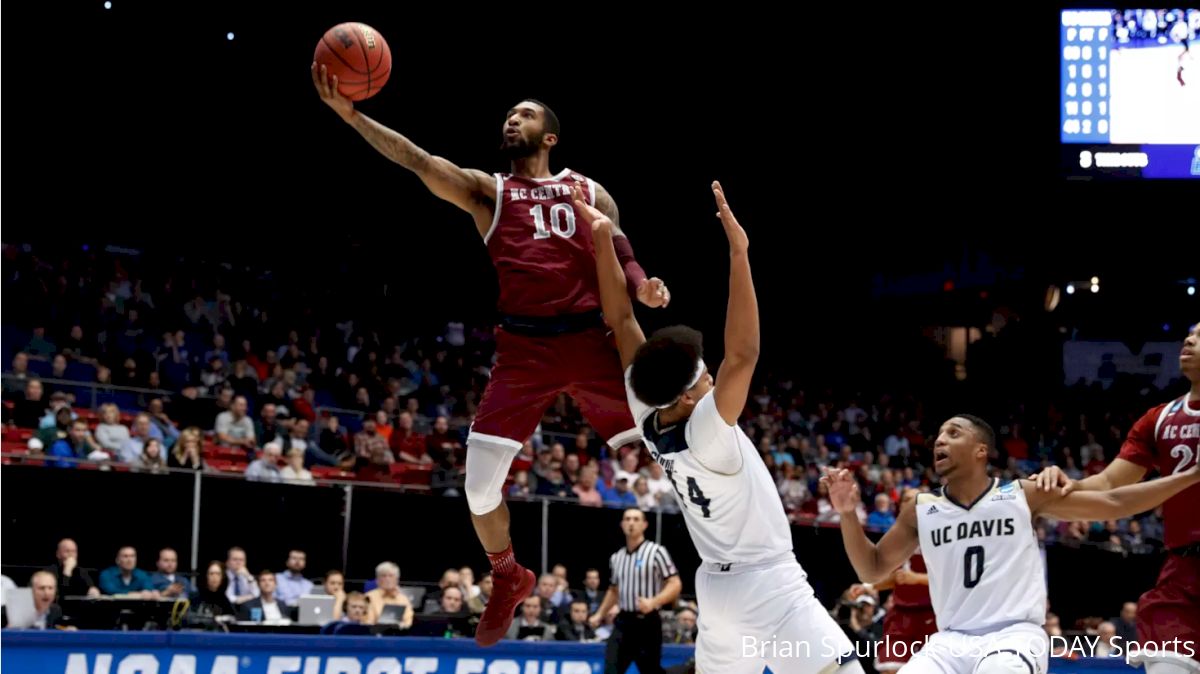 The last three years' MEAC representative in the NCAA Tournament is this year's team to beat.
Watch the MEAC Men's and Women's Tournaments Live & On Demand
North Carolina Central heads to Norfolk for the MEAC Tournament the 2019-20 regular-season champion and No. 1 seed after winning a fortuitously scheduled finale.
A tight title race came down to the final day and a head-to-head matchup between rivals NCCU and North Carolina A&T. The Eagles' 86-80 win marked their fifth straight, earned them an outright conference title, and put a nice bow on Jibri Blount's MEAC Player of the Year campaign.
Blount posted 19 points and 12 rebounds, closing out the regular season at 19.2 points and 9.2 rebounds per game.
So now North Carolina Central aims to accomplish a rare milestone in Norfolk: four-peat.
"They have 24 hours to enjoy this," Eagles coach LeVelle Moton said to the News & Observer. "Then it's right back to square one. We're going to go right back at it, we don't want to be on the other end of this."
The other end of this can mean falling short in a championship contest, as one side was destined to in the regular-season finale between NCCU and A&T. It can also apply to the sometimes chaotic nature of conference tournaments, especially in the MEAC.
Only once in their current run were the Eagles the MEAC Tournament's No. 1 seed: 2017. The 2018 squad exceeded all expectations when it secured the NCAA Tournament automatic bid as the MEAC's No. 6.
Last year, the third-seeded Eagles used a stifling defense to stymie regular-season MEAC champion Norfolk State in the title game.
Suffice it to say, few coaches know better than Moton that seeding isn't predictive when it comes to tournament season.
This year's No. 3 seed also happens to be Norfolk State, which tied North Carolina A&T for second place but lost the regular-season head-to-head.
Before any hypothetical championship rematch between the Eagles and Spartans, both would have to navigate some treacherous terrain. Awaiting North Carolina Central in the quarterfinals after Tuesday's 1st Round is either Delaware State or Maryland Eastern Shore.
The former scored a 68-66 win over the Eagles on Jan. 11, behind 18 points from John Crosby.
Tuesday's other opening-round matchup pits 10th-seeded Howard against No. 7 South Carolina State. The Bulldogs raced out ahead of the pack in the early MEAC season with wins in four of their first five, but a five-game losing streak down the stretch relegated them to the 1st Round.
The winner of that game draws MEAC Coach of the Year Willie Jones and North Carolina A&T. The Aggies will be a tough out in Norfolk, if not something of a favorite.
A&T is the only team with a pair of All-MEAC 1st Teamers in double-double machine Ronald Jackson and guard Kameron Langley.
Wednesday's other quarterfinals include aforementioned Norfolk State against sixth-seed Coppin State. 1st Team All-MEAC guard Jermaine Bishop leads the Spartans in pursuit of a three-game sweep over the Eagles.
Norfolk State won the regular-season meetings by 20 and 23 points, and Bishop posted 24 and 21 points in those Spartans wins.
The 4 vs. 5 quarterfinal pits Bethune-Cookman against Morgan State in what should be an exciting matchup.
The Wildcats won the lone head-to-head meeting in the regular season, with 2020 MEAC Defensive Player of the Year Cletrell Pope doing serious damage in other phases of the contest.
His defense was on point, sure: four steals are testimony to that. But he went off for 29 points on an astounding 9-of-11 shooting and grabbed 18 rebounds in the 85-78 BCU win.
Morgan State big man Troy Baxter was excellent in the loss, with 22 points and seven rebounds. The matchup-within-the-matchup on Wednesday should be the interior showdown with Baxter and Pope.