2020 Bubbleville
'Bubbleville' Complete Schedule Release: Virginia, Florida & More
'Bubbleville' Complete Schedule Release: Virginia, Florida & More
The full schedule release for "Bubbleville" is here. Check out which games will land right here on FloHoops!
Nov 12, 2020
by FloHoops Staff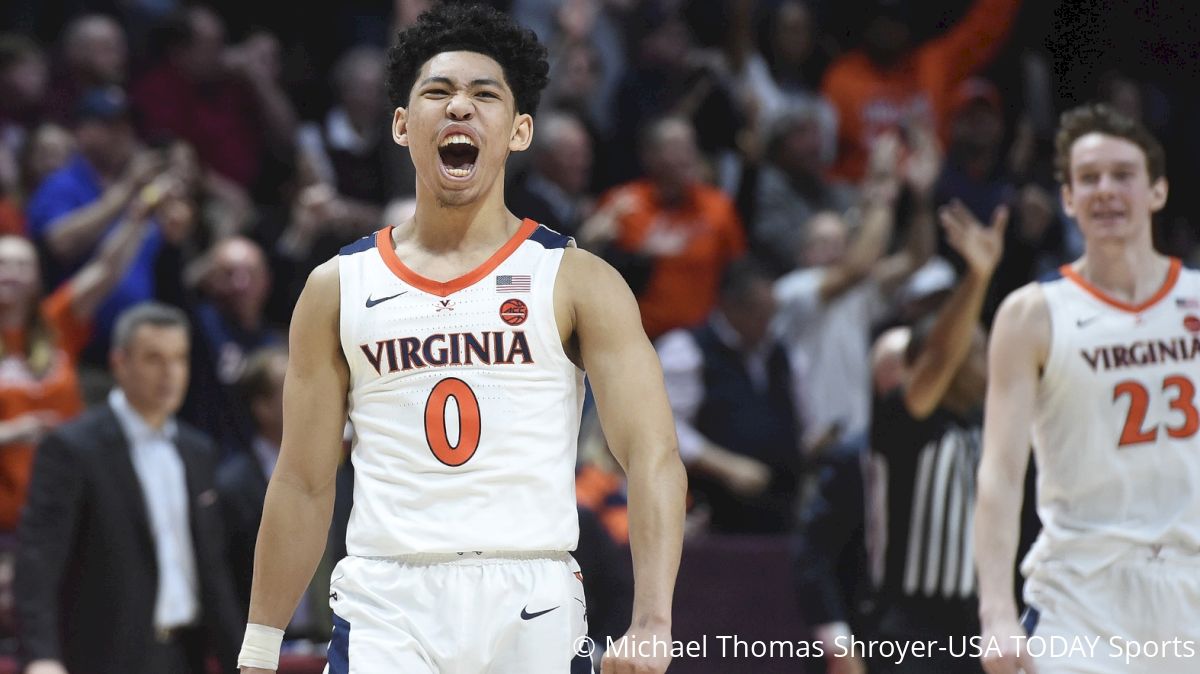 Uncasville, CT – The Naismith Memorial Basketball Hall of Fame and Gazelle Group today announced the complete schedule of matchups for the season-opening event known as "Bubbleville." Games will be played Nov. 25 – Dec. 5, 2020 at Mohegan Sun Arena in Uncasville, Connecticut.
Bubbleville will house several events relocated and reimagined due to COVID-19 and provides a controlled environment with teams and event staff adhering to tribal, government, and NCAA health and safety protocols and testing requirements. At this time, all games are expected to be played without fans in attendance.
The event will feature 45 games in 11 days, showcasing 40 NCAA Division I men's and women's teams. The schedule will be headlined by several preseason ranked squads including #2 Baylor, #3 Villanova, #4 Virginia, #18 Arizona State and #20 Oregon for the men and #3 UConn, #5 Louisville and #6 Mississippi State for the women. Select games will be available on the ESPN family of networks and other broadcast networks to be announced at later date. All other games will be streamed via FloHoops. The schedule to date is available below, along with broadcast information. The schedule is subject to change.
In the coming days, additional games featuring Oregon and Missouri will be added to the schedule on December 2 and 3. Each school will play two games, including one game against each other.
Events taking place in Bubbleville include the Roman Legends Classic presented by Old Trapper, the 2K Empire Classic benefiting Wounded Warrior Project presented by Continental Tire, the HomeLight Classic, the Air Force Reserve Basketball Hall of Fame Tip-Off Tournament, the Air Force Reserve Basketball Hall of Fame Women's Challenge, the Jimmy V Women's Classic and several pods and single game contests developed specifically for Bubbleville.
Here is the schedule breakdown for the tournament:
| | | | |
| --- | --- | --- | --- |
| Wednesday, Nov. 25 | | | |
| 9:00 AM | Men | St. Bonaventure vs. Towson | FloHoops |
| 11:30 AM | Men | Rhode Island vs. Stephen F. Austin | FloHoops |
| 2:00 PM | Men | Virginia vs. Maine | FloHoops |
| 4:30 PM | Men | Florida vs. UMass Lowell | FloHoops |
| 7:00 PM | Men | 2k Empire Classic: Villanova vs. Boston College | ESPN |
| 9:30 PM | Men | 2k Empire Classic: Baylor vs. Arizona State | ESPN |
| | | | |
| --- | --- | --- | --- |
| Thursday, Nov. 26 | | | |
| 11:00 AM | Men | Rhode Island vs. Towson | FloHoops |
| 1:30 PM | Men | St. Bonaventure vs. Stephen F. Austin | FloHoops |
| 4:00 PM | Men | Siena vs. Massachusetts | FloHoops |
| 7:00 PM | Men | 2k Empire Classic Consolation | ESPN |
| 9:30 PM | Men | 2k Empire Classic Championship | ESPN |
| | | | |
| --- | --- | --- | --- |
| Friday, Nov. 27 | | | |
| 11:30AM | Men | HomeLight Classic: Virginia vs. Florida | ESPN |
| 2:00 PM | Men | Towson vs. Stephen F. Austin | FloHoops |
| 4:30 PM | Men | Massachusetts vs. Delaware | FloHoops |
| 7:00 PM | Men | Central Connecticut State vs. Maine | FloHoops |
| 9:30 PM | Men | St. Bonaventure vs. Army | FloHoops |
| | | | |
| --- | --- | --- | --- |
| Saturday, Nov. 28 | | | |
| 10:00 AM | Women | AFR HOF Women's Challenge: Mississippi State vs. Maine | FloHoops |
| 12:30 PM | Women | AFR HOF Women's Challenge: UConn vs. Quinnipiac | TBA |
| 3:00 PM | Men | Delaware vs. Siena | FloHoops |
| 5:30 PM | Men | AFR HOF Tip-Off: Rhode Island vs. South Florida | ESPN3 |
| 8:00 PM | Men | AFR HOF Tip-Off: Virginia Tech vs. Temple | ESPN News |
| | | | |
| --- | --- | --- | --- |
| Sunday, Nov. 29 | | | |
| 9:30 AM | Women | AFR HOF Women's Challenge Consolation | FloHoops |
| 12:00 PM | Men | Massachusetts vs. Iona | FloHoops |
| 3:00 PM | Women | AFR HOF Women's Challenge Championship | ESPN |
| 5:30 PM | Men | AFR HOF Tip-Off: Rhode Island vs. Temple | ESPN2 |
| 8:00 PM | Men | AFR HOF Tip-Off: Virginia Tech vs. South Florida | ESPN2 |
| | | | |
| --- | --- | --- | --- |
| Monday, Nov. 30 | | | |
| 11:30 AM | Men | Vermont vs. Buffalo | FloHoops |
| 2:00 PM | Men | Siena vs. Liberty | FloHoops |
| 9:00 PM | Men | Boston College vs. St. John's | TBA |
| | | | |
| --- | --- | --- | --- |
| Tuesday, Dec. 1 | | | |
| 11:30 AM | Men | St. Bonaventure vs. Vermont | FloHoops |
| 2:30 PM | Men | Roman Legends Classic: USC vs. BYU | ESPN2 |
| 5:00 PM | Men | Roman Legends Classic: UConn vs. Vanderbilt | ESPN2 |
| 7:30 PM | Men | Iona vs. Buffalo | FloHoops |
| 9:30 PM | Men | Massachusetts vs. South Florida | FloHoops |
| | | | |
| --- | --- | --- | --- |
| Wednesday, Dec. 2 | | | |
| 5:30 PM | Men | Vermont vs. Iona | FloHoops |
| 8:00 PM | Men | AFR HOF Tip-Off Springfield Bracket: Drexel vs. Quinnipiac | FloHoops |
| | | | |
| --- | --- | --- | --- |
| Thursday, Dec. 3 | | | |
| 1:30 PM | Men | AFR HOF Tip-Off Springfield Bracket: Albany vs. Drexel | FloHoops |
| 7:00 PM | Men | Roman Legends Classic Championship | ESPN |
| 9:30 PM | Men | Roman Legends Classic Consolation | ESPN2 |
| | | | |
| --- | --- | --- | --- |
| Friday, Dec. 4 | | | |
| 4:00 PM | Men | AFR HOF Tip-Off Springfield Bracket: Albany vs. Quinnipiac | FloHoops |
| 7:00 PM | Women | Jimmy V Women's Classic: UConn vs. Louisville | ESPN |
| | | | |
| --- | --- | --- | --- |
| Saturday, Dec. 5 | | | |
| 2:00 PM | Men | UConn vs. North Carolina State | TBA |