2020 Bubbleville
Virginia Hopes Nation's Top Defense Will Once Again Carry Them
Virginia Hopes Nation's Top Defense Will Once Again Carry Them
Fourth-ranked Virginia loses a big chunk of their scoring from last season, but their stout defense will keep them in every game.
Nov 18, 2020
by Lincoln Shryack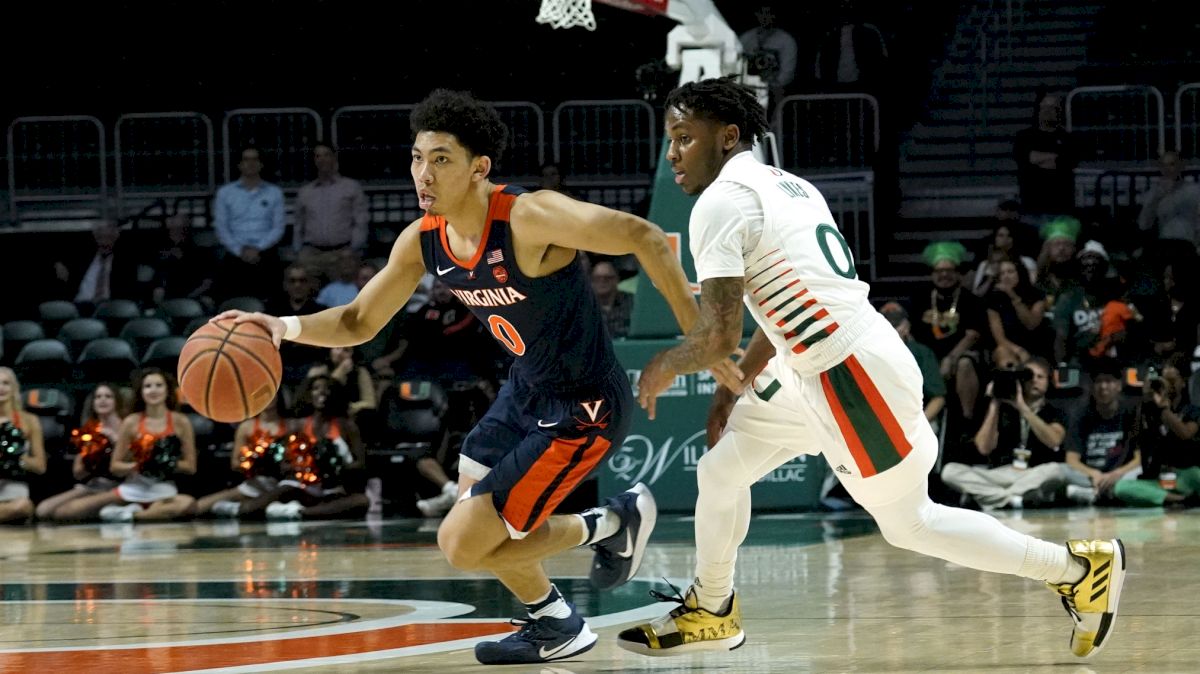 For a team that ranked third to last in the NCAA in scoring a year ago, Virginia enters the 2020-2021 campaign with the substantial challenge of replacing 40-percent of their points from last season.
The departures of big man Mamadi Diakite (13.3 pts) and wing Braxton Key (9.9 pts) will make offense even harder to come by in Charlottesville and put an even greater strain on the defense to remain the best in the country as it was in 2019-2020.
Watch UVA at the 2020 Bubbleville LIVE on FloHoops!
But of course, defensive dominance has been the hallmark of the Tony Bennett era at UVA, and the Cavaliers' No. 4 preseason ranking reflects the overwhelming expectation that this team will continue to hound opponents into submission. Surrendering only 52.4 points/game-- the best in the country by over a point-- can cover up a lot of shortcomings.
To be sure, Virginia will miss Diakite-- a prolific shot blocker and elite perimeter defender-- just as much for preventing points as scoring them, but a program that has consistently ranked at the top of college basketball defensively for over a decade isn't reliant on specific personnel to remain elite.
The Hoos, led by junior guard Kihei Clark and senior transfer Sam Hauser, open their season on Nov. 25 against Maine (2:00 PM on FloHoops), a team that knows all too well how suffocating Bennett's group can be. The Black Bears managed just 26 points on 18-percent shooting a year ago, the lowest point total Virginia allowed all season.
The 5'9 Clark runs the UVA offense and brings invaluable experience as a crucial piece from the team's title run two years ago. His 5.9 assists/game ranked 24th in the country, and coming off a career-high average of 10.8 points per contest the junior will be a double-double threat every night. Clark is a pass-first point, but he also knocked down 38-percent of his threes last season.
Speaking of threes, Virginia should find plenty of space in the paint by stretching the floor with Marquette transfer Sam Hauser. The 6'8 Hauser and his 40-percent three-point shooting will be a welcome addition for Coach Bennett's offense if he can replicate the 88 treys he recorded in 2018-2019 for the Golden Eagles. Hauser cleans the glass well, too, to the tune of 7.2 per game that same season.
Highlighted by wing Jabri Abdur-Rahim and guard Reece Beekman, Virginia also brings in two freshmen who could contribute right away. Abdur-Rahim, a 6'7 slasher who can score from 15 feet in, is the son of former All-Star and 13-year NBA veteran Shareef Abdur-Rahim.
As usual, Virginia isn't going to wow you with future lottery picks like some of their ACC counterparts, but their experienced roster and ability to play consistently stout defense gives them an edge despite a talent deficit relative to the likes of Duke and North Carolina.