2020 Women's Vegas Bubble
San Diego State, Washington Tangle At Women's Vegas Bubble
San Diego State, Washington Tangle At Women's Vegas Bubble
Washington and San Diego State will kick-off their seasons against each other at the Women's Vegas Bubble on November 24th.
Nov 23, 2020
by Kevin Sully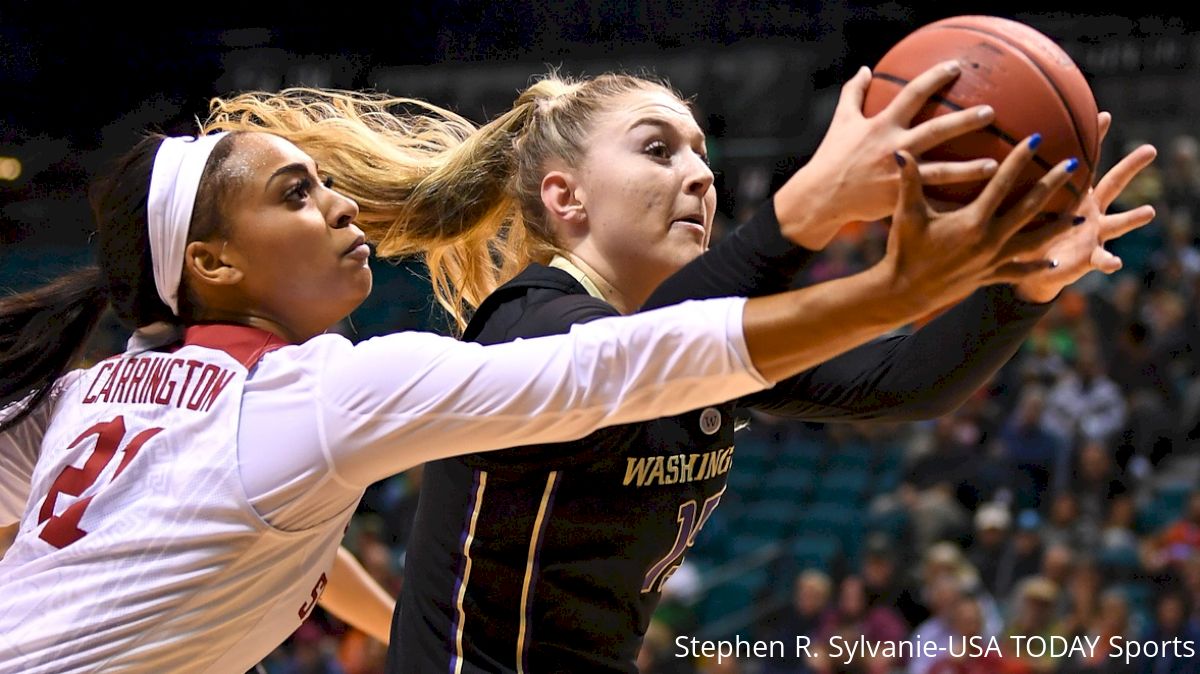 A season of inevitable schedule changes and new faces for the Washington and San Diego State women's basketball programs begins on Tuesday night.
The two teams open their season against each other at 7:00 PM local time at T-Mobile Arena in Las Vegas, Nevada in the Women's Vegas Bubble. That much seems certain.
Watch The Women's Vegas Bubble Live On FloHoops
In addition to the uncertainty that accompanies the COVID-19, there's plenty of turnover on both rosters to make forecasting their season a challenge. Washington returns just one starter from their 2019-2020 team that went 13-17. Only six players total will suit up this year that played last year. Guards Missy Peterson and T.T. Watkins won't play this season. Peterson, because of an ACL injury that she suffered during training camp, while Watkins opted out of playing because of concerns about COVID-19.
Darcy Rees, the 6'4 center, is the lone starter back. Last season, she averaged 6.9 points and 4.1 rebounds per game. She also led the team in blocks.
Washington coach Jody Wynn calls Rees "our most relied upon three-point shooter." After shooting 36% on only 53 attempts last season, expect Rees to let a few more fly from deep this season. Junior Haley Van Dyke started as a freshman for the Huskies but came off the bench last year where she averaged 8.2 points and 5.1 rebounds per game. She also led the team in steals.
"Haley's best attribute is her ability to score when the ball is not in her hands. She constantly moves. She creates really good spacing for her teammates and she's in phenomenal shape," Wynn said.
With the absence of Peterson and Watkins and the presence of four freshmen, the Huskies will lean heavily on the experience they do have. Seniors Alexis Griggsby and Khayla Rooks and sophomores JaQuaya Miller and Callie Lind will be key if the Huskies are to see their first winning season since 2017.
San Diego State is also hoping to snap a streak of losing seasons. It's been seven years since the program finished with a winning record. Last year, the Aztecs went 9-9 in the Mountain West Conference and went 14-17 overall.
They bring back one of the best players in the conference. Junior guard Sophia Ramos was named preseason first-team All-Conference. In her sophomore campaign, Ramos did a little bit of everything. She averaged 15.4 points, 7.2 rebounds and 3.8 assists per game. She got to the line often and when she was there, she made free throws at an 85% clip.
Mallory Adams joins Ramos as one of the key returners. She had a strong start to her sophomore season last year, averaging nearly 13 points per game before an injury in November ended her season. She's expected to reunite with Ramos in the backcourt on Tuesday night.
The Aztecs will also add depth with the addition of four-star recruit, Asia Avinger. The Cerritos, California product was named the conference's preseason Freshman of the Year. In her senior year, she was named the Orange County Player of the Year.
"She's a special kid," Ramos said of Avinger in an interview with 97.3 The Fan. "(Avinger) has a different drive than I've seen in a long time. I've enjoyed working against her and working with her."
Avinger is one of five freshmen on the roster, in addition to three transfers.
With youth, also comes some size. Two of the three tallest players on the roster are true freshmen. 6'3 center Kamaria Gipson averaged a ridiculous 5.7 blocks a game her senior season. Flo Vinerte, 6'2, was a McDonald's All-American nominee in high school.