2020 Georgetown vs DePaul - Women's
Big East Women's Notes: Lott Sparkles, 'Nova Undefeated, UConn Debuts
Big East Women's Notes: Lott Sparkles, 'Nova Undefeated, UConn Debuts
Last week in the Big East, Selena Lott starred for Marquette while Villanova stayed undefeated.
Dec 15, 2020
by Kevin Sully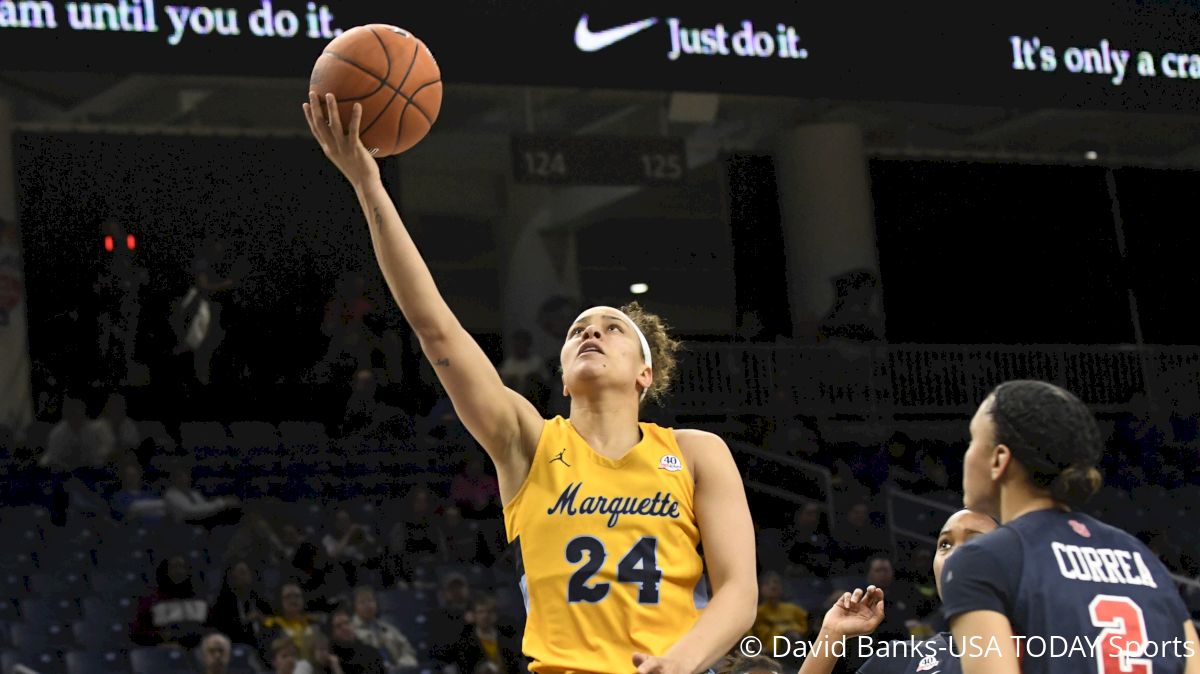 Just over half of the Big East has started conference play, but that's about to change this week with the remaining teams getting their feet wet against conference foes. Here's what to watch for across the conference.
DePaul's Rugged Non-Conference Schedule Continues
DePaul hasn't played a conference game yet (both their scheduled games have been postponed), but they will take on their third top-25 non-conference opponent of the season on Wednesday when they host #9 Kentucky. The 24th-ranked Blue Demons have already played, and lost, to #13 Texas A&M and #5 Louisville.
Kentucky is 6-0 and the game against DePaul should mark the return of All-American Rhyne Howard for the Wildcats. Howard was suspended for two games for violating team rules.
It will be another tough test for DePaul as they look to remain in the top-25. On Saturday, they will play Georgetown in both team's conference opener. In fact, the game with be the Hoyas first of the season. The Hoyas had a positive COVID-19 test in the program that caused the cancelation of five non-conference games and the postponement of Big East match-ups against St. John's and Creighton.
UConn Conference Debut
Speaking of late debuts, Big East favorite UConn will play their first conference game this week. The third-ranked Huskies opened their season on Saturday with a dominant 79-23 win over UMass Lowell. Page Bueckers was named Big East Freshman of the Week for her versatile display against UMass Lowell. Bueckers had 17 points, nine rebounds, five assists and five steals.
This week, UConn has three conference games on tap beginning with Seton Hall on Tuesday night. Their best game should come against Creighton on Thursday. The preseason Big East polled picked the Blue Jays for fifth. Creighton (2-3, 1-0) started the year with three consecutive losses but has now won consecutive games, including a blowout of Butler.
Can Villanova Stay Undefeated?
In that same preseason poll, Villanova was tabbed for seventh. Granted it's only a few weeks into what can charitably be described as a bizarre season, but so far the Wildcats are exceeding those expectations. Villanova is 6-0. Their only conference game was a victory against St. John's, a team picked to finish fourth in the Big East.
Forward Maddy Siegrist is off to a stellar start to her sophomore season averaging 22.8 points per game. The Wildcats have games against Providence (Wednesday) and Creighton (Saturday) this week before hosting UConn on December 22nd. Providence is 1-1 in the Big East (3-4 overall) with a victory over Butler and a loss to Marquette.
Marquette Is On A Roll
The Golden Eagles had an inauspicious beginning to the season, dropping a home game to Milwaukee on December 2nd. They've run off three consecutive wins since then and moved their record to 4-2 overall and 1-0 in the Big East. Selena Lott was named the Big East Women's Basketball Player of the Week after she averaged 22 points a game in Marquette's road wins at Cincinnati and Belmont. Lott also grabbed a career-high 14 rebounds against Belmont.
This week the Golden Eagles play St. John's on Wednesday and Seton Hall on Saturday.