2020 Marquette vs Xavier - Women's
Big East Women's Notes: DePaul Claims Signature Win, 'Nova/UConn Clash
Big East Women's Notes: DePaul Claims Signature Win, 'Nova/UConn Clash
DePaul upset #8 Kentucky in what was their biggest victory of the season, while Villanova and UConn will battle on Tuesday.
Dec 22, 2020
by Kevin Sully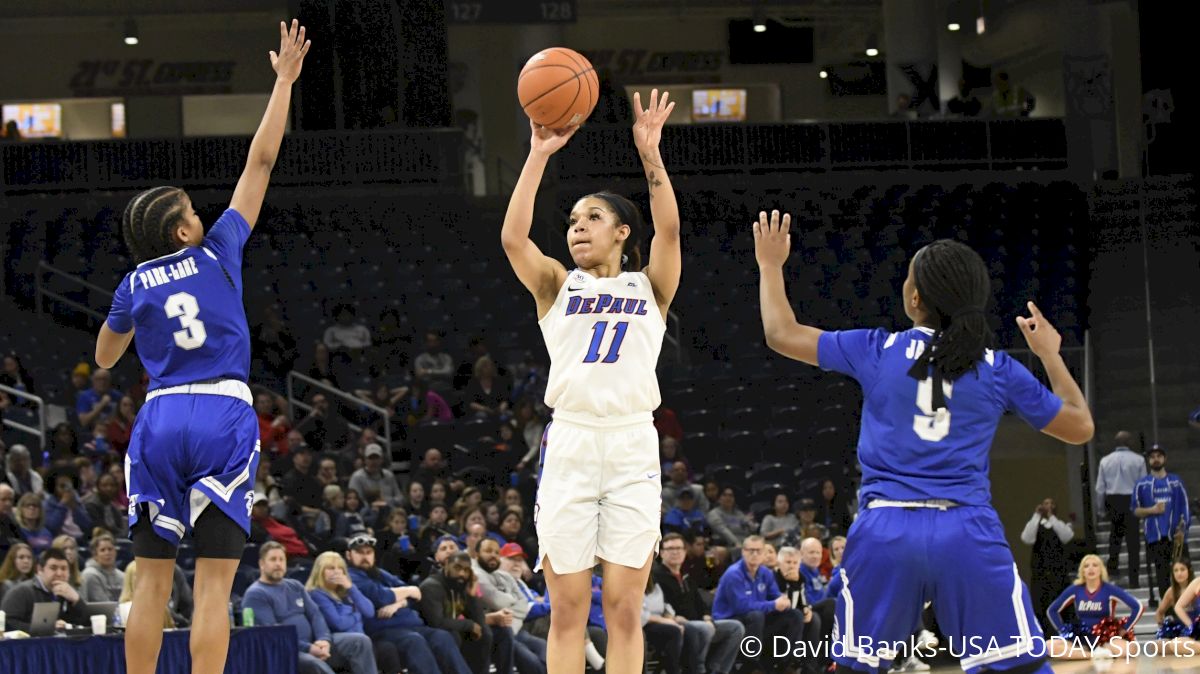 It's a shortened week in Big East women's basketball with one set of games on Tuesday before teams go quiet until after Christmas. Here's a look at last week's takeaways and what to watch for this week:
DePaul Gets Big Non-Conference Win On Third Try
Before last week the 24th-ranked Blue Demons' tough non-conference schedule hadn't yielded a signature victory. That changed last Wednesday when DePaul took down #8 Kentucky, 86-82.
Sonya Morris scored 23 points and the DePaul defense held All-American Rhyne Howard to 18 points and forced her into six turnovers. On Saturday, the Blue Demons returned to conference play and beat Georgetown 72-54. This time it was Dee Bekelja leading the way with 19 points and 12 rebounds. The two victories were enough to move DePaul up six spots in the national rankings to #18.
UConn Rips Through Beginning Of The Season
As expected, the #3 Huskies dominated their first three conference games of the season. UConn beat Seton Hall (92-65), Creighton (80-47) and Xavier (106-59) last week. The busy schedule made up for a bit of lost time after UConn paused team activities earlier in the season. The three wins came with three different leading scorers. Paige Bueckers scored 25 points against Seton Hall, Olivia Nelson-Ododa had 24 points vs. Creighton and Christyn Williams poured in 24 points in the victory over Xavier. Bueckers was again named the Big East Freshman of the Week.
Postponements
Wednesday's game between Villanova and Providence was postponed after the Wildcats had to pause team activities. Villanova did return for Sunday's game against Creighton where they won 73-68. The victory kept the Wildcats undefeated (7-0). It was another dominant showing for Maddy Siegrist. The sophomore scored 34 points, 19 rebounds and was named Big East Player of the Week.
Marquette and Seton Hall was also postponed because the Pirates had to pause team activities. The Seton Hall/Georgetown game for Tuesday will also be postponed.
St. John's Struggles
The Red Storm are now 0-3 in the Big East after losses to Marquette and Providence. Against Marquette, St. John's had the leave with 1:45 remaining in the game before Marquette scored the final five points to win 66-62. Despite the loss, Leilani Correa was spectacular for St. John's with 31 points, six rebounds and four steals.
It was not as competitive against Providence. Without Correa, the Red Storm struggled. They shot 6-21 from three-point range and lost 76-53 to the Friars.
Undefeated Battle On Tuesday
The remaining two undefeated teams in the Big East will square-off on Tuesday when UConn travels to Villanova. It will be the 'Nova's toughest test yet and a chance to see Maddy Siegrist against one of the nation's best teams.
Elsewhere, Marquette will look to stay undefeated in the Big East when they travel to Xavier on Tuesday live on FloHoops. The Golden Eagles only played one game last week (the victory over St. John's) and have now won four consecutive games. Selena Lott continues to show why she's one of the best in the conference. Against St. John's, Lott scored 21 points on just 13 shots.
Xavier will try to shake off their blowout loss to UConn in what was their conference opener. Things should only get easier from here for the Musketeers who were outscored 38-7 in the opening quarter against the Huskies.
Also on Tuesday, DePaul will travel to Creighton and St. John's hosts St. Bonaventure.