Men's CAA Basketball
There's 'No Template' For Unique Season As CAA Moves To Conference Play
There's 'No Template' For Unique Season As CAA Moves To Conference Play
As the Colonial Athletic Association moves to conference play in basketball, there's very little that will go according to script — probably.
Dec 31, 2020
by Jerry Beach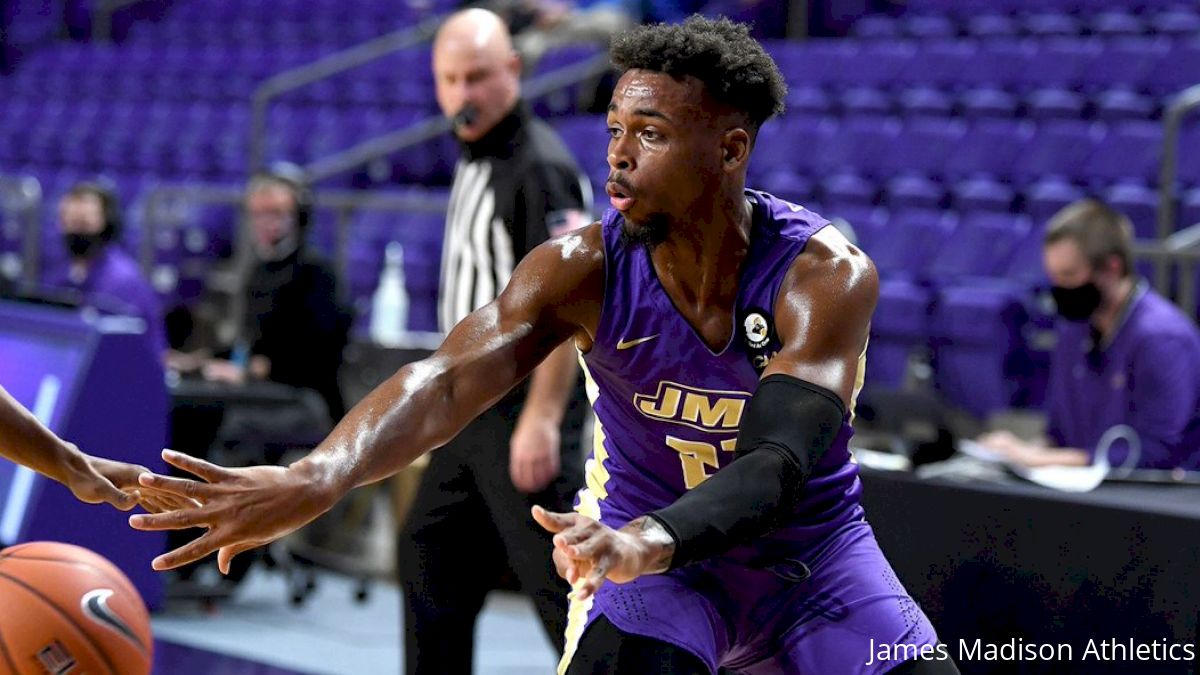 Let the record show the first Division I team in the 2020-21 season to sweep the same opponent on back-to-back days was Drexel.
And because this is the 2020-21 season, let the record show the Dragons and head coach Zach Spiker headed to Mohegan Sun's "Bubbleville" a few days after Thanksgiving with absolutely no idea they were about to enter the basketball laboratory by playing and sweeping Quinnipiac.
"We didn't plan it — we didn't say, 'Let's go to Mohegan Sun and play the same team twice,'" Spiker said during the CAA coaches Zoom call Wednesday morning. "Initially that tournament was Albany, LIU (Long Island University), Quinnipiac and ourselves. And LIU canceled their non-conference season and Albany was on pause. I think Bryant was going to hop in (but) they couldn't get on the same page with what the tournament required from a housing and testing standpoint.
"So it got down to the 11th hour, we just said, 'Hey, Quinnipiac is playing in a league (the MAAC) that's going to go back-to-back and so are we in the CAA.' So we saw it as an opportunity to kind of give us a little bit of some exposure to what it could be like."
The test run went pretty well for Drexel, which trailed for a total of 3:38 in beating Quinnipiac by a combined 28 points on Dec. 2-3. Spiker said the impromptu back-to-back set allowed him and the Dragons' medical staff to map out a plan for consecutive games that could be applicable to CAA play.
"It was a template," Spiker said.
Notice he said "a template" and not "the template" — after all, no one needs to be told there is no template for the conference season, which is scheduled to begin this weekend with a quartet of Saturday-Sunday back-to-backs.
That there's only a quartet of back-to-backs and not a fifth back-to-back consisting of a home-and-home underscores the uncertainty of the CAA season before it even begins. The Towson-James Madison home-and-home scheduled to take place Saturday and Monday was postponed Tuesday after Towson learned a Tier 1 member of the program tested positive hours before the Tigers were scheduled to play Iona.
The cancellation of the Towson-Iona game (as well as a Towson-Morgan State game scheduled for Wednesday night) provided an appropriately unsettling end to non-conference play for CAA schools…for about 24 hours, anyway, until James Madison announced Wednesday night it plans to play Morgan State Sunday night.
James Madison adding to its non-conference schedule hours before New Year's Eve served as a reminder of how a usually challenging task — trying to project how a team's non-league performance portends its CAA fortunes — is made borderline impossible given the spotty nature of non-conference play in the midst of a pandemic.
Last season, nine teams played either 12 or 13 non-league games, with James Madison playing 11. All 10 teams had between five and eight days off between their final non-conference game and the CAA opener. This season, CAA teams have played between five and nine non-conference games, but the pace and logistics of those schedules have varied dramatically.
UNC Wilmington got in nine games in 28 days and Hofstra played seven times in 24 days. Elon played four times and is scheduled to visit Northeastern Saturday, which will mark the first road game of the season for the Phoenix and the second home game for the Huskies, who played five road games in five states while compiling the toughest non-conference schedule in the league.
"More or less halfway through the season — which doesn't feel like it, because it's only been five games," William & Mary head coach Dane Fischer said.
The chaos of the non-conference yielded an entertaining exchange between Spiker and Elon head coach Mike Schrage, who followed Spiker on Wednesday's conference call.
"I just want to let you know seven (non-conference games) is a pretty good sample size," Schrage said.
"We're thankful we got to play seven," Spiker said. "Where are you guys at?"
"Four. It is what it is."
Towson's second pause of the season means that even if the Tigers can resume their season on schedule following the pause, they'll enter a Jan. 16-17 series against UNC Wilmington having played two games and practiced 12 times in the previous 48 days.
James Madison, under first-year head coach Mark Byington, has already been quarantined twice for a total of 26 days and played their first six non-conference games over two quick bursts — three games from Nov 25-29 and three games from Dec. 19-22.
"We don't have a complete picture of what we are right now," Byington said. "We were looking forward to kind of kicking this off in conference play and starting to build an identity."
With coronavirus cases spiking nationwide, odds are the Towson-James Madison postponement won't be the only one. CAA commissioner Joe D'Antonio said Wednesday the league would be open to reworking the schedule if multiple teams are paused at the same time, even if it meant certain schools would play each other more than twice.
"We anticipate, unfortunately, that there will be some stops and starts," D'Antonio said.
For CAA teams beginning play this week, there's at least some data to examine regarding the task of opposing the same team in back-to-back league games. Entering Wednesday, 48 back-to-back league games had been played across nine conferences, 30 have ended in sweeps, including nine of 14 played last weekend. Including non-conference matchups, 34 of the 56 back-to-back sets have ended in sweeps.
"One way or the other, you've got to come back the next day," Byington said. "And you'll either be feeling good about the first day, or your guys are going to have a little edge to them because they lost the first day. To get a sweep in a weekend I think is going to be huge for whomever does that. If you can ever get a sweep in a weekend — and avoid getting swept is the other thing — those teams are going to be at the top of the league for sure."
Of course, here in 2020, there's uncertainty to be found even in a fairly steady trend. In the MAAC's first weekend of conference play Dec. 11-12, there were three splits among the four series, two of which featured each team winning by double digits. The following weekend? Four sweeps in as many series.
"I think managing your guys and getting them to play the right way regardless of what happened — and its hard at 18-to-22-year-olds, you win by 10, you think they're the greatest thing in the world, you lose by 10 and you're a little fired up," Hofstra acting head coach Mike Farrelly said. "How you manage those things on a day-to-day basis with a quick turnaround."
Spiker, the first CAA head coach to oppose the same opponent on back-to-back days this season, is also the only head coach in the league to have any experience coaching back-to-back Division I games. From 2004-09, he was an assistant at Cornell, which plays Ivy League games, albeit not against the same opponent, on Friday and Saturday nights.
That was a long time ago, though, and in the middle of far more normal times. So this year will be a learning experience for everyone, even the coach directing the team that's already the answer to a very 2020-21 trivia question.
"I think this season is going to be filled with coaches and programs and teams adapting to situations, whether it's day of travel or how you're doing your meals and when you're meeting," Spiker said. "It's going to be fluid. Did we have a sample size? We did. But again, seven games, two of them are back-to-back, still don't know if it's enough to say 'Hey, this is what we're set to do.'"
---
Jerry Beach has covered Hofstra sports since arriving on campus in the fall of 1993, when Wayne Chrebet was a junior wide receiver wearing No. 3, Butch van Breda Kolff was the men's basketball coach for the East Coast Conference champions and Jay Wright was a little-known yet surely well-dressed UNLV assistant coach. Check out Jerry's book about the 2000 World Series here and follow him on Twitter at @JerryBeach73.