Men's CAA Basketball
CAA Coaches Evaluate Their Teams Ahead Of Opening Conference Weekend
CAA Coaches Evaluate Their Teams Ahead Of Opening Conference Weekend
As coaches prepare their teams for conference play in the CAA, the difficulty of sample size is already apparent.
Dec 31, 2020
by Kyle Kensing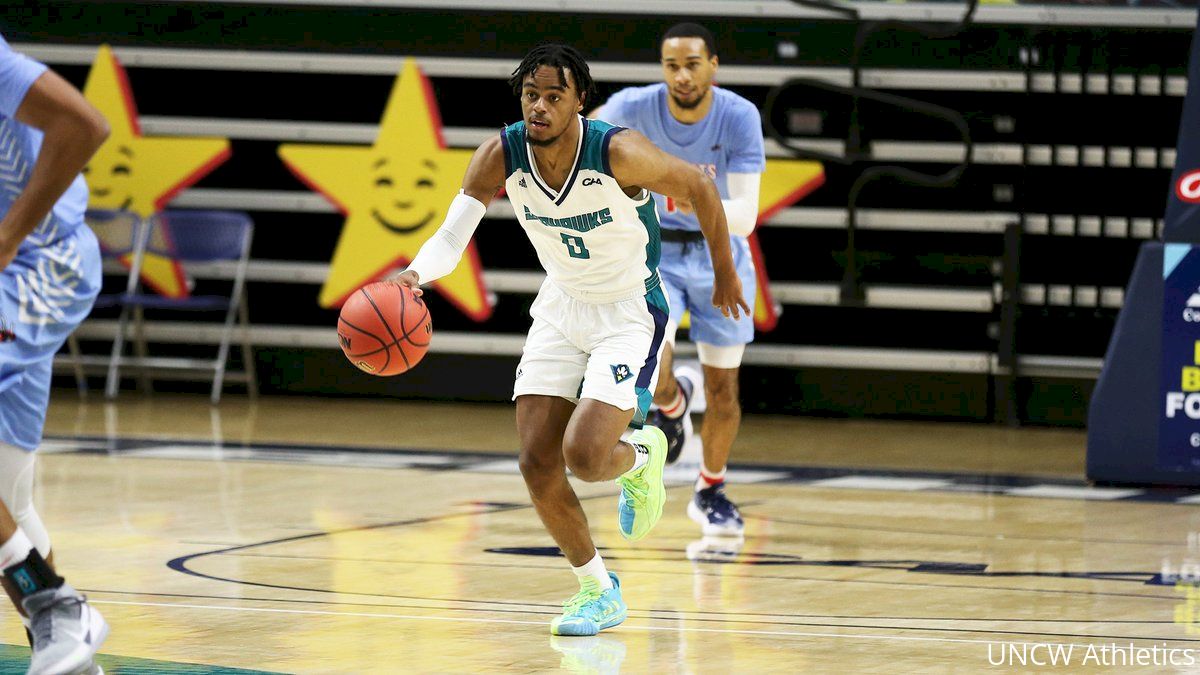 Along with a new year, the Colonial Athletic Association ushers in a new phase to the unusual 2020-21 season with the upcoming tipoff of the conference slate.
Heading into the campaign, it was understood around the CAA that this would be "a season like no other." Certainly the first month of non-conference competition reinforced that.
CAA teams played as few as five non-conference games (Delaware, Elon, Towson, William & Mary) and as many as nine (UNC-Wilmington). The difference isn't insignificant, given the importance out-of-league contests have in shaping a team's identity.
"Typically, if you get into analytics and the KenPom world, get to that eighth game you've got a decent sample size to look back on," said Drexel coach Zach Spiker. "None of us are going to have that at this point in time."
Drexel, which went 5-2 through its first month, opens with the only CAA team to reach that eight-game threshold, UNC-Wilmington, which went without a cancellation.
The Seahawks have been a surprise of the college basketball season, sitting just four wins shy of matching their 2019-20 win total.
"That we were able to play nine games is pretty impressive," said first-year UNCW coach Takayo Siddle. "I give a lot of credit to my staff and players. It's tough, because they don't have a social life right now.
"We needed all of those nine games," he added. "I wouldn't have mapped them out any differently...The three losses we took, we learned from them, and the six wins, we learned from those, as well."
Both preparation and good fortune were on the side of one first-year head coach in the CAA, but Siddle's counterpart at James Madison — Mark Byington — has faced a different set of circumstances.
The Dukes went 3-3 in non-conference, but their schedule followed a hurry-up-and-wait format.
"We've played six games nonconference in a nine-day window," he said. "We played three in five days, then three in four days. We've been paused twice. We've been in quarantine 26 days since the start of practice."
Meanwhile, James Madison's scheduled CAA opening-weekend with Towson is on hold while the Tigers deal with COVID-19 protocol. Byington said the Dukes are looking to finalize a non-conference date to fill in.
Postponed and canceled games draw headlines, but the impact of COVID-19 and protocols to ensure a safe playing environment extend well beyond contests played. Delaware coach Martin Ingelsby, whose team is 2-3, only recently began practicing with a full roster.
"That's the challenge a lot of teams and a lot of programs are facing," Ingelsby said. "How many guys are you going to have at practice every day?"
The result of such a peculiar non-conference season, per Byington and a common sentiment: "I have no idea what my team is right now."
Conference play separates contenders in any season, but this particular CAA campaign will be especially telling of teams' character. Beyond the shortened non-conference season and postponements, the weekend back-to-backs make for more of a gauntlet than usual.
Opening weekend features intriguing matchups between Drexel and UNCW, the two teams with the Colonial's best records; a surprising 3-1 Elon team against the always well-coached Northeastern Huskies; and talented Delaware and College of Charleston squads.
The grind of the back-to-back will be evident from the jump.
"You're going to play a team, then one way or another, you've got to come back the next day," Byington said. "To get a sweep in a weekend, I think is going to be huge for whoever does that."
Much like COVID-19's impact going behind the scenes with practice numbers, the back-to-back schedule has challenges perhaps not immediately evident. Byington noted that as coaches, they dissect game film and map out strategy, but playing two games in two days has physical implications, as well.
Meetings with the team nutritionist and strength coach are part of the Dukes' itinerary, he said, making this historic season a total team effort in more ways than one.
---
Kyle Kensing is a freelance sports journalist in southern California. Follow him on Twitter @kensing45.