Men's CAA Basketball
The Weekend That Was: Northeastern, Hofstra Earn Sweeps In CAA Play
The Weekend That Was: Northeastern, Hofstra Earn Sweeps In CAA Play
Northeastern and Hofstra earned sweeps in early CAA play. Here's what else transpired over the weekend in the conference.
Jan 4, 2021
by Jerry Beach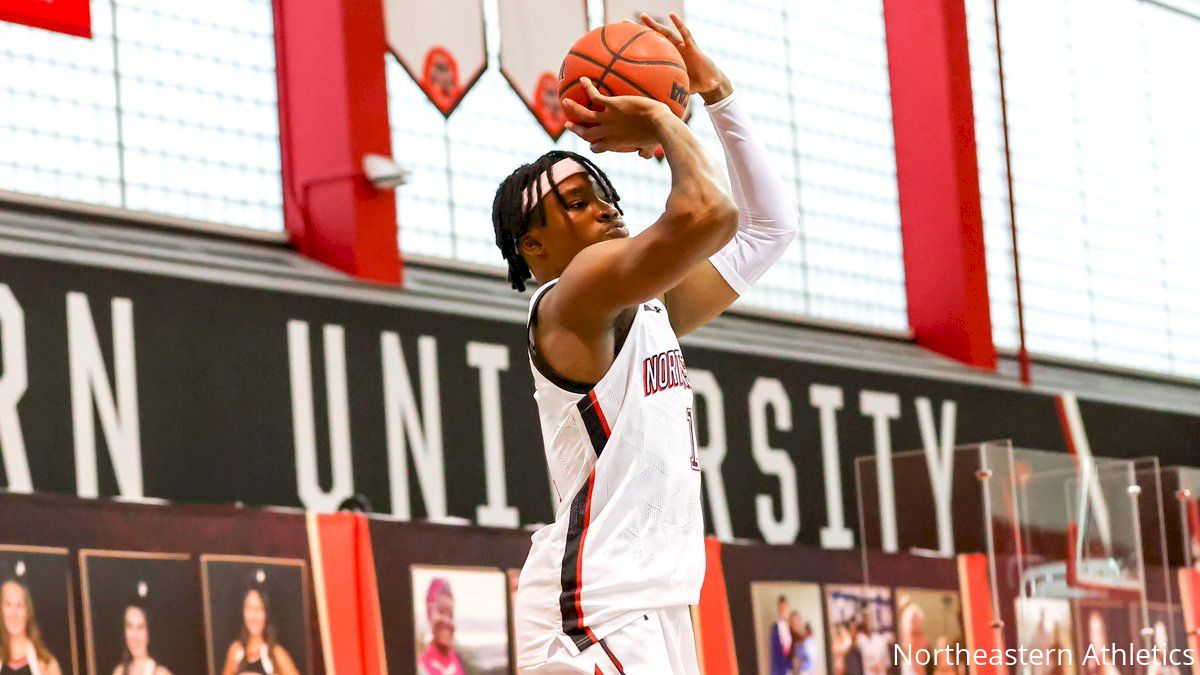 Hofstra's imperfect sweep of the opening weekend of CAA play left acting head coach Mike Farrelly relying upon one of the most famous quotes in NFL history — words uttered just a few hundred feet from where he sat Sunday afternoon.
"Was it Herm Edwards that said, 'You play to win the games?'" Farrelly said.
That was in fact Edwards, who, as the former New York Jets head coach, called Weeb Ewbank Hall at Hofstra his home office for five seasons early this century and delivered his oft-cited words at a press conference on Oct. 30, 2002.
"That's what we did," Farrelly said after the Pride beat William & Mary, 82-73. "It's not pretty. But it doesn't matter when you win."
Of course, in the first weekend of 2021, just playing games carries with it a certain amount of winning regardless of the results.
An already-reduced CAA slate was whittled further at 12:01 PM Saturday — one minute after Northeastern and Elon were scheduled to tip-off in Boston — when the league office announced the series between Drexel and UNC Wilmington in Philadelphia was postponed due to a positive coronavirus case within the UNCW program. The Towson-James Madison home-and-home series scheduled for Saturday and Monday was postponed last week after Towson shut down again due to a positive coronavirus case.
The three other series were played to completion, which qualifies as little victories for all 10 teams — the six that got to play as well as the other four teams, all of whom finally get to scout some league games — and the CAA itself, which took an important first incremental step towards completing a most challenging season.
And because 2020-21 is decidedly unusual, James Madison was able to schedule a non-conference game on a few days notice but lost at home to Morgan State.
Here's a look back at the weekend that was in the CAA.
NORTHEASTERN SWEEPS ELON
Any experienced CAA observer knows not to underestimate Bill Coen and Northeastern. But it seemed reasonable to expect the program to take at least a small step back after Coen lost three of his top four leading scorers and top two rebounders from a season ago, which left him with one of the youngest rosters in the country — featuring no seniors and just three juniors — following a pandemic-shortened off- and pre-season. So the seventh-place prediction for the Huskies appeared fair. Right?
Oops.
There are (hopefully) 16 games to go, but Northeastern looked as relevant as ever in sweeping Elon with a 75-52 win Saturday followed by a wire-to-wire 66-58 victory Sunday. The back-to-back wins were Coen specials, with the Huskies getting the most out of a lean roster by relying on offensive efficiency — remarkably, they shot 18-of-31 from inside the 3-point line in BOTH games — and suffocating defense, especially beyond the arc. Elon was just 11-of-46 (23.9 percent) from 3-point land over the weekend.
Coen also got creative Sunday, when he started 6-foot-8 forward Jason Strong at center Sunday after usual center Greg Eboigbodin was scratched due to spasms he suffered in warmups. Strong had 17 points and seven rebounds. The lineup shuffle was reminiscent of the CAA Tournament in March, when 6-foot-5 Maxime Boursiquot started at center and made the all-tourney team by scoring 39 points on 18-of-31 shooting.
This weekend's wins also justified Coen's decision to play the most rigorous non-conference schedule of any CAA team. Northeastern went 1-5 while playing five road games in as many states and falling to Syracuse and West Virginia in games scheduled on short notice.
"It's always been our philosophy to go out and play against the very best that we can find, and this year was maybe a little bit more than we should have," Coen said with a grin. "But I'm proud of our guys going in and competing in various venues. I know it's a life experience and it's a basketball experience that they'll remember. What we took from it, each of those contests, we were able to establish our own identity a little bit more and learn about our rotations and gain some confidence on an individual level and a team level."
Had things gone somewhat according to plan this season, Elon would have faced a non-conference schedule on par with Northeastern's. The Phoenix had road games against Duke and North Carolina — as well as Mercer, which spent most of the first several weeks as a top-150 team at KenPom.com — canceled due to the pandemic.
Elon ended up playing just four non-conference games, all at home, and only three against Division I foes. The last two of those games — a 66-56 win over Campbell and a 71-64 loss to UNC Greensboro — were played in a three-day span from Dec. 16-19.
Now the Phoenix might be headed for another long break. Elon's home series against Towson scheduled for Saturday and Sunday has already been postponed, though.
HOFSTRA SWEEPS WILLIAM & MARY
The defending champion and preseason favorite Pride are in far better shape than the Jets were when Edwards was asked if he had to worry about a 2-5 team packing it in (whether his words had anything to do with it or not, the 2002 Jets finished on a 7-2 kick to win the AFC East for the second and most recent time in franchise history).
But the bottom-line nature of Edwards' words were relevant after Hofstra, favored by double digits at KenPom.com in both games against a William & Mary squad picked to finish last, swept the Tribe by a combined 14 points. The Pride won Saturday's opener, 61-56.
Hofstra opened a double-digit lead in the first half of both games, but the Tribe had a chance to tie the game in the final minute Saturday before taking a first-half lead Sunday and trailing by one point with five minutes left before the Pride ended on a 22-14 run.
"If we won by 20, how much do you necessarily learn from that, versus you can learn a little bit more when you have a game like this," Farrelly said Sunday.
The weekend was imperfect for Hofstra, but it also provided the Pride a chance to exhibit the experience and depth lacked by the rebuilding Tribe.
Two-time reigning Player of the Week Jalen Ray scored just seven points Saturday but pulled down a career-high nine rebounds. On Sunday, Ray scored 13 of his team-high 21 points in the second half and combined with Tareq Coburn to go 10-for-10 from the line in the final minute.
Isaac Kante succeeded Ray as Player of the Week by posting back-to-back double-doubles. But the breakout player of the weekend for Hofstra might have been point guard Caleb Burgess, who flirted with a triple-double on Saturday (nine points, seven rebounds and seven assists) and set career-highs with 15 points and eight assists Sunday. That's more points and assists in two games than Burgess had last season, when he averaged 6.3 minutes per game as a freshman.
While William & Mary couldn't pull off an upset this weekend, the Tribe, which has just three upperclassmen, looks like the classic up-and-comer ready to create a nuisance and win more games than anyone on the outside expected in the preseason.
Guard Luke Loewe, the lone senior on the roster and the all-league caliber holdover any rabble-rousing rebuilding team needs, scored 51 of the Tribe's 129 points this weekend while shooting 51.4 percent from the field (18-of-35), including 40 percent (6-of-15) from 3-point land. William & Mary also pulled down 26 offensive rebounds, as many as Hofstra surrendered in its previous three games combined.
A sequence late in the first half embodied the growing pains the Tribe are likely to endure most of this season. After a miss by Burgess, Mehkel Harvey accidentally tipped in the rebound to extend Hofstra's lead to 32-29. And with less than a second left, Ben Wight fouled David Green following Miguel Ayesa's missed 3-pointer. Green hit the two free throws to give the Pride a 36-29 halftime lead.
CHARLESTON, DELAWARE SPLIT
Want the best indicator of how herky-jerky the season could be in the CAA? On Saturday, Delaware never trailed in beating Charleston, 70-67, but the Cougars' Payton Willis missed an open 3-pointer at the buzzer that would have forced overtime. On Sunday, Charleston never trailed in a 66-59 win, but the Blue Hens mounted a 13-0 run shortly after the midway point of the second half to close within four points.
Charleston and Delaware weren't the only ones experiencing rapid momentum shifts over the weekend. Northeastern didn't score for the first 4:07 on Saturday yet didn't trail for the final 31:55 and outscored Elon 46-26 in the second half. William & Mary was scoreless for the opening 6:26 Sunday but needed just another 6:18 to take a 20-18 lead.
Such randomness is likely to embody the entire season but particularly symbolizes what probably lies ahead for Charleston and Delaware, both of whom are reloading more than they could have anticipated 10 months ago.
The Cougars lost senior guard Brevin Galloway to a season-ending torn left ACL injury on Dec. 11 while the Blue Hens, who already lost Nate Darling to pro ball and Justyn Mutts to Virginia Tech, played Sunday without Kevin Anderson, who suffered an ankle injury Saturday. Delaware head coach Martin Inglesby played just seven players Sunday, including six who were on the court for at least 24 minutes.
JAMES MADISON FALLS TO MORGAN STATE
With their Towson home-and-home postponed, James Madison managed to schedule a home game against Morgan State but lost, 80-73. It was Morgan State's second straight win over a CAA school — the Bears also beat Delaware, 65-59, on Dec. 21 — but, as JMU beat writer Shane Mettlen put it, might just establish the NAIA's West Virginia Tech as the CAA favorite by the law of transitive property, since West Virginia Tech beat Morgan State, 73-67, on Dec. 19.
It's early, only one weekend into #CAAHoops play, but it looks like Hofstra is once again the favorite. WV Tech might not be far behind though.

— Shane Mettlen (@Shane_DNRSports) January 4, 2021
The loss to Morgan State wasn't the only bit of bad basketball news for James Madison. Head coach Mark Byington said Rashawn Fredericks, who transferred to James Madison from Alabama-Birmingham, left the team without suiting up for the Dukes.
James Madison is scheduled to get another non-league game on Tuesday when Florida Atlantic is slated to visit Harrisonburg.
STAT OF THE WEEKEND, PART I
Nationally, there have been 105 back-to-back series played through Sunday, including 97 in conference play. A team has swept 59 series overall, including 55 in conference play.
STAT OF THE WEEKEND, PART II
Northeastern has won its last nine CAA openers under Bill Coen. Insert your favorite Ferris Bueller gif here.
A LOOK AHEAD
In the mood for a rematch of the last two CAA title games? Coronavirus-permitting, the league's two 2-0 teams, Hofstra and Northeastern, are scheduled to renew acquaintances Thursday in the opener of a home-and-home series on Long Island.
---
Jerry Beach has covered Hofstra sports since arriving on campus in the fall of 1993, when Wayne Chrebet was a junior wide receiver wearing No. 3, Butch van Breda Kolff was the men's basketball coach for the East Coast Conference champions and Jay Wright was a little-known yet surely well-dressed UNLV assistant coach. Check out Jerry's book about the 2000 World Series here and follow him on Twitter at @JerryBeach73.