Big East Women's Notes: DePaul Rebounds From UConn Loss
Big East Women's Notes: DePaul Rebounds From UConn Loss
DePaul cemented their status as the second-best team in the Big East after beating Villanova on Monday.
Jan 5, 2021
by Kevin Sully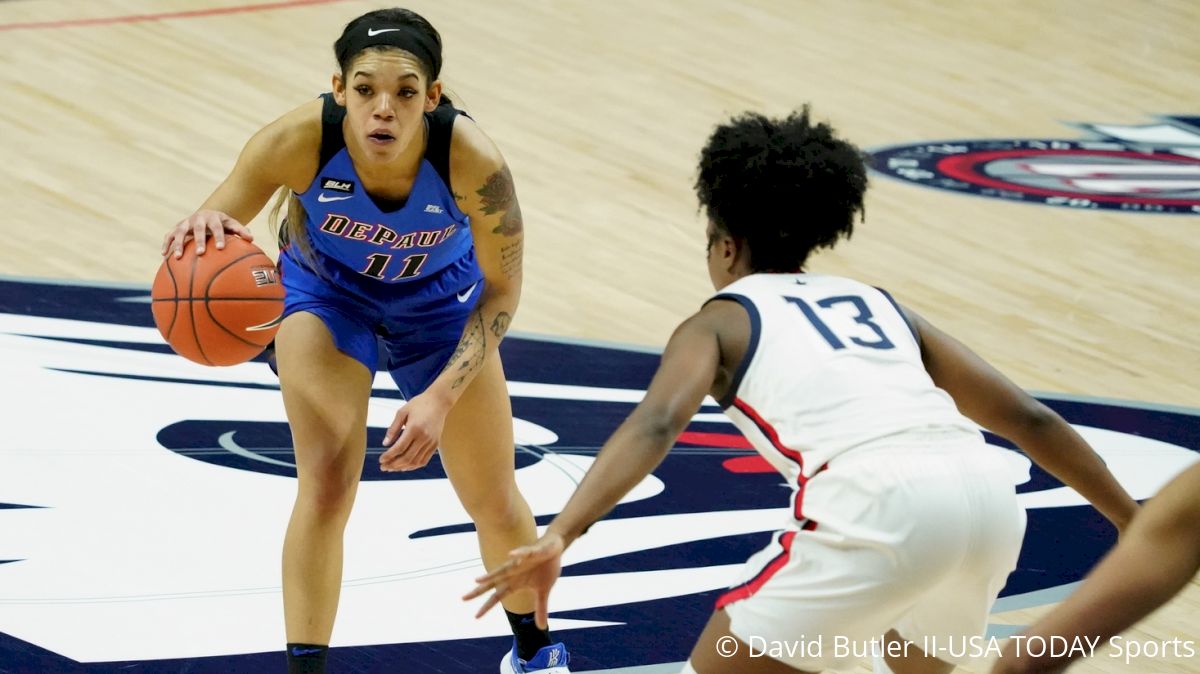 When UConn inhabits your conference, there's nothing wrong with leading the chase pack.
In a game between two teams who were coming off decisive losses to the #3 Huskies, DePaul beat Villanova 94-82 on Monday. In the process, the Blue Demons moved to 6-3 overall (3-1 in the Big East) and cemented their position as the leader of the conference's second tier.
The game between Villanova and DePaul was scheduled on short notice after COVID-related cancelations reshuffled the schedules.
Sonya Morris fouled out at the beginning of the fourth quarter, but still scored 22 for DePaul. The Blue Demons got a huge contribution off the bench from freshman Darrione Rogers who spurred on a 34-point second quarter for DePaul.
In 30 minutes, Rogers scored 21 points and was 5-8 from three-point range. Four of those makes came in the final four minutes of the second quarter.
Villanova (7-2, 2-2) was again led by Maddy Siegrist. The sophomore had 31 points 9 rebounds, 5 assists, and 4 blocks. The Wildcats travel to Seton Hall on Wednesday and host Xavier on Saturday.
UConn Keeps Rolling
UConn's 75-52 win over DePaul last week was the Huskies' closest game of the season. A win that comfortable against the second-best team in the Big East gives an idea of the gap between UConn (6-0, 5-0) and everyone else in the conference. Olivia Nelson-Ododa had 16 points and 14 rebounds and was named the Big East Women's Basketball Player Of The Week.
The Huskies visit #6 Baylor on Thursday in what looks to be their most challenging match-up before the NCAA Tournament. On Saturday, the Huskies return to conference play against Providence.
Marquette Still Undefeated, But Sidelined
Marquette's scheduled game against DePaul last weekend was canceled after the Golden Eagles had a positive test in their program. Marquette has also postponed this week's games against Creighton and Villanova.
Rankings Watch
In the AP Top 25 rankings, UConn moved into a tie for third place with NC State. DePaul dropped two spots to #20. Meanwhile, ESPN's Bracketology forecast has three Big East in the 64-team field (they also do projections for 16 and 32-team fields in the event the NCAA limits the size of the tournament). UConn is slotting as a #1 seed, DePaul is at #4 and Marquette is #10. Villanova is the best candidate for a fourth bid for the conference. The Wildcats are currently listed as the first team out.