Women's Big East Basketball
The Ultimate Measuring Stick: UConn Forges Ahead In The Big East
The Ultimate Measuring Stick: UConn Forges Ahead In The Big East
UConn hasn't missed a beat since moving back to the Big East, as Geno Auriemma and the Huskies look to continue their dynasty.
Jan 7, 2021
by Kyle Kensing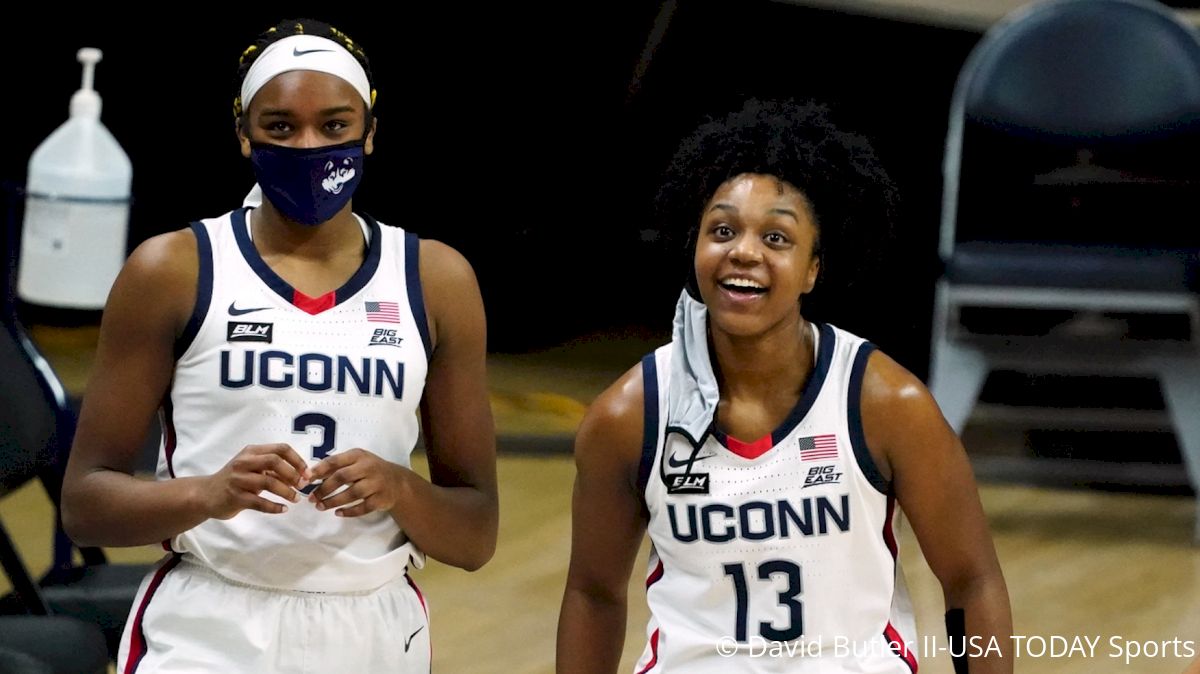 Being the new kid in the neighborhood can be intimidating — not so for Connecticut in its return to the Big East.
The Huskies left the league following the 2012-13 season, spending the next seven in the American Athletic Conference. UConn never lost an AAC game.
That's right: 118 and a bagel. Five games into its return to the Big East, UConn is still perfect in league games dating back to a March 4, 2013 loss to Notre Dame in triple-overtime (March 12 and the Big East Championship Game, for those counting the postseason).
Meanwhile, in the time while UConn was away, the Big East wasn't necessarily the picture of parity — DePaul won at least a share of every regular-season championship but one — but four programs staked a title claim.
2020: DePaul
2019: Marquette
2018: DePaul/Marquette
2017: Creighton/DePaul
2016: DePaul
2015: DePaul/Seton Hall
2014: DePaul
Now, seven years equal a veritable lifetime in college basketball. That's almost two entire cycles of incoming freshmen completing their careers. As Huskies coach Geno Auriemma noted before the season at virtual media day, "The players that we have now have never played in the Big East. They don't have the history that my coaching staff does."
Indeed, but the infrastructure from the coaching staff ensures that while players change, Connecticut's dominance hasn't. No program in the history of the sport can match the Huskies' sustained success — even John Wooden's UCLA teams lacked the longevity of UConn, which won its first Big East championship back in 1989.
The Huskies won their first national title six years later in 1995, at a time when current Villanova coach Denise Dillon played in the same conference as a member of the Wildcats roster. A lesson from her own playing days when it comes to facing UConn provides a message Dillon emphasizes today.
"If you want to be recognized as one of the best, you have to play the best," she said ahead of Villanova's Dec. 22 matchup with the Huskies.
As the preeminent dynasty of the sport, UConn serves as the ultimate measuring stick.
"We'll learn a great deal, and I've said it to our team," Dillon said. "Looking at UConn, it gives you an understanding of what really needs to be done . . in order to play that level of basketball. Pace is going to be the most eye-opening.
"We'll get an understanding of what pace really is," she added.
The Huskies are averaging 87 points per game in 2020-21, which includes the 90 they scored against Villanova. That's up from 78.7 a season ago and 82.8 in 2018-19 when UConn ranked No. 4 in the nation.
In that same season, DePaul also finished in the top eight nationally at 81.1 points per game. Last season, the Blue Demons put up 85 points per game and are averaging 84.9 in 2020-21. This is a program under coach Doug Bruno that consistently pushes the pace a notch or two higher than much of the rest of college basketball.
Most recently, in a win over Villanova, DePaul scored 94 points. But against Connecticut, the Blue Demons were held to 52 points. It's not just a high-tempo offense that makes UConn tick, as evidenced both in its defensive yield (49.7) and low-post presence from Olivia Nelson-Ododa and Aaliyah Edwards.
"They're throwbacks," Bruno said in his postgame press conference. "You don't see a lot of those anymore, because everybody wants to be a stretch and play with guard skills.
"They're only going to get better as the year goes on and they get more experience," he added.
The combination of that old-school style on the block, coupled with the ability to push the tempo at a break-neck pace, is a microcosm of how UConn has sustained at such a high level through two conferences and more than 30 years.
For the rest of the Big East, Connecticut is a standard-bearer that can only make the conference as a whole stronger.
---
Kyle Kensing is a freelance sports journalist in southern California. Follow him on Twitter @kensing45.