Men's CAA Basketball
Difficult Non-Conference Slate Helps Northeastern To Hot CAA Start
Difficult Non-Conference Slate Helps Northeastern To Hot CAA Start
High-quality opponents like Georgia and Syracuse helped Northeastern prepare for the rigors of CAA basketball.
Jan 11, 2021
by Kyle Kensing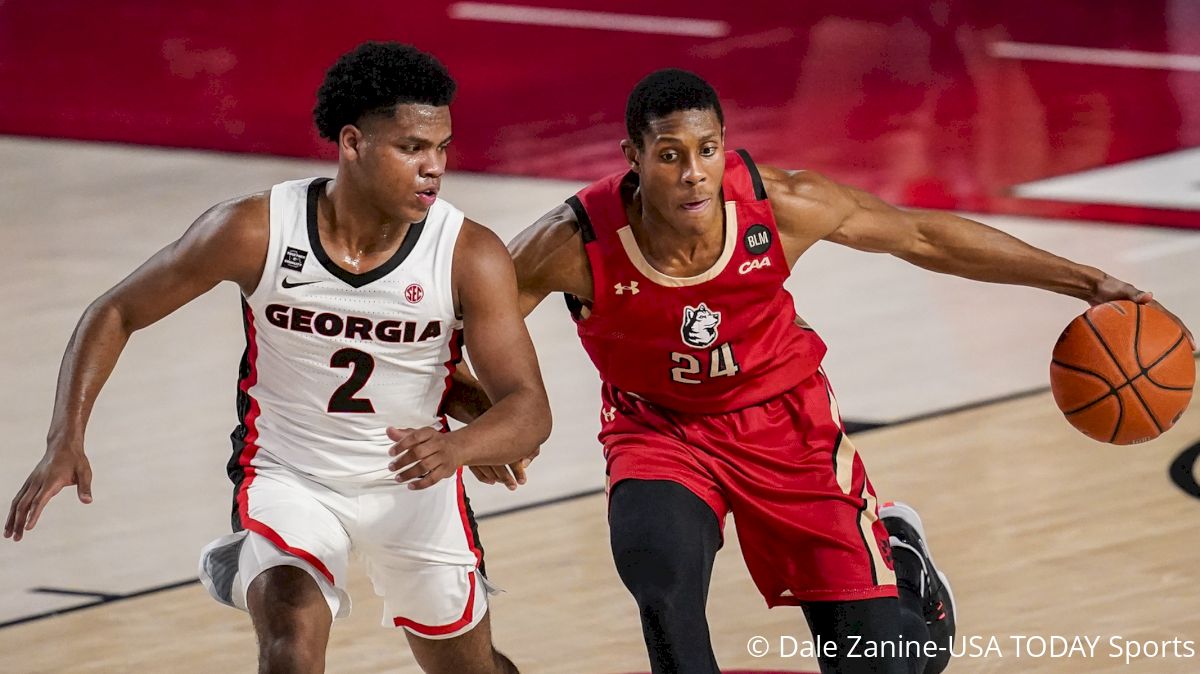 Hard knocks before Colonial Athletic Association play have Northeastern setting the pace early in conference competition.
The Huskies came into the Colonial season at 1-5 after playing the nation's No. 17 most difficult non-conference schedule per ESPN's Basketball Power Index. But the rigors early in the campaign are paying immediate dividends.
Northeastern completed a sweep of reigning CAA champion and preseason favorite Hofstra, knocking down 15 3-pointers en route to a 67-56 win. The victory followed an overtime decision on Thursday, pushing the Huskies to 4-0 in the Colonial for the first time since 2016-17.
Tyson Walker's seven 3-pointers set the pace on Saturday, and while the guard said there were notable differences — Hofstra's version operates out of a matchup base — Huskies coach Bill Coen cited a December meeting with Syracuse for preparing Northeastern to face the Pride.
"You're playing against a zone, you're working out some kinks and guys are getting a little bit of feel ," he said.
Hofstra's matchup zone may have fundamental differences in comparison to the Syracuse 2-3, but when it comes to understanding what makes a zone defense tick, few can provide a more instructive lesson than Hall of Famer Jim Boeheim.
And indeed, Northeastern improved its offensive output from 0.81 points per possession at the Carrier Dome to 1.03 and 0.88 against Hofstra.
Of course, not every opponent in the conference runs zone. Despite limitations brought on by the COVID-19-impacted season, Northeastern's non-conference slate packed as many different styles in as it could.
"We played against pressing teams, we played against physical inside teams with West Virginia, athletic teams in Georgia," Coen said. "It's given our guys a tutorial at what it takes to win at a competitive level.
"It's something we've done from my very first year here, frontload the competition, play different styles of play," he said.
But while typical years include tournaments and allow for games over roughly two months, Northeastern packed as much experience this year into a window of less than three weeks.
The Huskies concluded the non-conference on Dec. 29 against West Virginia, their third KenPom.com Top 100 opponent, just 18 days after tipping off the season against UMass.
"When you're playing against really, really good teams, you can't survive a big turnover stretch, or if you're not boxing out," Coen said. "They hold you accountable, they make you pay if your close-out is a little soft."
The condensed schedule is an exercise in quality over quantity — and in necessity for a young team with considerable roster turnover from last year's CAA Tournament runner-up lineup.
"We've got four freshmen, four sophomores out there. We needed experience," Coen said.
Gaining experience against quality competition has its benefits, but doesn't guarantee future success, either. Some of the teams to have played the toughest schedules this season include 1-8 Saint Joseph's, 1-9 Washington, and Alcorn State — the program with the No. 1 strength of schedule — is winless.
Defeat can snowball down a slope from experience to demoralization quickly. The Huskies didn't let that happen despite the slow start.
"I was proud of our guys. They didn't lose confidence," Coen said. "From a coaching standpoint, we always positioned it as a learning opportunity and not focus on the results. Take the good things that came from it and build on that."
And what Northeastern is building early in the CAA shows championship potential.
---
Kyle Kensing is a freelance sports journalist in southern California. Follow him on Twitter @kensing45.