Big East Women's Notes: Can St. John's Close The Gap?
Big East Women's Notes: Can St. John's Close The Gap?
After a slow start, the St. John's women face a pivotal week of games in the Big East.
Jan 12, 2021
by Kevin Sully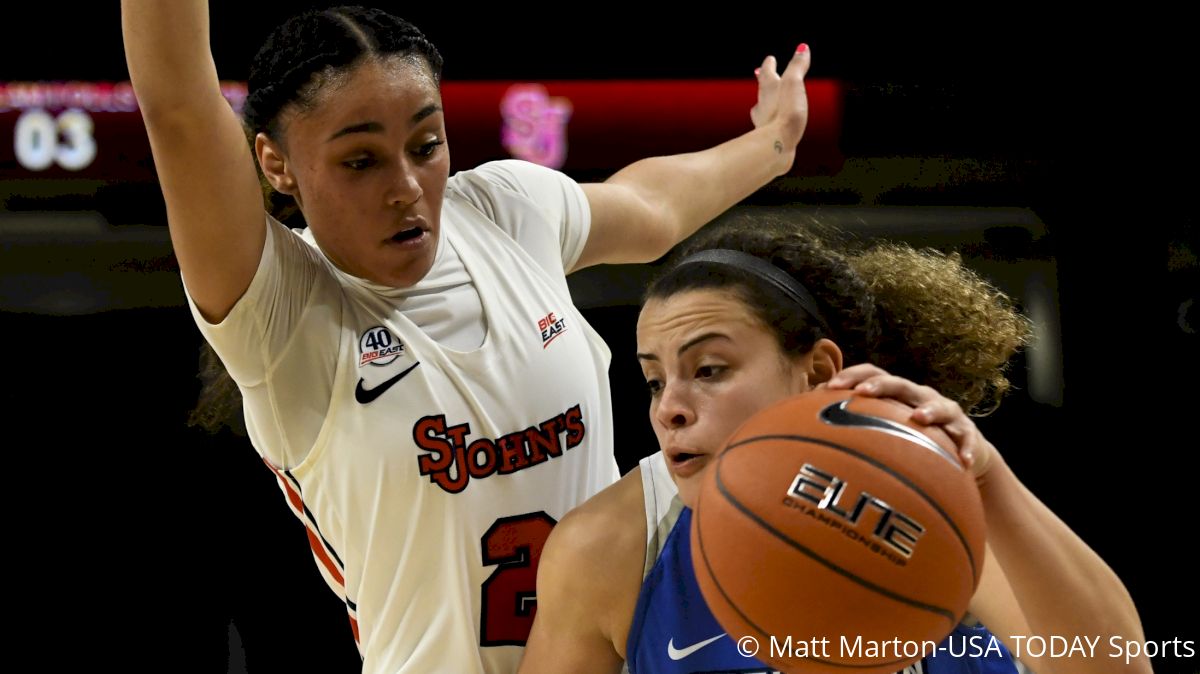 The women's basketball season continues to be hampered by postponements. Last week, UConn's showdown with Baylor was called off after Baylor head coach Kim Mulkey tested positive for COVID-19.
This week, it's Villanova that has to pause team activities, and what was a busy week for the Wildcats will now have to be rescheduled. Villanova was scheduled to play Providence, DePaul and UConn. This is the second UConn game postponed this week. Wednesday's game against Xavier was scrapped after the Muskateers had to pause team activities.
When they do take the court again, UConn coach Geno Auriemma will likely make history. With a victory, Auriemma will pass the late Pat Summit for the second-most wins in NCAA women's basketball history. UConn has dominated the conference this year. They sit at 6-0 in the Big East and have won conference games by an average of 34 points.
Big Week Ahead For St. John's
After a slow start, St. John's (4-5, 1-3) has won back-to-back games including last week's eight-point victory over winless Butler. The schedule gets tougher this week and the Red Storm will see how they compare to the second tier of the Big East.
On Wednesday, St. John's travels to #19 DePaul (6-3, 3-1) in what should feature a spectacular match-up in the backcourt.
St. John's sophomore Leilani Correa is second in the Big East in scoring with 21.1 points per game and is also pulling down 5.5 rebounds. Her 35 point game against Delaware in December is the highest single-game point total in the conference this season.
DePaul will counter with junior Sonya Morris. Morris is a threat from everywhere on the court, averaging 17.9 points per game.
On Sunday, St. John's will return home to face Marquette (6-1, 3-0). Again, the backcourt will be the focal point with Correa going against Marquette senior Selena Lott.
This will be Marquette's first week back since the program was paused on January 1st. Marquette's last game came against Xavier on December 22nd. They have won five games in-a-row— a streak that, because of cancelations, dates back to December 4th. Before the stoppage, Lott was averaging 17 points and four assists per game. Marquette's been great on the glass this year and is second in the conference in opponent's field goal percentage at 38%.
Rankings & Brackets
UConn (#4) and DePaul (#19) remain the only teams from the Big East in the AP Women's Top 25. Things are a bit more lively in ESPN's Bracketology.
Villanova has cracked the latest projections as a 10 seed, giving the conference four teams in the field alongside Marquette (#10), DePaul (#5) and UConn (#1).
But the Wildcats and Golden Eagles are in a precarious position in the 64-team field. They are part of the "last four in" group, giving them little margin for error. Also, there's a chance that the NCAA opts for a reduced field size. Bracketology has also created potential brackets for 48 and 16 teams.