One Stat To Explain Each Big East Team
One Stat To Explain Each Big East Team
From UConn's margin of victory to DePaul's turnover margin, here is each Big East's team's most revealing stat.
Jan 14, 2021
by Kevin Sully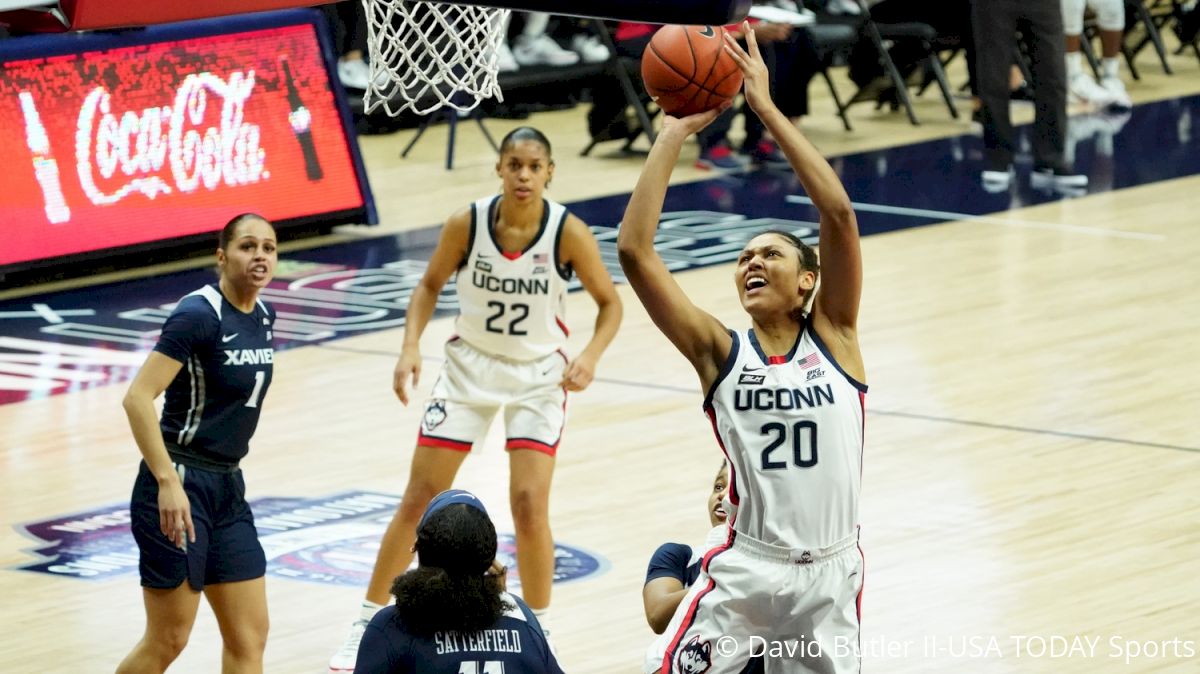 With all the postponements, cancelations, and programs on pause, it's difficult to say exactly where we are in the Big East season. Some programs have played a robust schedule, others are just getting started. But it's not too early to dig into the stats and try to make sense of where each team sits in the standings.
Six weeks into the season, here is each Big East's team's most revealing stat.
UConn (7-0, 6-0)
Average margin of victory: 34.1
The Huskies' return to the Big East has gone about as expected, blowing out opponents by massive margins. Their closest game was a 23-point win over DePaul.
Freshman Paige Bueckers is already establishing herself as a top-ten player in the country, averaging 18.9 points, 5.7 rebounds and 5.1 assists per game. Add in Christyn Williams and Olivia Nelson-Ododa and there's nobody in the Big East who can keep pace.
Marquette (6-1, 3-0)
Rebounding margin: +10.0
The Golden Eagles' good start was paused by COVID-19 postponements, but they are expected to return to the court this week. In their seven games, they've controlled the glass.
They are second in the conference in rebounding margin and are tops in the conference in offensive rebounding percentage. Camryn Taylor leads the team with seven rebounds per game, but their success is by committee. Their entire starting five averages at least four rebounds per game.
DePaul (7-3, 4-1)
Turnover margin: + 8.2
The Blue Demons lead the league in turnover margin and their uptempo style is causing problems for opponents. Wednesday's win over St. John's was a quintessential DePaul victory—outscoring St. John's 101-84 and forcing the Red Storm into 22 turnovers.
DePaul aren't shy about shooting from distance. They are making a league-leading 9.6 three-pointers per game off of 286 attempts, also tops in the league. Sonya Morris is fifth in the Big East in scoring at 17.8 points per game.
Villanova (8-2, 3-2)
Number of times Maddy Siegrist has won Big East Player of the Week: 4
The sophomore forward has been spectacular through 10 games, leading the Big East in scoring (24 points per game) and rebounds (11 per game). Her productivity has led the Wildcats into the NCAA Tournament picture.
Seton Hall (4-3, 2-2)
Scoring average for Lauren Park-Lane: 20.0
Park-Lane is among the biggest surprises of the conference. The guard didn't get any preseason recognition and now leads the league in assists and is second in scoring.
Providence (5-7, 3-4)
Average scoring defense: 62.8
The Friars sit in the middle of the standings courtesy of a solid defense that is giving up the third-fewest points per game.
Creighton (3-6, 2-3)
Three-pointers made per game: 8.4
The Blue Jays have been prolific from beyond the arc, making the third-most threes in the conference. They are below .500, but they've played a challenging schedule with losses to UConn, Villanova and DePaul (who are a combined 13-3). When the schedule softens, Creighton should be able to make a push.
Georgetown (1-2, 1-2)
Number of games played: 3
Due to COVID-19, the Hoyas didn't play their first game until December 19th. Of their scheduled 14 games, 11 have been postponed or canceled.
The Hoyas do lead the league with 15.7 offensive rebounds per game albeit with an incredibly small sample size.
Xavier (4-4, 1-3)
Opponent's field goal percentage: 44%
The Musketeers have some promising individual defense stats (third in the conference in blocks, fourth in steals); however, they are still letting opponents shoot 44% from the field. That's third-worst in the Big East.
St. John's (4-6, 1-4)
Three-point percentage: 37%
The Red Storm lead the conference in shooting percentage from deep and Leilani Correa is third in the conference in scoring. But other than that, it's been a struggle. Quadashah Hoppie missed games earlier in the season, though she had a breakout 28-point performance in Wednesday's loss to DePaul. To climb out of the hole and move to the middle of the conference standings, the Red Storm need Correa and Hoppie clicking in the final two months.
Butler (1-7, 1-6)
Number of victories: 1
The Bulldogs got their first victory of the season on Wednesday, 58-40 victory over Xavier.