CAA Men's Basketball
Former William & Mary Star Nathan Knight Carves Out A Role In The NBA
Former William & Mary Star Nathan Knight Carves Out A Role In The NBA
Former William & Mary star Nathan Knight is making noise in his early stint with the Atlanta Hawks.
Jan 15, 2021
by Jerry Beach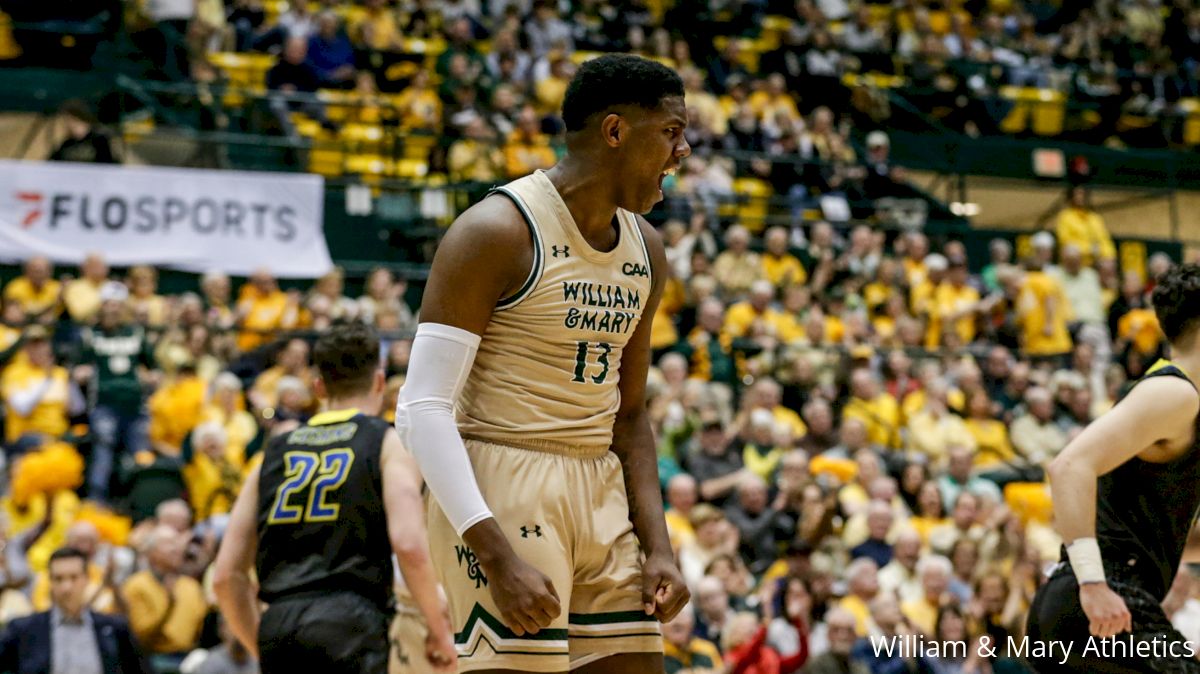 The question stumped Nathan Knight: With the Atlanta Hawks among the NBA teams not sending a team to the G-League bubble, how and where would he be honing his craft right now if he hadn't made the Hawks out of training camp?
"I'm not exactly sure," Knight said. "I'm kind of curious now, what that looks like."
At this rate, Knight may not have to find out.
The former William & Mary star, who signed a two-way contract with the Hawks shortly after the NBA Draft on Nov. 19, has appeared in six of the first 10 games for the Hawks, including each of the last three. He scored three points while playing a career-high 15:37 Monday night, when the Hawks beat the Philadelphia 76ers, 112-94.
Those points were Knight's first since Dec. 26, when he appeared in his second game and became one of the surprise viral sensations of the young season by going 4-of-5 from the field — including 2-of-3 from 3-point land — and scoring 14 points in fewer than nine minutes in the Hawks' 122-112 victory over the Memphis Grizzlies. Afterward, Atlanta head coach Lloyd Pierce said he was only going to answer questions about Knight, and star guard Trae Young said if there were a game ball, it'd be given to Knight.
The performance against the Grizzlies was the professional version of an out-of-body experience for Knight, whose first taste of NBA success reminded him of the almost unprecedented path he'd traveled and the impact it had on the William & Mary faithful.
"It's kind of like a culmination of everything that people talk about — the work that you need to put in, the idea that was not even an idea anymore, the fact that if you are a talented basketball player and you're willing to put 120 percent into your craft and do everything necessary, that the NBA will find you and you will have the opportunity," Knight said during a telephone interview last weekend. "I was fortunate to have that opportunity early on in the season and I was able to capitalize on that."
There was little doubt Knight would get an opportunity to play professionally after he capped an accolade-filled career at William & Mary by winning the CAA Player of the Year as the Lou Henson and Basketball Times national mid-major player o the year awards as a senior.
But while NBA teams often view mid-major players with some skepticism regarding their abilities to translate their numbers to the next level, authoring the best career by a CAA big man since David Robinson helped hasten Knight's path.
Knight was a nightmarish mismatch for opposing teams and a unicorn-like figure in the CAA — a 6-foot-10 center who was equally adept at running the floor and draining 3-pointers as he was at delivering thunderous dunks and resounding blocks — yet his ability to do a little bit of everything is exactly what NBA teams are looking for out of the modern big man.
Of the nine active players with at least 20 triple-doubles, four are 6-foot-9 or taller, including 7-foot Denver Nuggets center Nikola Jokic, who has an NBA-high five triple-doubles this season.
"My role at William & Mary was kind of amorphous — I was a whatever-you-need kind of guy," Knight said. "I can kind of contribute in multiple ways. And NBA front offices, NBA coaches, NBA teams, they have immense knowledge in what they need from their players, what they can see getting out of their players.
"I'll give you whatever you need. Having that experience of being that type of player has really helped me to be ready to fulfill any role that my team needs from me."
Seeing a familiar face in the NBA is becoming a common experience for CAA fans and observers, who have seen at least one CAA alum perform in the NBA in each of the last three seasons. Charleston's Joe Chealey appeared in five games for the Charlotte Hornets over the last two years while Hofstra's Justin Wright-Foreman and Charleston's Jarrell Brantley each played for the Jazz last season, while UNC Wilmington's Devontae Cacok earned a ring with the Los Angeles Lakers.
Brantley made his 2021 debut for the Jazz on Tuesday. Charleston's Grant Riller was drafted by the Hornets in the second round while Cacok, Wright-Foreman (New Orleans Pelicans), Hofstra alum Eli Pemberton (Golden State Warriors), and Delaware alum Nate Darling (Hornets) have all signed two-way contracts and are expected to play in the G-League bubble next month.
But while CAA fans are unusually collegial towards and supportive of the league's alums once they reach the NBA, the sight of Knight wearing an NBA uniform has provided a singular source of pride for William & Mary and its fans.
Knight is only the third William & Mary alum to play in the NBA and the first since Brant Weidner scored the last of his eight career points for the San Antonio Spurs in April 1984.
"It's great to see him have some success early," William & Mary head coach Dane Fischer said. "I think he's got a real chance to play in that league for a long time. His skill set for the size he has certainly fits the way the NBA is playing now."
Tribe fans, already fond of Knight long before he remained for his senior year last season and led a depleted roster to a second-place regular-season finish in Fischer's first season at the helm, did their best to turn Knight into a trending topic on Twitter the night after Christmas.
nathan knight led the nation in PER as a senior. two games into his pro career, he's shooting 80% from the field, 100% from three, 80% from the line, and averaging a point a minute. he's pretty obviously the best offensive player in the league.

— BATOGATE! (@batogato) December 27, 2020
THE COMMODORE https://t.co/mRdckUVSIc

— Lifetime Pasta E-ZPass (@gheorghetheblog) December 26, 2020
You knowww. @nateknght. 🏀 https://t.co/GCevLMsruy

— Josh Leggette (@WM_VA_Josh) December 27, 2020
If all goes as Knight would like, it won't be the last time he gives William & Mary fans a reason to thump their chests about him.
"I carry that flag with immense pride," Knight said. "Being able to represent my school in that way is something I can't take for granted. Being able to cultivate an accolade like that is just something that I can't really express in words.
"It was a great feeling and (his) NBA career will hopefully be a long, fruitful one. But to have that as an initial culmination is something, that, again, I can't really express in words. It was just a very emotional experience for me."
---
Jerry Beach has covered Hofstra sports since arriving on campus in the fall of 1993, when Wayne Chrebet was a junior wide receiver wearing No. 3, Butch van Breda Kolff was the men's basketball coach for the East Coast Conference champions and Jay Wright was a little-known yet surely well-dressed UNLV assistant coach. Check out Jerry's book about the 2000 World Series here and follow him on Twitter at @JerryBeach73.