Women's BIG EAST Basketball
Miss. State Transfer Espinoza-Hunter Follows A Role Model Path With Pirates
Miss. State Transfer Espinoza-Hunter Follows A Role Model Path With Pirates
Andra Espinoza-Hunter's path to Seton Hall has been a winding one, paved for success by her role model.
Jan 21, 2021
by Kyle Kensing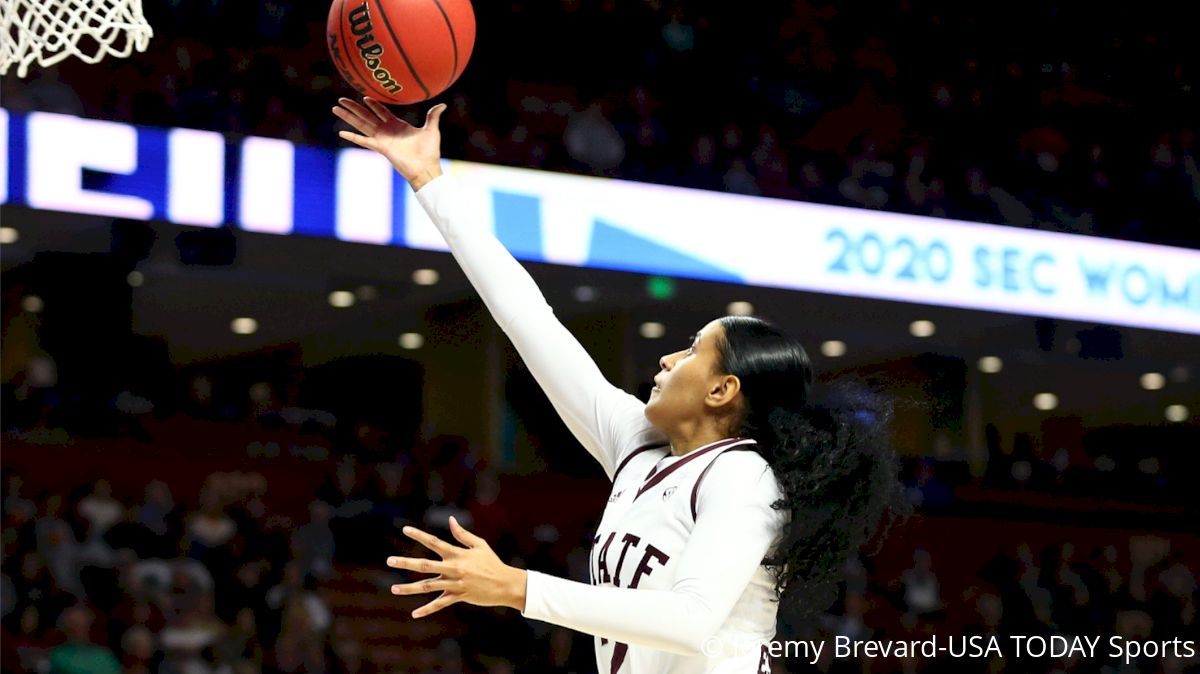 COVID-19 has, in countless ways, stripped much of our world to its most foundational levels. In a game of basketball with no audience to cheer on the action, the squeak of shoes on the hardwood or the satisfying snap of the net on a made jumper are more pronounced.
Seton Hall guard Andra Espinoza-Hunter has produced that swish routinely in a short time with the Pirates.
Five games into her tenure as a grad transfer at Seton Hall, the Mississipi State transfer is averaging 18.6 points per game and already earned Big East Player of the Week after scoring 72 combined points in wins over Marquette and Butler (twice).
Live audiences have not been present to cheer on Espinoza-Hunter's outstanding Seton Hall debut, but she can take solace in knowing that once the pandemic runs its course, her mother Patty is less than 50 miles away.
"Family means a lot to me," said Espinoza-Hunter. "Knowing I'm not even a full hour away from home is beautiful, knowing I can go home for a home-cooked meal and not having to take two flights like I had to back when I was in Mississippi."
A part of this pandemic era reducing life to its most basic elements has indeed been the time spent with family — for those close to home, anyway. Fortunately for Espinoza-Hunter, South Orange, New Jersey, is a whole lot closer to Ossining, New York, than Starkville, Mississippi, where she played previously.
That places Espinoza-Hunter near a supporter and role model during a time of transition.
"Who she is as a woman and person and all that she's accomplished with little to no help has inspired me," she said of her mom.
"Her mother is a wonderful person who really set the bar for Andra," said Pirates coach Anthony Bozzella.
Bozzella began recruiting Espinoza-Hunter when she was a middle schooler, and according to the guard, made her first scholarship offer. A five-star prospect and the No. 16-rated recruit in ESPN.com's 2017 class, she instead signed with UConn.
Espinoza-Hunter spent a season in Storrs before transferring to budding national power Mississippi State. She averaged 10.1 points per game in 2018-19, but her playing time diminished last season.
"My confidence in my game wasn't the same," she said.
After initially opting out ahead of the 2020-21 season, a common occurrence in response to the pandemic — including entire teams, in a few noteworthy instances — Espinoza-Hunter instead came back to the source of her first-ever scholarship offer.
"That's how Seton Hall's built," Bozzella said. "We don't have the bells and whistles a lot of other places have. I love Seton Hall, I'm an alum, but we're not a football school."
Football, and especially FBS Power Five-conference membership, translates to revenue and visibility. At a school like Mississippi State in the Southeastern Conference, where football is king, athletic departments take on an aura perhaps more analogous to a Fortune 500 company than to their college sports counterparts.
The atmosphere of home cannot be easily reproduced, however. And at Seton Hall, Espinoza-Hunter is at home, right down to her relationships with teammates.
She played on the AAU NYC Gauchos with Desiree Holmes — also a transfer, coming to Seton Hall from Syracuse. She and Alexia Allesh Allesch were Philly Belles teammates, and Espinoza-Hunter overlapped with Kailah Harris for a championship run at Ossining Senior.
"There's been no jealousy," Bozzella said of Espinoza-Hunter's integration into the lineup since clearing NCAA eligibility earlier this month. "They've accepted her, they're excited to play with her, but she also makes it easy."
Having preexisting relationships is a plus, but Espinoza-Hunter's approach — meeting that "bar" her mother set, as Bozzella describes it — really established her place on the team.
Bozzella said he did not initially intend on starting the guard, and would not have played her under normal circumstances due to the half-season. But with the NCAA granting an additional year of eligibility due to COVID-19, Espinoza-Hunter got her opportunity to dive right in.
She said getting to game condition initially was a challenge, which perhaps explains her first two games being her lowest-scoring in a Pirates uniform. But even while putting up modest numbers of 11 and 10 against Providence and Villanova, Bozzella said her presence was profound.
The athletic director noted to Bozzella Espinoza-Hunter's demeanor in the huddle during timeouts in her first game, and Bozzella witnessed her taking practice shots after the Jan. 6 loss to Villanova.
The coach has since said others have followed that trend, only now it's followed wins rather than defeats.
The Pirates have caught fire with three straight victories in the Big East. Espinoza-Hunter's hot shooting earned her Player of the Week award, but what most impressed Bozzella, he said, was her volunteering to guard Butler leading scoring Okako Adika in the Pirates' 83-68 win on January 17.
"She's been a great role model," Bozzella said.
Becoming a great role model by following a great role model set Espinoza-Hunter on her path. Andra's mom may not be in the stands to cheer this season, but her impact resonates on the court with every snap of the net on another Espinoza-Hunter jump shot.
---
Kyle Kensing is a freelance sports journalist in southern California. Follow him on Twitter @kensing45.