Men's CAA Basketball
Bill Coen Nears Jim Calhoun's Record At Northeastern As Huskies Top CAA
Bill Coen Nears Jim Calhoun's Record At Northeastern As Huskies Top CAA
Bill Coen is inches away from breaking the record of one of college basketball's most revered coaches, Jim Calhoun.
Jan 27, 2021
by Kyle Kensing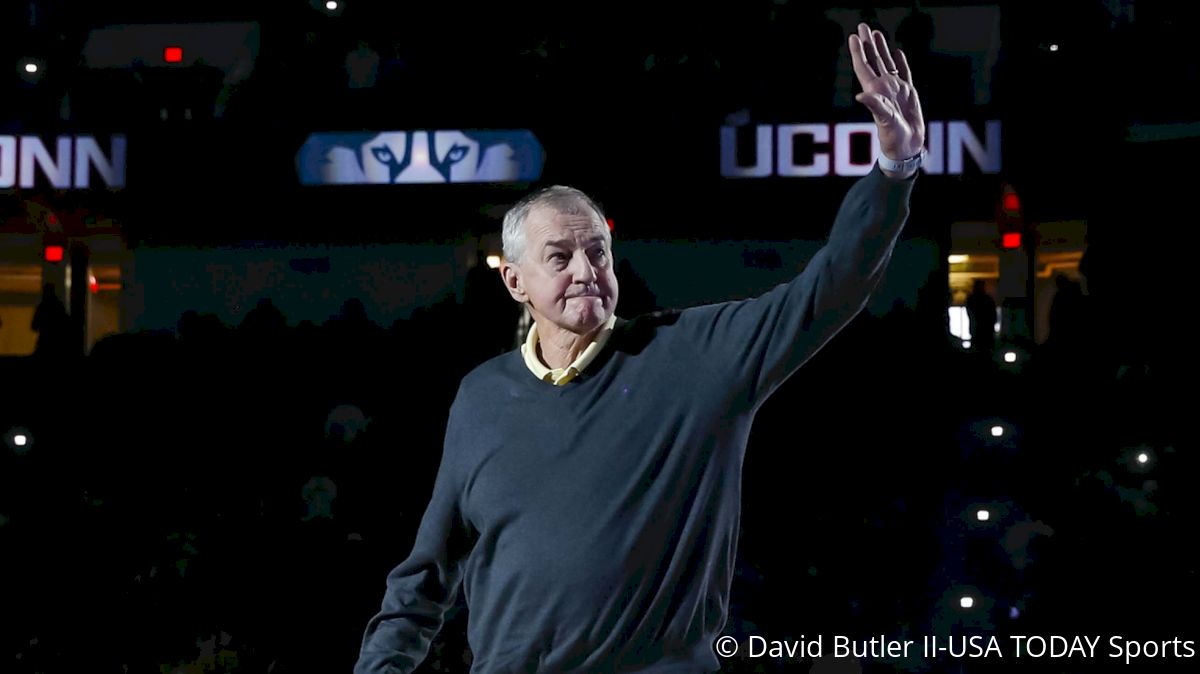 "Teams come and go, programs stay."
The above is the philosophy of Saint Joseph (Conn.) head coach Jim Calhoun. You might also know him as three-time NCAA national champion and 2006 Basketball Hall of Fame inductee Jim Calhoun, and his resume is overflowing with program-building.
His first program-building effort came at Northeastern University, which hired Calhoun in 1972 out of Dedham High School in Massachusetts. Calhoun had just turned 30 and "had some experience, but nothing like .
"Trying to put a program together taught everything you needed to know about finding a way to get there," he said. "It helped me when I eventually went to UConn."
Calhoun accepted the UConn head-coaching position in spring 1986, after rumors of interest from such programs as Northwestern bubbled among college basketball media.
Calhoun's departure came a few weeks after Northeastern's 63-54 win over Boston University to earn the ECAC North's automatic NCAA Tournament. The conference tournament championship was the 250th and final win of Calhoun's 14-year tenure with the Huskies, though they took a strong Oklahoma team to the limit in the 1st Round of the Big Dance.
The 1986 Tournament was Northeastern's third straight and five in six years. This run included an opening-round defeat of LIU in 1984.
Northeastern squads of this era featured the late, great Reggie Lewis, sixth man of the legendary Dunbar High School Poets in Baltimore and NBA All-Star, and a player whose success played a contributing part in Calhoun's philosophy of recruiting under-the-radar prospects with NBA talent.
Northeastern shaped Calhoun's approach to coaching, and Calhoun built the standard for Northeastern basketball — a standard Bill Coen follows.
"I wouldn't dare compare myself to coach Calhoun," Coen said following Northeastern's defeat of James Madison on Jan. 23. "He's a Hall of Fame coach. He's done so much. When you look at his era back here, he really did an unbelievable job at Northeastern."
Thirty-five years later, Calhoun's 250 wins remain the most in Northeastern history — for a little while longer, at least.
The Huskies' Jan. 23 win moved Coen one shy of tying Calhoun for most all-time among Northeastern coaches. It's a distinction Coen said is "so secondary" to other pursuits.
Perhaps, but the record — and the association with Calhoun — is a tangible reflection of an outstanding career.
Before Northeastern, Coen worked as an assistant with Al Skinner at Boston College. The Eagles were Big East Conference rivals with Calhoun's Connecticut teams, and each featured similar make-up.
In Coen's time at BC, the Eagles became NCAA Tournament mainstays behind stars like two-time Big East Player of the Year Troy Bell and three-time All-Big East honoree Craig Smith — players whose college careers far exceeded their recruiting buzz.
"He has a really good eye for players," Calhoun said of Coen. "He has a great propensity to get unknown players and turn them into great players."
UConn won two of its national championships under Calhoun in the same era. And while the 1999 team featured McDonald's All-American Richard Hamilton, UConn under Calhoun was known for succeeding with less prominent prospects like 2004 title-team catalyst Ben Gordon.
The similarities did not end with the type of players they pursued, as Calhoun and Coen were on friendly terms at competing programs from interactions on the road and in the offseason. After Coen left BC for the head-coaching position at Northeastern, the two had another shared connection.
"He was incredibly gracious when I became the head coach here at Northeastern," Coen said. "He's been up and spoke to the team a number of times. He's been a tremendous supporter for Northeastern."
Calhoun retired from UConn in 2012, one year after the final national title of his tenure, then returned to the sidelines at Saint Joseph in 2018. In that time, Coen has coached Northeastern to two NCAA Tournaments — one of which, in 2015, ended the program's 24-year drought.
As Coen nears Northeastern's wins record, the 2020-21 Huskies look like the team to beat for the Colonial Athletic Association's bid into this year's NCAA Tournament — which, if it comes to fruition, will have Coen just two appearances shy of matching Calhoun again.
Thirty-five years after Calhoun's last team at Northeastern, the winning standard for the program has remained. And Calhoun endorses that.
"Bill Coen's a good man . . . a good man, and a good coach. A really good coach," Calhoun said. "I'm proud he's at Northeastern doing such a great job."
---
Kyle Kensing is a freelance sports journalist in southern California. Follow him on Twitter @kensing45.