CAA Men's Basketball
James Madison Rides Stifling Defense To Surprising Conference Start In CAA
James Madison Rides Stifling Defense To Surprising Conference Start In CAA
James Madison was picked ninth out of a 10-team CAA, but the Dukes are surging thanks to a stifling defense and star guard Matt Lewis.
Jan 28, 2021
by Jerry Beach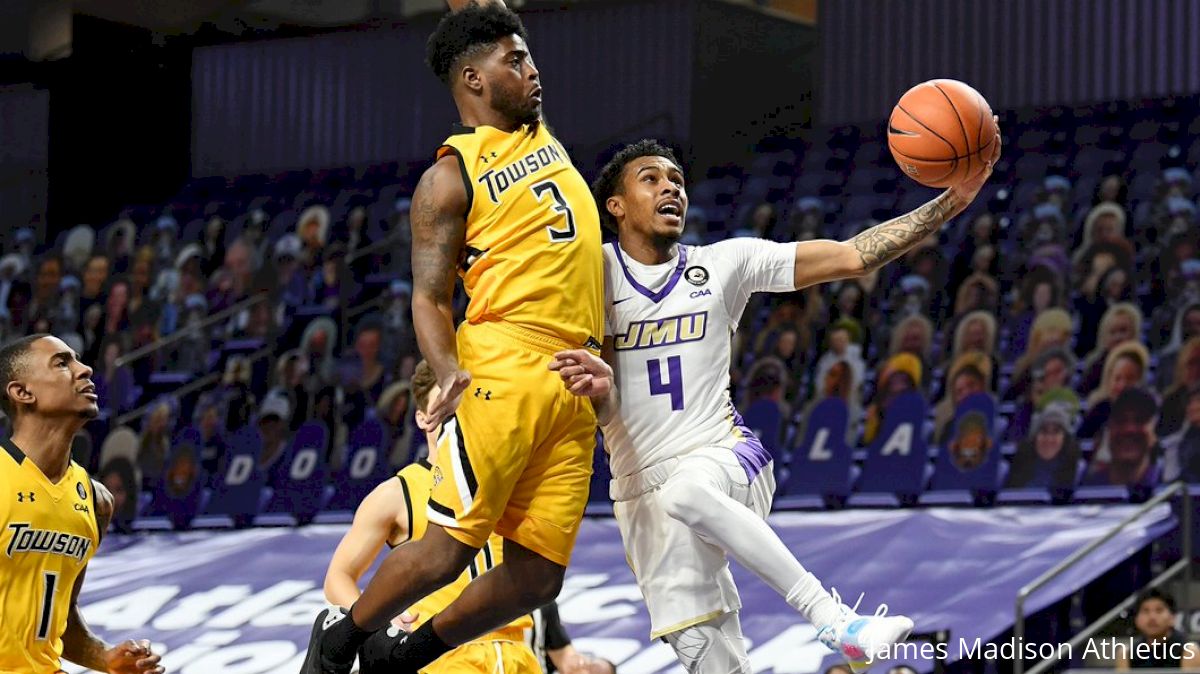 Picking a potential league Cinderella is challenging enough even prior to seasons that aren't played against the backdrop of a global pandemic.
So as far as these predictions go, UNC Wilmington seemed like a relatively safe one last fall — especially given the presence of first-year head coach Takayo Siddle, who was an assistant to Kevin Keatts when the latter presided over a worst-to-almost-first transformation in his first year as head coach in 2014-15, when the Seahawks finished in a four-way tie for first after finishing last in the league the previous season.
But what if the league's surprise team is the one that could actually mount a worst-to-first run?
James Madison head coach Mark Byington wasn't ready to print up the worst-to-first T-shirts early Wednesday night, when the Dukes surpassed their CAA win total from a year ago by beating Towson, 78-63. Coaches are famously tunnel-visioned, but especially so during a season in which no one knows when, where, or who they're going to play next and when holding a share of first place in late January comes with an armful of qualifiers.
"Right now, we're only four league games in," Byington said before a small grin crept to his face. "It's exciting to play our first home conference game — whatever this date is, January 27th? It's a little bit late. So we've just got to keep getting better and we're not worried about standings and everything else."
James Madison and Northeastern are the only CAA teams with just one loss, but at 3-1, the Dukes have four games in hand on the Huskies and no idea if or when they'll make up single games against UNC Wilmington and Elon or the series with Charleston.
"We only won two conference games last year so being able to be up at the top of the league so far is being for us — a big confidence boost," senior guard Matt Lewis said. "But at the same time, we've got games coming up — I think we've got three games next weekend."
The Dukes actually have four games scheduled in a week-long span, beginning, coronavirus-permitting, with a game against Elon next Wednesday, a weekend set against William & Mary the following Saturday and Sunday, and a game against UNC Wilmington on Feb. 9.
There's a long way between now and then, never mind now and the CAA Tournament scheduled for Mar. 6-9. Still, after heading to Boston last weekend and handing Northeastern its first league loss Sunday and then dominating Towson following a slow start Wednesday, James Madison is beginning to look like a team that's going to be a real contender to make a deep run in the tournament…which, it should be noted, is now scheduled to be held at the Dukes' Atlantic Union Bank Center.
The eye-catching numbers are being produced by Lewis, who was the preseason CAA Player of the Year despite the Dukes being picked to finish ninth in the 10-team league, and junior transfer Vado Morse. The duo combined to score 88 of the Dukes' 157 points in their last two wins and are the only pair of teammates in the CAA with 30-point games this season.
But Byington is far more encouraged by James Madison's recent performance on defense. The Dukes have held the opposition to 72 points or fewer in each of their last five games against Division I foes.
Per KenPom.com, James Madison ranks sixth among CAA teams in overall defensive efficiency at 105.5 points per 100 possessions but second in league defensive efficiency at 98.2 points per 100 possessions
"One of the first things that we talked to them about when we kind of got everybody together in July was for us to have a chance to win the league, we've got to be a top-3 defensive team," Byington said. "It's just a non-negotiable thing. We can't be fifth or sixth or seventh in the league in defense and be able to have a chance to win the league. So the guys have really bought into that."
Of course, a head coach is never satisfied, and Byington saw enough areas that needed improving Wednesday to keep the Dukes from focusing too much on their suddenly and surprisingly sturdy spot in the standings.
James Madison spotted Towson a 13-2 lead before limiting the Tigers to 50 points over the final 33-plus minutes, though Byington thought the Dukes might have gone into cruise control and tired after taking a 21-point lead just before the midway point of the second half.
"I don't even want the guys to worry about wins and losses right now — it's not the popular thing to say, but we've just got to worry about getting better," Byington said. "We're not going to talk to the guys about the standings, where we are, amount of wins. We're talking about continued improvement. If we continue to improve and keep on going, by the time we get to March, we'll have a (good) position and a chance to win the whole thing."
---
Jerry Beach has covered Hofstra sports since arriving on campus in the fall of 1993, when Wayne Chrebet was a junior wide receiver wearing No. 3, Butch van Breda Kolff was the men's basketball coach for the East Coast Conference champions and Jay Wright was a little-known yet surely well-dressed UNLV assistant coach. Check out Jerry's book about the 2000 World Series here and follow him on Twitter at @JerryBeach73.