Women's BIG EAST Basketball
Analyzing The All-Around Game Of Marquette's Selena Lott
Analyzing The All-Around Game Of Marquette's Selena Lott
Marquette's do-everything guard Selena Lott is making an impact on both ends of the floor for the Golden Eagles.
Jan 29, 2021
by Kyle Kensing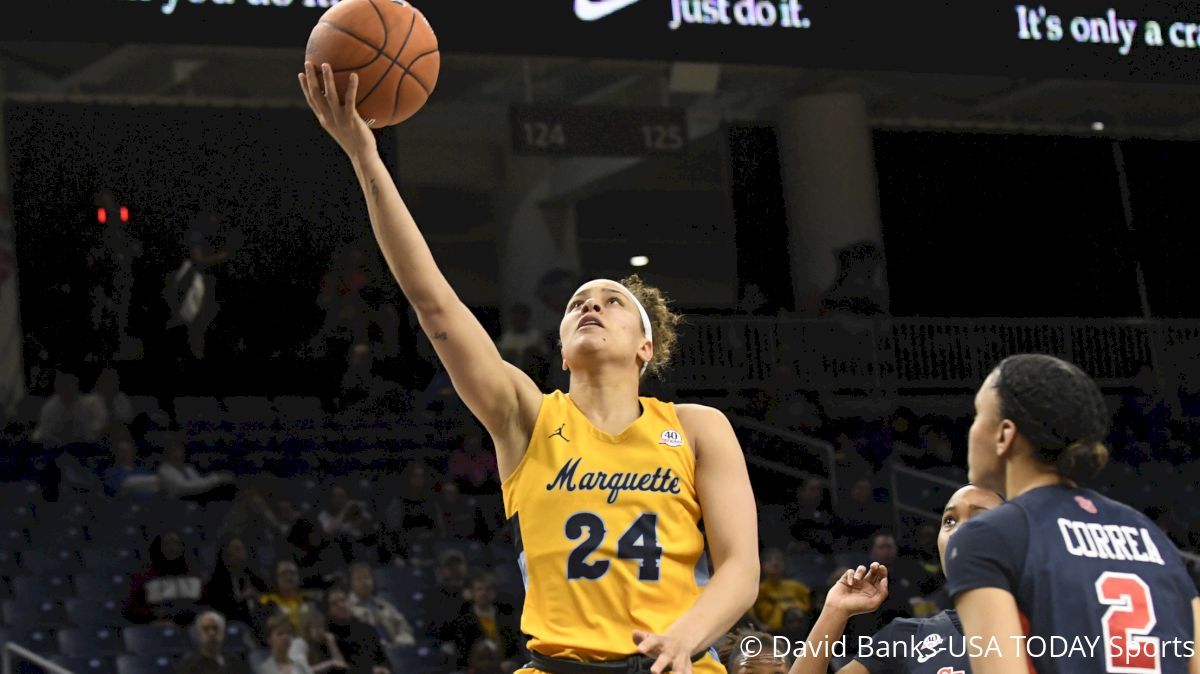 Marquette's do-everything guard Selena Lott made quite a splash in an impressive showing of two Big East teams with NCAA Tournament credentials. Her 27-point, 11-assist double-double powered the Golden Eagles to a 95-77 defeat of Villanova, and Lott eclipsed 1,000 career points in the process.
Definitely cause for celebration.
When you hit 1,000 career points 💦 😂#muwbb pic.twitter.com/C1oPCkgnOP

— Marquette WBB (@MarquetteWBB) January 28, 2021
Lott's stat line and ensuing postgame celebration speak volumes, but only detail so much of what made her performance Wednesday — and her game in general — so special.
A key starting point that's less evident from the box score: her defense.
Lott took on the assignment of guarding Maddy Siegrist, Villanova's versatile scorer and an All-America candidate in her own right. Siegrist finished with 19 points but came in averaging 24 per game.
Lott's efforts to handcuff Siegrist early allowed Marquette to build a double-digit-point lead in the first quarter.
Siegrist excels scoring both from the perimeter, creating her shot off the dribble, and establishing position on the low block. Opposing defenses have little choice but to double-team her, which typically frees up opportunities to find open teammates for baskets.
But a player only has a moment from when the double-team arrives to get the ball to the open player. Below, Lott — who worked to get in front of Siegrist on the low post to deny entry passes — is in position to deflect the pass, denying the ball to prevent a kick-out as the help defense readies to collapse around the Villanova star.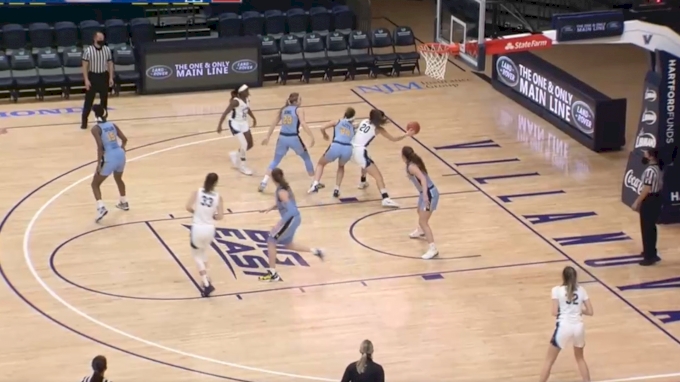 In another defensive possession, Siegrist starts with the ball on the wing. The double-team is waiting, but contingent on Lott not coinciding the baseline. Here, Lott slides to the spot and cuts off the drive, and the rest of the Marquette defense is in position to rotate.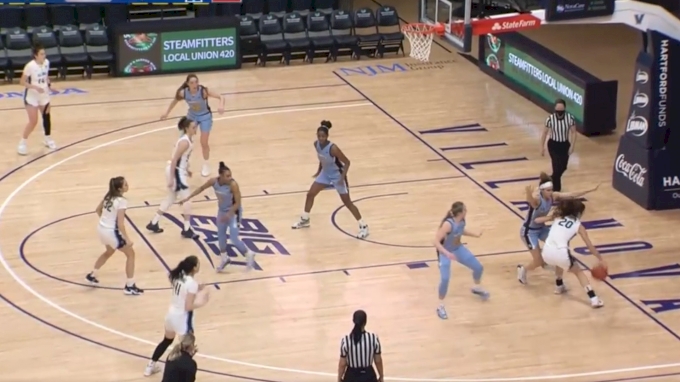 On the flipside, Lott's ability to generate double-teams and exploit them for scoring opportunities in the second quarter proved vital to stemming a Villanova run.
The Wildcats slashed the Golden Eagles' lead to seven points before Lott made some critical plays.
Here, Villanova is cognizant of her dribble-drive penetration and has the lane packed. Lott has the presence of mind to pivot away from the defense as it pinches, back to the wing from which she originated on this possession.
Liza Karlen is wide-open, with no one in position to rotate before she can fire off a clean 3-point look — which she swished.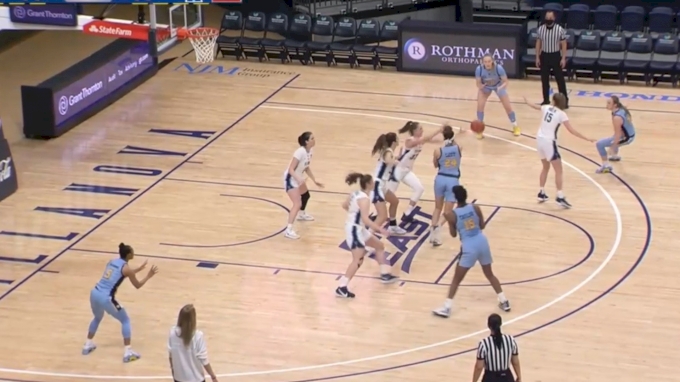 Another example from the third quarter, Lott moves without the ball from the strong side to weak to give herself space for the pass. Immediately upon taking possession on the wing, she penetrates to the middle of the floor to draw in the defender.
Not only does she free up a teammate through the double team, but upon shoveling it off to Chloe Marotta, turns to post up — which functions as a ball-screen on two defenders at once in this instance.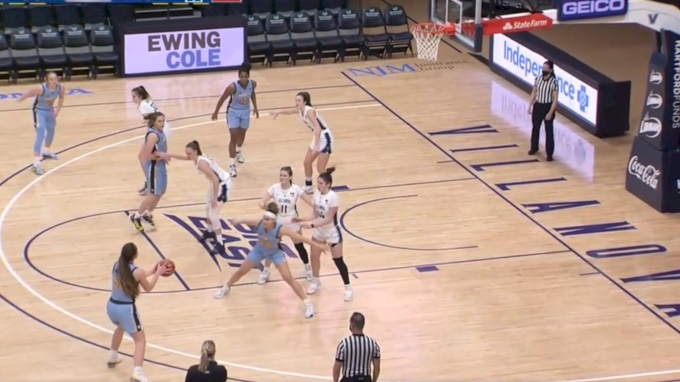 The result is a 3-pointer for Marotta.
Of course, a ball-handler will only command the level of attention Lott attracts if she is a scoring threat. Just before halftime, she attacked from the wing and scored on a baby hook that left Villanova with no good options.
If Lott kicks to Taylor Valladay, it's either an easy lay-up or she draws a foul from late rotation. If Lott misses, Valladay is unchecked to crash the glass. But because the help defense is left to hedge and rotates a fraction of a second late, Lott has already put up a left-handed shot away from the defender that goes in.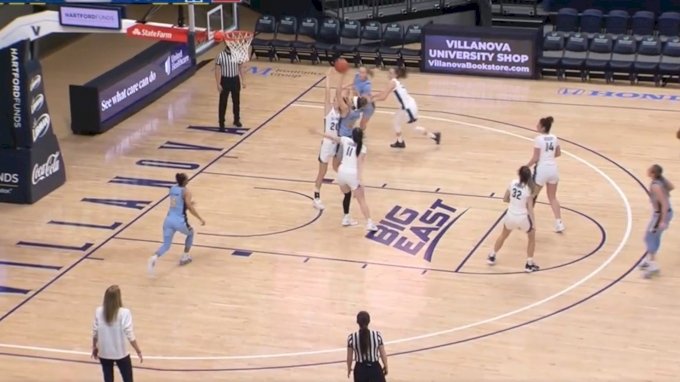 On both sides of the ball, Lott shows she's a driving force capable of dictating the tone and tenor of a game.
---
Kyle Kensing is a freelance sports journalist in southern California. Follow him on Twitter @kensing45.