Men's CAA Basketball
Elon Returns To Play After COVID-19 Pause In 2-Game Series vs Delaware
Elon Returns To Play After COVID-19 Pause In 2-Game Series vs Delaware
And just like that, Elon is back. After a nearly two-month pause from action because of COVID-19, the Phoenix will take on the Blue Hens this weekend.
Jan 29, 2021
by Jerry Beach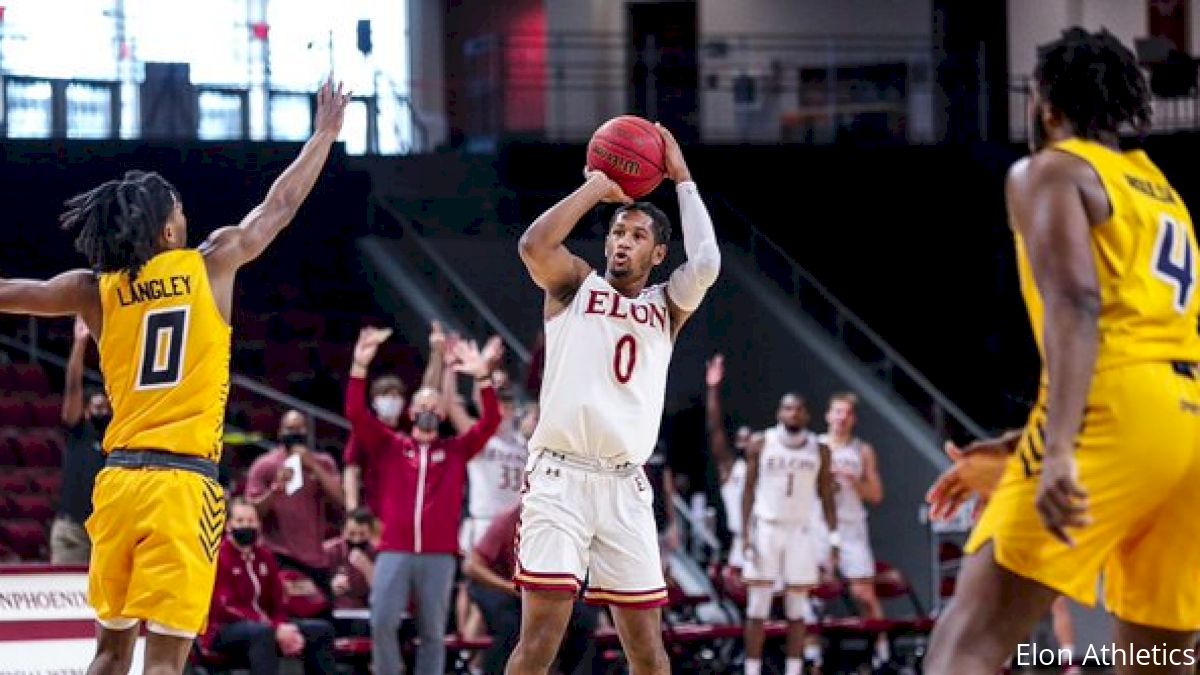 Mike Schrage spent the last three weekends treating the broadcast college basketball schedule like the rest of us have treated the streaming services the last 10 months. He'd watch a little of one genre here and a little of another genre there before trying to catch the endings to all the good shows he'd heard about via word of mouth.
"Day-by-day, more than ever, I'd look at the schedule of games, but I really follow on the tracker," Schrage said. "When games got close, last four minutes, I'm going to FloHoops, I'm going to ESPNPlus. I want to watch game situations. I wanted to see teams and coaches. It was a lot of basketball."
But on Saturday afternoon, Schrage will be quite content to focus his energies on his own personal Good Place.
After a nearly month-long pause due to Tier 1 coronavirus cases within the program, Elon is scheduled to resume play Saturday, when the Phoenix is slated to visit Delaware for a two-game series.
"We're excited to go on the road," Schrage said Friday morning before Elon departed for Delaware. "We've all kind of been quarantining in our houses a lot and our dorms, apartments. As much as we want to play at home — we haven't had any home games recently and won't for a little bit — we're kind of excited to travel and go stay in a hotel and have your own space. Just so excited to have the opportunity to be together and compete again."
The pause is the third of the season for Elon, which didn't play between Nov. 29 and Dec. 15 due to positive Tier 1 cases. The Phoenix returned Dec. 16, when it beat Campbell, 66-56, before breaking for the holidays following a 71-64 loss to UNC Greensboro.
Elon opened CAA play by getting swept at Northeastern Jan. 2-3, but Schrage said the Phoenix was beginning to build momentum with two strong practices upon the team's return to North Carolina before the Tier 1 positive cases forced another shutdown.
Schrage said some of those who tested positive were symptomatic but "…nothing too drastic. That was the most important thing when you know you have some positive cases — are the guys healthy, are they going to be OK? It's always about their health and safety. But we've had all of our guys recover."
Schrage said he conducted more team meetings via Zoom during the first coronavirus pause than the second one, but communicated more on an individual basis with players during the recent break. He also had much of the Phoenix's offensive and defensive sets put online for players to observe and absorb.
There were also plenty of conversations with fellow league coaches, all of whom have a unique shared understanding of trying to play something approximating a full CAA schedule in the midst of the pandemic.
"This second pause, I pretty much reached out to every coach in our conference, and they were great," Schrage said. "Just to see if there's anything you're using going forward that helps you. Because my questions were sort of like, hey, we can't afford a third pause. Anything that's helped you guys in terms of travel and daily practices?
"I think we were always a tight-knit conference of coaches and programs, but now more than ever, you have to really be connected. You see other coaches and teams having to go on pause. You've got to support them. We all have to be here for each other and be ready to adapt our schedules and make this work until we get to our conference tournament."
The carrot of the conference tournament was the first thing Schrage mentioned to the Phoenix when the team was able to begin practicing again last Saturday.
"I told the guys that six weeks from then was our conference tournament," Schrage said. "We just talked about maxing out this time together, staying positive, getting in a rhythm."
The first game back from an in-season pause has been generally difficult for CAA teams, who are 4-11 following a break of seven days or more. One of those wins was earned by Delaware over Charleston on Jan. 2, when both teams were coming back from an 11-day holiday break.
CAA teams, of course, aren't alone in finding it tough to shake off the rust. On Thursday night, Michigan State played for the first time in 20 days and lost to Rutgers, 67-37.
"I think our motors are going to be running," Schrage said. "We've got to be ready for some errors of commission, not omission. Guys are so amped up and they make mistakes because we're just not used to being out there. But that's natural, especially with the gaps that we've had."
There's a sense of urgency for Elon to start piling up some wins, especially with so few games left on the original schedule and no guarantee all of the postponed games will be made up. But simply getting the chance to play Saturday — and finally getting to appear on someone else's phone, laptop or television screen — will provide Schrage and the Phoenix a sense of gratitude and accomplishment.
"I think the guys are going to be incredibly excited," Schrage said. "I sensed that coming out of our first pause. That's kind of our challenge to our guys — hey, we've had our tough times and our pauses, but no one can be more excited than us now that we're back competing and playing."
---
Jerry Beach has covered Hofstra sports since arriving on campus in the fall of 1993, when Wayne Chrebet was a junior wide receiver wearing No. 3, Butch van Breda Kolff was the men's basketball coach for the East Coast Conference champions and Jay Wright was a little-known yet surely well-dressed UNLV assistant coach. Check out Jerry's book about the 2000 World Series here and follow him on Twitter at @JerryBeach73.