CAA Men's Basketball
James Madison's Stifling Defense & Hot-Shooting Hofstra In The CAA
James Madison's Stifling Defense & Hot-Shooting Hofstra In The CAA
James Madison's defense is insane, Hofstra is on a scoring tear, and everything else you need to know about CAA basketball over the weekend.
Feb 2, 2021
by Jerry Beach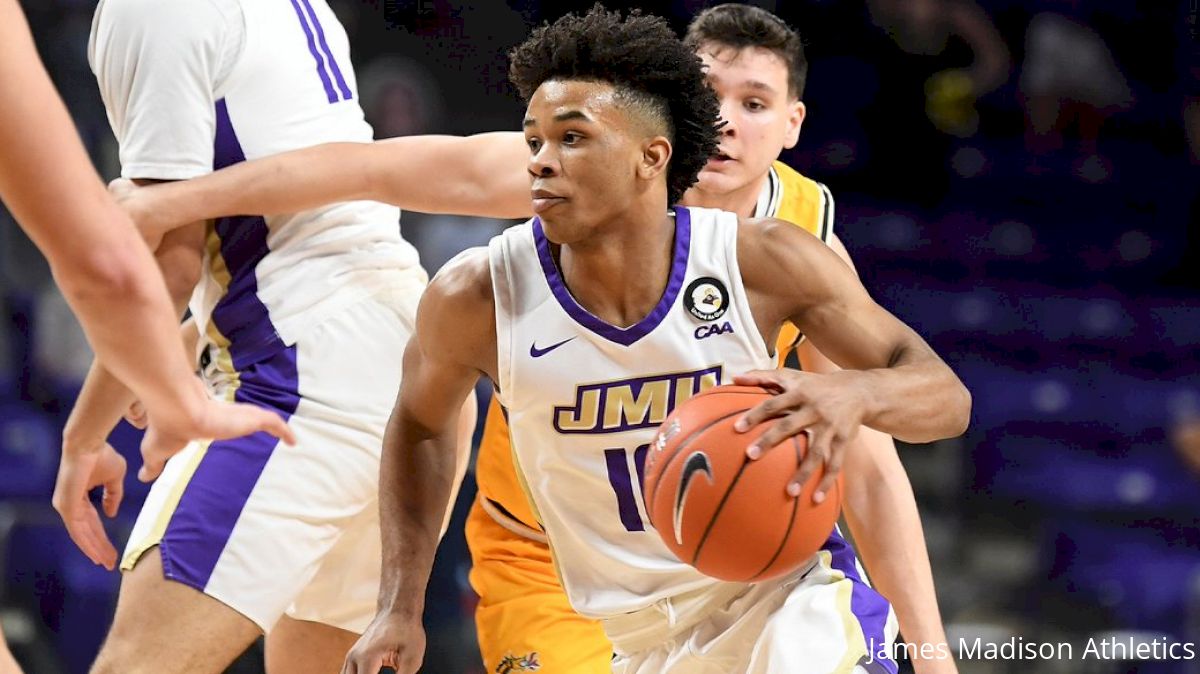 As pleased as Mark Byington is with James Madison becoming accustomed to winning games on short notice, he'd surely prefer if it ceased to be a thing no later than the end of this season.
The Dukes becoming accustomed to winning with their defense, on the other hand? That's the type of thing a guy around which a guy can build his program.
James Madison ran its winning streak in hastily scheduled games to three Sunday afternoon with a wire-to-wire 73-64 win over Drexel. The teams agreed to play the game Friday after Drexel's weekend set against Northeastern was postponed due to a positive coronavirus case within Northeastern's program.
"Drexel's had almost as frustrating a time as we have kind of getting in a rhythm," Byington said. "They played William & Mary three times and played Charleston — only played two opponents, just like we have."
Prior to Sunday, James Madison's four CAA games came against two teams — Northeastern in a series last weekend and Towson in a home-and-home played 11 days apart.
In a most 2020-21 stat, James Madison is 4-2 in games scheduled on short notice, with wins over NAIA school Alice Lloyd on Dec. 20, losses to VCU (Dec. 22) and Morgan State (Jan. 2) wins over Florida Atlantic (Jan. 5) and Division II Chowan (Jan. 10) prior to Sunday's win.
But there were other numbers Byington was more focused on late Sunday afternoon. At 4-1 in the CAA, the Dukes are tied for first place in the loss column with Northeastern and off to the program's best five-game CAA start since a 4-1 start in 2010-11.
And 4-1 has happened thanks to 65, seven and three. (Don't worry, it's not some modern reimagining of a Chicago hit.)
James Madison held an opponent under 65 points for the second straight game Sunday. It's the first time the Dukes have limited Division I opponents to fewer than 65 points in back-to-back games since Jan. 5-12, 2019. Byington's Georgia Southern teams did it 22 times the previous seven seasons.
"The guys are buying into it, and that's the most important thing," Byington said. "We can play at a high level defensively. The Northeastern game, the second game (a 79-72 win), we did. Some stretches against Towson (in a 78-63 win last Wednesday), Some stretches tonight. We've got to build up to where we can do that the majority of the time, just not have lapses."
A better defense has made the Dukes less reliant on preseason CAA Player of the Year Matt Lewis, who scored 15 points in 37 minutes — his fewest points in 37 or more minutes since he had seven points in 37 minutes against Towson on Jan. 18, 2020 — and went 0-for-3 from 3-point land as his streak of games with at least one 3-pointer ended at 49.
"You're going to start seeing these teams, in back-to-back games where shots aren't going in and fatigue really sets in and things get hard a lot of games," Byington said. "We're going to have to win games on the defensive end. Guys understand that and I thought we did enough of it tonight. And we're going to keep doing it."
The improved defense by James Madison has made for a noisier and better-adorned sideline. Byington presented players chains and awards them a new link every time — in real time — the Dukes make three straight defensive stops.
Byington said Sunday James Madison is unbeaten when it has at least seven such stretches in a game. On Sunday, the Dukes had…you guessed it, seven stretches of at least three consecutive stops.
"It's something we kind of base our defense on," Byington said. "They understand that if we ever get seven of those in a game, the wins and losses are going to take care of themselves."
HOT-SHOOTING HOFSTRA CONTINUES ROLLING
As John Sterling might say: You can't predict college basketball, Suzyn.
On Jan. 15, Hofstra suffered its third straight loss, its longest losing streak in four years, and scored 56 points for the second straight game, which marked the first time the Pride scored 56 points or fewer in back-to-back games since the 2012-13 season, the year before Joe Mihalich arrived. All 56 points in the loss to Delaware on Jan. 15 were scored by starters.
On Sunday, Hofstra won its fifth straight game by completing a weekend sweep of UNC Wilmington with an 89-83 win. The Pride won Saturday's opener, 82-73.
Hofstra had three players drain at least seven field goals in both wins over the Seahawks. And the suddenly deep Pride did all that without Tareq Coburn, the reigning CAA Player of the Week who traveled with the team to North Carolina but did not play due to injury.
The wins were aided by 40 points off the bench from the trio of Omar Silverio, David Green and Kevin Schutte, all of whom were sidelined earlier this season. Silverio missed nine straight games before returning Saturday to score a career-high 17 points. Green missed four games before collecting seven points Saturday and Schutte, who missed the Jan. 15 game against Delaware, had six points and eight rebounds in 19 minutes over the weekend.
"Everybody kind of just stepping up just making the plays when you need to," acting Hofstra head coach Mike Farrelly said.
The biggest beneficiaries of the newfound depth, though, were the Pride's other four starters. On Sunday, guards Jalen Ray and Caleb Burgess regularly drove the lane on their way to finishing 9-of-16 from inside the 3-point line. And with UNC Wilmington undersized and employing a six-man rotation, Hofstra's forwards — 6-foot-7 Isaac Kante and 6-foot-6 KVonn Cramer — were a combined 28-of-37 from the field this weekend. Cramer earned CAA Freshman of the Week honors after collecting 33 points and 20 rebounds in the two games.
"Look, our DNA has just been we have great guards, we have great guards, we have great guards and they can all score," Farrelly said. "But for the first time we've got a post guy that can really score. So I think just a little bit of that mindset change and shift to hey, remember, we've got a monster down there who can really score."
The most important mindset change for Hofstra, which is 7-3 in CAA play and tied with Northeastern in the win column, has nothing to do with getting the ball to Kante. The Pride's winning streak began after Farrelly criticized the focus and intensity following the 74-56 loss to Delaware.
"We addressed it the day in between the Delaware games and we saw right away — we got out to a 13-0 lead against Delaware," Farrelly said of the 68-67 win on Jan. 17. "We realized this is who we need to be for us to be really good. That's who we have to become all the time. We can't fade in and out. That energy's got to be a constant. I think we learned it."
VETERAN TRIO SPARKS BLUE HENS
Another once-undermanned team appears to be hitting its stride. Delaware ran its winning streak to three games by sweeping Elon with a 66-43 win on Saturday and a 75-70 victory on Sunday
The win Saturday was Delaware's most lopsided in CAA play since a 95-68 victory over James Madison on Jan. 19, 2006. The Blue Hens looked well on their way to another victory by at least 20 points Sunday before Elon ended the game on a 30-15 run.
"We talked about being in a position to get a home sweep," Delaware head coach Martin Ingelsby told The News Journal. "I do think our team is getting better."
Delaware (5-4 CAA) was led over the weekend by its big three of senior guards Ryan Allen and Kevin Anderson and redshirt junior center Dylan Painter. Anderson, who missed four games due to injury earlier in January, scored 11 points on 3-of-4 shooting from the field Saturday. Allen, who has been playing through a variety of ailments, scored a season-high 26 points Sunday, when Painter (15 points 10 rebounds) posted his seventh double-double of the season.
"It's nice to see the big three, our older guys, really play well together," Ingelsby said.
KOCHERA LEADS YOUNG TRIBE
Everyone knew William & Mary was embarking upon a rebuilding project following the graduation of reigning CAA Player of the Year Nathan Knight. But a weekend sweep of Towson indicated the Tribe's timetable might be faster than anyone anticipated.
After earning a 84-74 win on Saturday, William & Mary overcame an 11-point first-half deficit to record a 75-74 win on Sunday. Freshman Connor Kochera locked up CAA Player of the Week honors by scoring 30 points, including the go-ahead, game-winning layup with 13 seconds left, and finishing with 12 rebounds.
Kochera is the first William & Mary freshman to score 30 points since Nick D'Antoni in 2001 and the first freshman to win CAA Player of the Week honors since Elon's Elijah Bryant did so for the week ending Jan. 5, 2015.
"The production he's showing now is probably more than we were anticipating for his freshman year," William & Mary head coach Dane Fischer said of Kochera, who scored 23 points in Saturday's win. "He plays like a veteran."
Kochera isn't the only emerging freshman for William & Mary. Yuri Covington recorded the assist on Kochera's game-winning basket and finished with 11 points. Between Kochera, Covington, Ben Wight and Jake Milkereit, freshmen accounted for 86 points and 198 minutes over the weekend as the Tribe improved to 4-4 in the CAA.
THIS AND THAT
—UNC Wilmington took some solace in turning Sunday's game into a far closer one that it appeared when Hofstra raced out to a 32-15 lead. The Seahawks, who played just six players Sunday, responded with a 26-8 run to take a one-point lead and led by a point a handful of times in the second half before wearing down.
"Our guys fought," UNC Wilmington head coach Takayo Siddle said. "I'm proud of our guys. I really don't have anything negative to say about our group. I'm asking guys to play around 40 minutes a game and they're playing so hard, which is our standard here."
—Elon showed some understandable rust in its first games since Jan. 3. The Phoenix's loss Saturday dropped CAA teams to 4-12 following a pause of more than one week.
Things won't get easier anytime soon for Elon, which is scheduled to visit James Madison Wednesday. But a big finish Sunday by Hunter McIntosh might have helped the Phoenix shake off any remaining cobwebs. McIntosh scored 30 points Sunday, including 12 in the final 85 seconds to help cut a 15-point deficit to the final five.
—Towson's post-pause struggles continued with the losses to William & Mary. The Tigers have lost five straight and are 2-6 since returning to action Jan. 16 following a 20-day interruption. They've played more games in the last 16 days than in the first 61 days of the season combined.
—Drexel had a pretty good middle against James Madison on Sunday. But the beginning and end were too much to overcome for the Dragons, who were outscored 27-14 to start the game and 9-4 over the final 3:42.
"I thought we started the game poorly and ended it poorly," Drexel head coach Zach Spiker told The Philadelphia Inquirer. "There were some things we certainly can improve upon."
STATS OF THE WEEK
With its winning streak extended over the weekend, Hofstra's had at least one winning streak of four games or longer in each of the last seven seasons, a feat matched in the CAA only by Northeastern. William & Mary, which had a four-game winning streak in each of the previous six seasons, is the only other league school with a chance to join the club.
UNC Wilmington's Ty Gadsden hit all six of his free throw attempts Sunday to extend his streak of consecutive makes to a school-record to 44.
WHAT'S NEXT
The weekend schedule was impacted by the coronavirus once again on Tuesday morning, when the CAA announced William & Mary's next two series -- against James Madison this weekend and UNC Wilmington Feb 13-14 -- have been postponed because the Tribe's entered a two-week pause due to virus protocols. James Madison, which has played just one weekend series as scheduled this year, is still scheduled to host Elon in a makeup game Wednesday. Elon hopes to return home this weekend with a series against UNC Wilmington. Charleston, which hasn't played since Jan. 17 due to positive cases within the program, is slated to host Towson while Hofstra is scheduled to host Drexel. Northeastern remains on pause and is not scheduled to play again until Feb. 13, as is Delaware, which was originally scheduled to play Northeastern this weekend.
---
Jerry Beach has covered Hofstra sports since arriving on campus in the fall of 1993, when Wayne Chrebet was a junior wide receiver wearing No. 3, Butch van Breda Kolff was the men's basketball coach for the East Coast Conference champions and Jay Wright was a little-known yet surely well-dressed UNLV assistant coach. Check out Jerry's book about the 2000 World Series here and follow him on Twitter at @JerryBeach73.