MEAC
Kameron Langley Is In The History Books At North Carolina A&T & In The NCAA
Kameron Langley Is In The History Books At North Carolina A&T & In The NCAA
Now you see him, now you don't: Kameron Langley is making magic in the MEAC and writing his name in the history books.
Feb 4, 2021
by Kyle Kensing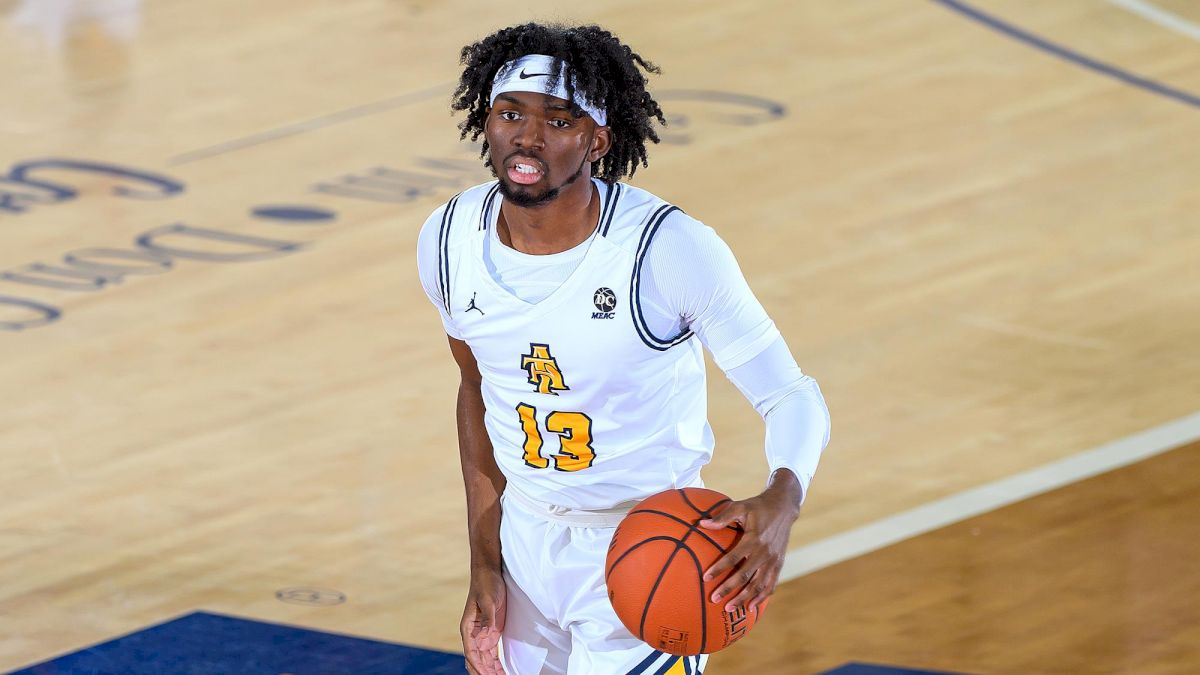 One learns at a pretty young age that magic tricks are not actually magic. However, the sleight of hand required to perform a magic trick is its own, impressive skill just the same.
When it comes to performing magic with the basketball, few do it quite as effectively as North Carolina A&T guard Kameron Langley.
Langley combines quick-moving hands with uncanny court vision to produce points. One moment, opposing defenses see the ball; the next, it's gone to a wide-open Aggies teammate.
He is averaging 7.1 assists per game thus far in the 2020-21 campaign, good for seventh among all Div. I players. And Langley's passing magic is nothing new: He owns three of the top six seasons for total assists in North Carolina A&T history, including the top two. Last year's 247 led all of Div. I.
Langley also is in three of the top four in assists per game, again with the first two, and will add his name again to both categories by the end of this season.
The 2020-21 season has already, in a number of ways, been a record-setter for the MEAC career assists leader Langley. On Dec. 12 against Western Carolina, he broke his own program mark for most feeds in a game with 16, the highlight of a night in which he scored 20 points and came just a rebound shy of a triple-double.
The most recent assist Langley dished on the march to 800 — a milestone that will put him in company with such past ball-handling wizards as Chris Duhon, Jacque Vaughn and Mateen Cleaves — reflects his significance to the Aggies' MEAC championship aspirations.
After trailing by 24 points, North Carolina A&T went on a torrid run Jan. 31 against Florida A&M. Trailing by a point in the closing seconds, Langley received the ball on the perimeter.
A Rattlers defender hedges in preparation for a ball screen, but Langley finds just enough space to attack off the dribble and get into the paint. The scoring threat he poses, particularly in this situation, draws Florida A&M defenders crashing in — and faster than any can get in position to rotate or recover, Langley makes the ball disappear.
Down 19 at one point, NCAT beats FAMU 67-65 on this 3-pointer by Blake Harris. pic.twitter.com/FhVZKRKdMz

— HBCU Gameday (@HBCUGameday) January 31, 2021
Now you see North Carolina A&T's first conference loss . . . now you don't.
The furious rally extended the Aggies' current winning streak to five games, and keeps them perfect in MEAC competition. A&T embarks on a critical stretch over the final month of the regular season, beginning with a back-to-back against South Carolina State before the road return to Florida A&M.
The South division could come down to the final weekend rivalry series with North Carolina Central.
With the way he's playing now, The Killa — he's already got an awesome magician's nickname — may have another few tricks up his sleeve: A MEAC title, and A&T's first NCAA Tournament appearance in eight years.
---
Kyle Kensing is a freelance sports journalist in southern California. Follow him on Twitter @kensing45.