Men's CAA Basketball
Comeback Mayhem: Overcoming Deficits In The CAA Is Extraordinarily Common
Comeback Mayhem: Overcoming Deficits In The CAA Is Extraordinarily Common
Think a double-digit lead is safe in the CAA? Think again. We crunched the numbers to reveal some startling trends in college hoops.
Feb 8, 2021
by Jerry Beach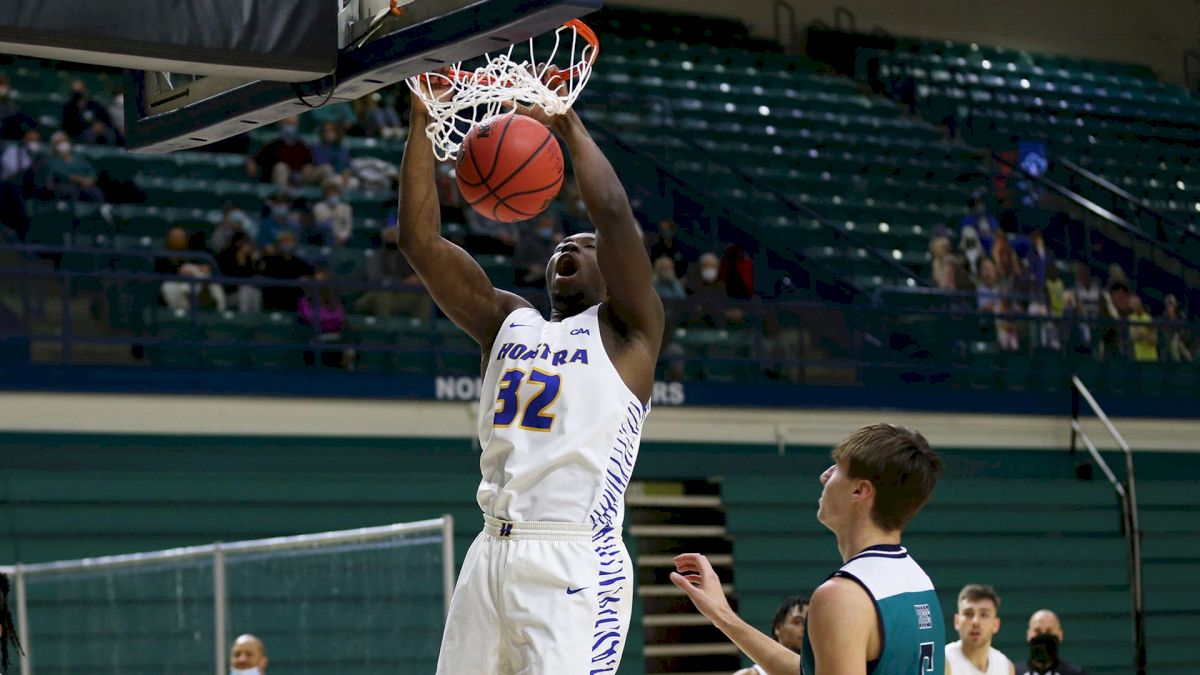 Seemingly lopsided scores in CAA games are a lot like the weather in most regions of the country. Don't like them? Just wait 15 minutes and they'll probably change.
Of the 40 league games played thus far, 24 have featured a team coming back from a double-digit deficit to close within at least three points. That's 60 percent of the time.
Some examples of the chaos
—Delaware had double-digit leads whittled to one point in both halves of a win over Charleston on Jan. 2.
—On Jan. 27, both Towson (11 points) and James Madison (18 points) had double-digit first-half leads.
—Hofstra trailed in the first half after racing out to 10-point and 17-point leads over William & Mary and UNC Wilmington on Jan. 3 and Jan. 31, respectively. The Pride never trailed in a 68-67 win over Delaware on Jan. 17, when its 20-point lead was whittled to one before a last-second defensive stand.
"I wonder if that happens in all of our games — a team gets a lead, the other team comes back," said acting Hofstra head coach Mike Farrelly. (Close: It's happened in nine of the Pride's 12 games, including Saturday, when Hofstra cut a 17-point deficit to one but could not complete the comeback in a 73-71 loss to Drexel.)
And eight CAA games, or 20 percent, have resulted in the winner overcoming a deficit of at least 10 points to earn the victory. Northeastern swept a series from Hofstra Jan. 7-9 in which the Huskies overcame a 19-point deficit in an 81-78 win in the opener before a finale in which they raced out to a 12-point first-half lead and fell behind by eight points in the second half before earning a 67-56 victory.
"There's no lead that's safe and there's no lead that's insurmountable," Northeastern head coach Bill Coen said. "So it keeps people glued right to the end."
While leads have been more vulnerable in general since college basketball's shot clock was shortened to 30 seconds prior to the 2015-16 season, the double-digit advantage has been uniquely endangered this season.
A team cut a deficit of at least 10 points to a single possession 41 times in 99 CAA games last season, when 13 games ended with the victor completing a double-digit comeback. The latter figure was the lowest in the CAA since the shot clock was shortened and exactly half the 2017-18 amount.
The chaotic nature of league games this season is largely a result of trying to complete a schedule in the midst of a pandemic. With offseason practice time eliminated and the start of in-season practice delayed, there was no chance for teams to try and establish some consistency in the late spring, summer and early fall. And every program's had at least one game postponed due to the coronavirus.
"I think we've all had the same variables — we've all had (to) start and stop practices, we've all had limited summer activity for the most part," Drexel head coach Zach Spiker said.
The unusual nature of the schedule has also bred inconsistency and unpredictability. Teams are generally playing each other twice in a weekend, usually on back-to-back days at the same site, so there's a unique mix of familiarity and tired legs that make it difficult to anyone to pull away.
Nine of the 13 series finales played as the second game of a back-to-back set on consecutive days have featured a team cutting a double-digit deficit to three points or fewer. And four of the victories achieved after coming back from a double-digit deficit have happened in the second game of a back-to-back set.
"I know for us, we went up to Drexel and got beat pretty badly on Saturday and were able to come back and win on Sunday," William & Mary head coach Dane Fischer said of the Tribe, which whittled a 12-point lead to one before losing 82-58 in the opener Jan. 16 and trailed by 10 points in both halves of a 69-64 victory the next day.
Of course, even in more normal times, college basketball and the CAA in particular lends itself to a certain unique unpredictability.
"You're dealing with 18-, 19-, 20-year-olds, and if you're around them in their day-to-day life, they're a little bit sporadic —they have their highs and their lows and sometimes it happens in a game," James Madison head coach Mark Byington said.
Nine of the 40 CAA games thus far have been decided by four points or fewer or in overtime, which ranks 11th in the nation per KenPom.com. The CAA has finished in the top 10 in close games in six of the previous seven seasons.
"I just think that in league play, everything is a little more magnified," UNCW head coach Takayo Siddle said. "Like every other coach in this league, I'm preaching to our guys how important they are and how important each possession is. So we're seeing everybody playing with a sense of urgency."
In addition, with everyone more reliant on the 3-pointer than ever, a quick run is never further away than a couple long rebounds and long-distance shots in transition.
"There are some favors that kind of go their way towards the end of the game, just being ultra-aggressive on the offensive (and) defensive end," Byington said. "It's not uncommon to this year."
Most teams have multiple 3-point threats on the floor throughout the game — the only squads who have had fewer than eight players sink 3-pointers this season are Towson and UNC Wilmington, each of whom has seven players with at least one trey — which means the run can be fueled by almost anyone.
Northeastern's comeback win over Hofstra on Jan. 7 was sparked by four 3-pointers by Shaquille Walters, who'd hit as many as two 3-pointers in a game just four previous times. Two days later, the Huskies' Quirin Emanga hit two 3-pointers for the first time.
On Saturday, Drexel hung on against Hofstra thanks in large part to sophomore guard Luke House, who went 3-for-3 from 3-point land after going 2-for-5 from beyond the arc in his first four games. When the Dragons frittered away a 12-point lead against Charleston in a 73-68 loss on Jan. 10, they did so while watching the Cougars' Brenden Tucker go 5-for-7 on 3-pointers. Tucker entered the game 5-for-16 from 3-point land in his previous 19 games combined.
"There's a lot of possessions in a game, there's a lot of 3-point threats," Spiker said. "There's guys that are 23 percent shooters than are making shots, guys that have hit five in their career (or) hit three on the season hit five in a game."
As Coen noted, the unpredictability of games and the vulnerability of seemingly large leads make for a compelling viewing experience. But it's a little more nerve-wracking for those observing it unfold from the sideline.
"From a fan's standpoint, it's more exciting," Spiker said. "From a coach's perspective, it'll keep you up at night. Multiple nights."
Spiker paused.
"Weeks."
---
Jerry Beach has covered Hofstra sports since arriving on campus in the fall of 1993, when Wayne Chrebet was a junior wide receiver wearing No. 3, Butch van Breda Kolff was the men's basketball coach for the East Coast Conference champions and Jay Wright was a little-known yet surely well-dressed UNLV assistant coach. Check out Jerry's book about the 2000 World Series here and follow him on Twitter at @JerryBeach73.