CAA Men's Basketball
Charleston Surges In CAA, Plus Drexel & Hofstra Complete A Satisfying Split
Charleston Surges In CAA, Plus Drexel & Hofstra Complete A Satisfying Split
Let's rewind the CAA weekend: Charleston is surging, Drexel and Hofstra were happy to split, and everything else in the conference.
Feb 9, 2021
by Jerry Beach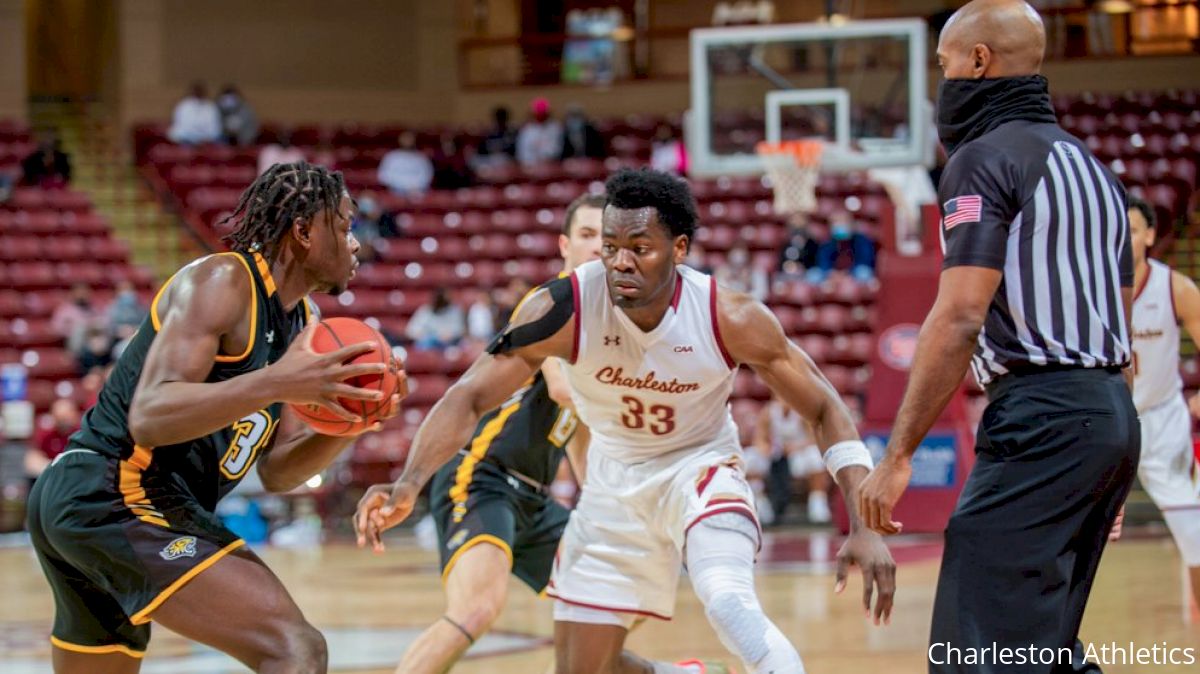 No Grant Riller, who graduated last spring.
No Brevin Galloway, who suffered a season-ending knee injury in November.
No games for 19 days in late January and early February due to a coronavirus pause.
Once again, no problem for Charleston.
The Cougars continued clearing hurdles over the weekend, when they returned to action by sweeping Towson. Charleston earned a 90-88 double-overtime win Saturday before beating the Tigers, 66-53, on Sunday.
"I told the guys, 'The sweet sound of victory," Charleston head coach Earl Grant said Sunday afternoon. "It's a good feeling and a good sound. Coming off a break, we didn't know exactly what to expect. To be able to come out again and compete at a high level and really defend and rebound — it was a good sign for our team and hopefully we can build on it."
Charleston's success on the boards against the league's most old-fashioned team was just one surprising element of the sweep. The Cougars out-rebounded Towson in both games — 43-29 on Saturday and 35-31 on Sunday. It was the first time the Tigers have been out-rebounded in consecutive CAA games in more than six years. Northeastern (30-29) and Delaware (40-37) did it Jan. 10-14, 2015.
In addition, Charleston is the first CAA team to even win a game in its first series following a midseason pause of more than seven days. UNC Wilmington was swept by Towson Jan. 18-19 and Elon was swept by Delaware Jan. 30-31.
With the wins, Charleston improved to 5-3 in CAA play while establishing itself as the latest surprise contender in a jumbled league. The Cougars are fourth in winning percentage behind Northeastern (7-1), James Madison (5-1), and Hofstra (8-4).
While Hofstra was picked first in the preseason poll, Charleston (sixth), Northeastern (seventh), and James Madison (ninth) were all predicted to finish in the bottom half.
"I really haven't gotten into the records in the league," Grant said. "But I know we're making progress after what I saw this weekend."
Charleston is a handful of possessions away from being in an even better position. The Cougars never led in a 70-67 loss to Delaware in the conference opener Jan. 2, when Payton Willis missed an open 3-pointer at the buzzer. And per KenPom.com, they had win probabilities north of 80 percent late in the second half of both losses to Northeastern the following weekend.
The advanced metrics aren't in love with the Cougars, who rank fifth in the CAA in offensive efficiency (101.7) and seventh in defensive efficiency (106.7) per KenPom.com despite some solid raw numbers, especially on defense. The double-overtime win over Towson is the only CAA game in which Charleston has allowed more than 70 points.
Offensively, Charleston, which hasn't had an offensive efficiency number below 105.0 since Grant's second season in 2015-16, hasn't been quite as prolific with Riller following 2019 graduate Jarrell Brantley to the NBA and Galloway sidelined. But the Cougars are getting steady contributions from several players.
Willis, who transferred from Minnesota, is averaging a team-high 13.5 points per game. Zep Jasper is averaging 13.1 ppg and won CAA Player of the Week honors after scoring 38 points in the wins over Towson. Jasper has scored in double figures 13 times this season after doing so just 19 times combined as a freshman and sophomore.
Brendan Tucker, who is averaging 9.9 ppg, scored 35 points — the most in a game by a CAA player this season — in a 73-68 win over Drexel on Jan. 10. And Charleston hopes it found another cog last weekend, when redshirt sophomore Cam Copeland, a transfer from North Florida, forced overtime with a buzzer-beating 3-pointer on Saturday before hitting a pair of jumpers to start the game-ending 16-7 run Sunday.
Cameron scored 24 points and pulled down 15 rebounds while playing 58 minutes off the bench against Towson. He hadn't played more than 27 minutes prior to Saturday.
While the KenPom.com offensive and defensive metrics aren't overwhelming for the Cougars, their luck rating of -.001 suggests they are once again right where they belong. Charleston and William & Mary are the only CAA teams to finish among the regular season top five in each of the previous four seasons.
"We had a lot of guys contribute and a lot of guys step up and make big plays," Grant said. "I was really proud of the total team effort. I was really proud of the energy the guys played with after a slugfest (Saturday). It was a good weekend for us and something we can continue to build on."
A SATISFYING SPLIT FOR DRAGONS, PRIDE
It's fair to say everyone will be quite content to never play weekend series after this season. But say this for the concept of a weekend series: It gives both teams a chance to earn a must-win apiece.
Drexel and Hofstra each recorded key victories during a split of the series on Long Island. The visiting Dragons raced out to a 17-point lead and held on for a 73-71 win in Saturday's opener before the Pride won the finale, 79-74.
The win Saturday was the fifth in a road or neutral site game this season for Drexel, which had just 14 road or neutral site wins in Zach Spiker's first four years at the helm. The Dragons have two CAA road wins, half as many as they had the previous four seasons.
For Drexel, which was picked to finish third in the preseason poll and is ranked no. 154 at KenPom.com, just behind Northeastern (no. 151) — it was the type of victory a program needs to prove it can take the next step and live up to heightened expectations and play up to its advanced metrics.
And for Hofstra, the win Sunday was the type produced by a defending champion when it wants to serve notice to everyone else it won't easily relinquish the crown. The Pride's five-game winning streak was snapped Saturday, when acting head coach Mike Farrelly again criticized his team's effort and intensity.
There were no such concerns Sunday, when five Pride players scored in double figures on an afternoon in which leading scorer Jalen Ray was slowed by a stomach bug. Ray, who scored a career-high 30 points Saturday, had five points Sunday.
"The way we need to play," Farrelly said Sunday afternoon. "Only saw the real Hofstra Pride, the Hofstra Pride we need to be, for 20 minutes (Saturday). And we were that team for 40 minutes."
Tareq Coburn scored a team-high 17 points while big man Isaac Kante (16 points, 16 rebounds) had a forceful double-double for Hofstra, which scored 15 second-chance points while limiting Drexel to just three second-chance points.
The win provided Hofstra some momentum heading into what it hopes is an important road trip to James Madison in a potential clash of an established title contender and a resurgent program.
"They're ahead of us and they're where we want to be right now," Kante said. "We're a championship game and we feel like that. So we've got to start playing like it."
STATS OF THE WEEK
Towson's hard-luck season, which included a pair of coronavirus pauses that limited the program to just two games between Nov. 28 and Jan. 15, continued as its losing streak hit seven games. The Tigers' losing streak is their longest since a nine-game streak to end Pat Skerry's first season, when the team finished 1-31.
Towson's Zane Martin and Hofstra's Jalen Ray each scored 30 points in defeat Saturday. It was the second straight weekend in which two players scored 30 points in a loss. Elon's Hunter McIntosh and UNC Wilmington's Mike Okauru had 30 points apiece as their teams fell to Delaware and Hofstra, respectively, on Jan. 31.
WHAT'S NEXT
Coronavirus-permitting, there are four series scheduled for the weekend as well as today's scheduled meeting between James Madison and Elon, which would be the latter's first home game since Dec. 19. The Dukes are scheduled to host Hofstra in a potential upper-echelon clash Saturday and Sunday, when Northeastern is scheduled to return to action against Towson and Elon is slated to visit Charleston. Longtime rivals Delaware and Drexel are scheduled to play a home-and-home Thursday in Philadelphia and Saturday in Newark. The William & Mary-UNC Wilmington series was postponed due to coronavirus protocols within both programs.
---
Jerry Beach has covered Hofstra sports since arriving on campus in the fall of 1993, when Wayne Chrebet was a junior wide receiver wearing No. 3, Butch van Breda Kolff was the men's basketball coach for the East Coast Conference champions and Jay Wright was a little-known yet surely well-dressed UNLV assistant coach. Check out Jerry's book about the 2000 World Series here and follow him on Twitter at @JerryBeach73.