Women's BIG EAST Basketball
Big East Women's Notes: UConn Back On Top
Big East Women's Notes: UConn Back On Top
Paige Bueckers monster game pushed the Huskies to an upset of #1 ranked South Carolina.
Feb 9, 2021
by Kevin Sully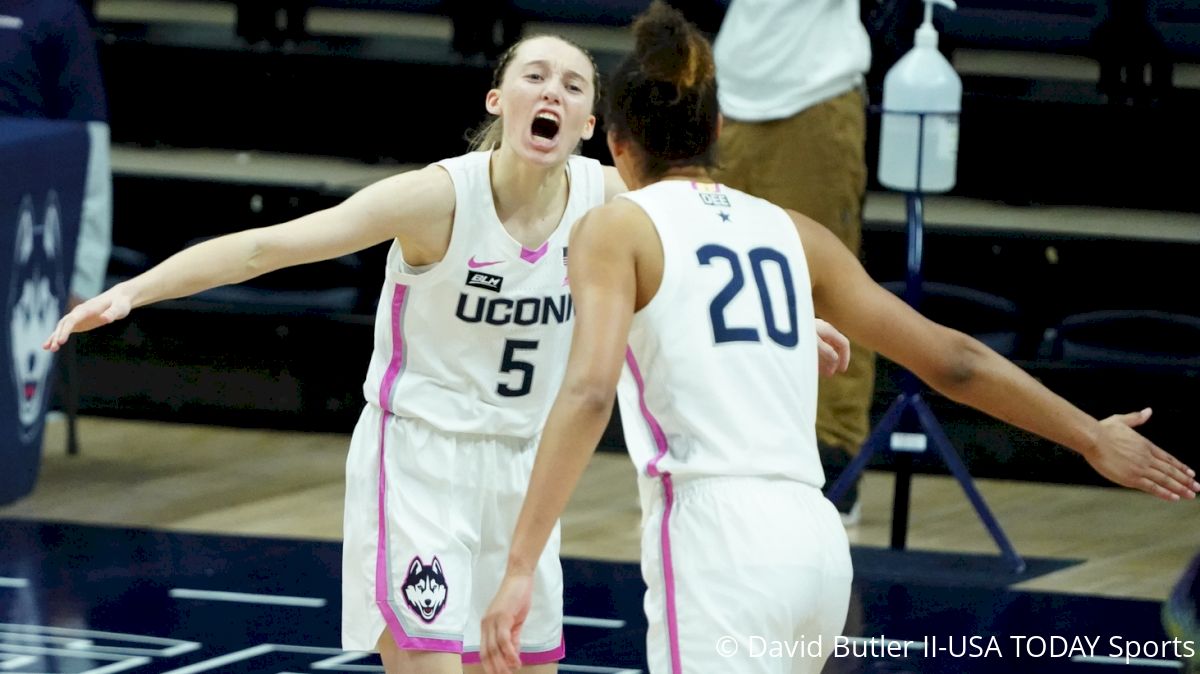 Eleven days after they were upset by Arkansas, Connecticut is poised to once again claim the #1 ranking in the country.
On Monday, the second-ranked Huskies defeated #1 South Carolina 63-59 in overtime. Freshman Paige Bueckers led UConn with 31 points, six steals and five assists. Her best work came at the most important moments. She hit a jumper with 49 seconds remaining to tie the game and face overtime.
In the extra period, Bueckers scored all nine of UConn's points including an off-balance three-pointer with 13 seconds remaining that took a journey from the back of the rim, to above the shot clock and, eventually, through the basket to clinch the victory.
Seton Hall Survives, Marquette Drops Consecutive Games
Seton Hall overcame a rare off night from Andra Espinoza-Hunter and avoided an upset against Georgetown, 60-52. Espinoza-Hunter scored 18 points but was just 6-20 from the field and 1-6 on three-pointers. The Pirates poured in 26 points in the final quarter after trailing by two points entering the last frame.
Next up for Seton Hall is UConn on Wednesday.
Marquette visited the lion's den of the Big East last week and came away with two losses. The Golden Eagles fell 87-58 to UConn before losing 87-82 to DePaul. They never were competitive against UConn and they looked to be overwhelmed by DePaul when they fell behind by 17 points midway through the third quarter. But the Golden Eagles responded, taking the lead with just over three minutes remaining in the game. But Marquette ran out of gas and only mustered four points in the final three minutes.
The two losses dropped Marquette to fourth in the conference. But their NCAA Tournament prospects are still intact. The latest edition of ESPN's Bracketology has Marquette as an eight seed.
Rankings Watch
The Golden Eagles are still one of three Big East teams in the 64-team field according to Bracketology. UConn is the top overall seed, while DePaul is projected to be a seven seed. Seton Hall is in the "First Four Out," group and would benefit greatly from another quality win.
UConn is second the AP Top 25 poll, but that was taken before they beat #1 South Carolina. DePaul dropped from #20 to #22, despite winning the only game they played last week.