Women's BIG EAST Basketball
'A State Of Discovery': The Blue Demons Are Hitting Their Stride
'A State Of Discovery': The Blue Demons Are Hitting Their Stride
The Blue Demons of DePaul are hitting their stride with a little thanks to the holidays.
Feb 19, 2021
by Kyle Kensing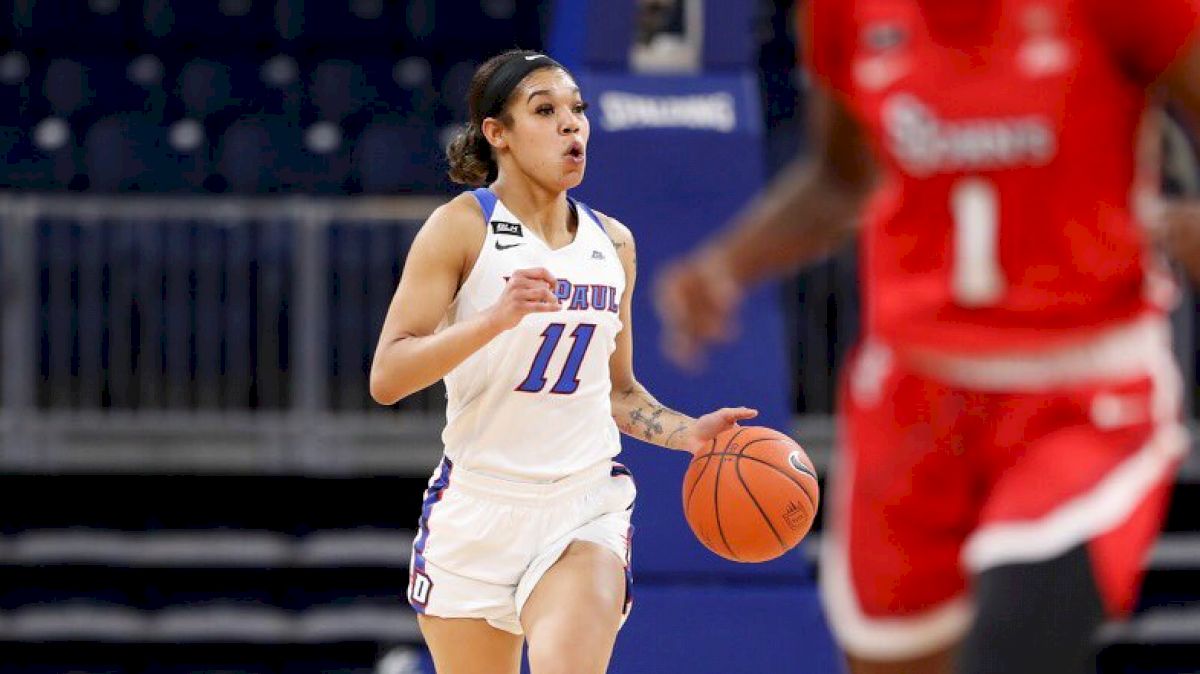 Christmastime typically means taking a pause to gather with family. The past year has not been typical, of course, and that meant an atypical holiday season for DePaul Basketball.
The Blue Demons stayed on campus over the holiday break in response both to the city of Chicago's travel quarantine rule, and what coach Doug Bruno described as a "lesson" taken from the fall.
"That's usually the one time of the year that we're guaranteed to be with our families, so it was really hard being away," said Sonya Morris. "but I will say, we made sure to lean on each other during that time."
While adhering to guidelines to prevent the spread of COVID-19, the Blue Demons spent a socially distanced holiday that has them in line for a belated gift from basketball Santa, identity. DePaul is taking shape at a most opportune time.
It hasn't been an easy process. In addition to the difficulties with COVID-19 Bruno noted in September and October, DePaul embarked on the 2020-21 season with issues unrelated to the pandemic.
"We're still in a state of discovery," Bruno said. "Kiara Dallmann missed eight games because of an injury. She's just getting back into game fitness. Jorie Allen, a transfer from Indiana, wasn't declared eligible until after six games...We lost Courtney Frederickson, who we were going to play multiple minutes, and then Kendall Holmes, our first guard off the bench, to a torn Achilles."
The initial flux in which DePaul's roster endured begged some questions.
"Are we better with one big player? Are we better with five guards? Are we better with two big players and three guards?" Bruno said.
While the absences and subsequent additions forced Bruno and his staff to mix-and-match, the Blue Demons fast discovered they can score with a variety of combinations.
DePaul ranks sixth in the nation in points per game at 83.8, and boasts six players scoring from Allen's nine to Morris' 18.9. Five of those six have made at least 14 3-pointers, led by Morris' 36.
Bruno noted that the 2020-21 Blue Demons are averaging fewer assists than teams past amid the scoring binge, but not through selfish play. DePaul's rotation heavy on talented guards features a variety of playmakers who the coach described as being capable of creating their own shots.
Speaking of a team, surging since Christmas, Bruno invoked a famous personality recognizable for his white beard — but not Santa Claus.
"You got to know when to hold 'em, and know when to fold 'em," Bruno said of this team's offensive philosophy, quoting musician Kenny Rogers.
In other words, Blue Demons are encouraged to create their scoring opportunities — so long as they work in the framework of team basketball.
It's a winning philosophy for DePaul, and reflective of the Blue Demons' collective support of bigger goals. Missing out on a traditional luxury like going home for Christmas break is difficult, but so is missing out on March, as Morris explained.
"We never really took the Tournament for granted, but we see that at any moment it can be taken from any of us," she said.
So long as the opportunity is in their hands, the Blue Demons are motivated to ensure it won't be taken away.
"This team has totally impressed me; they've inspired me," Bruno said. "They come to the gym every day [and] they're juiced, they're alive, they're ready to go every single day. This has been the way they've been since we got back here in August."
And it's really taken off since the holidays.
---
Kyle Kensing is a freelance sports journalist in southern California. Follow him on Twitter @kensing45.