Men's CAA Basketball
Northeastern & North Carolina Clash In An Impromptu Non-Conference Game
Northeastern & North Carolina Clash In An Impromptu Non-Conference Game
Northeastern and North Carolina played an impromptu game that serves as a proper summation of Bill Coen's scheduling philosophy.
Feb 19, 2021
by Jerry Beach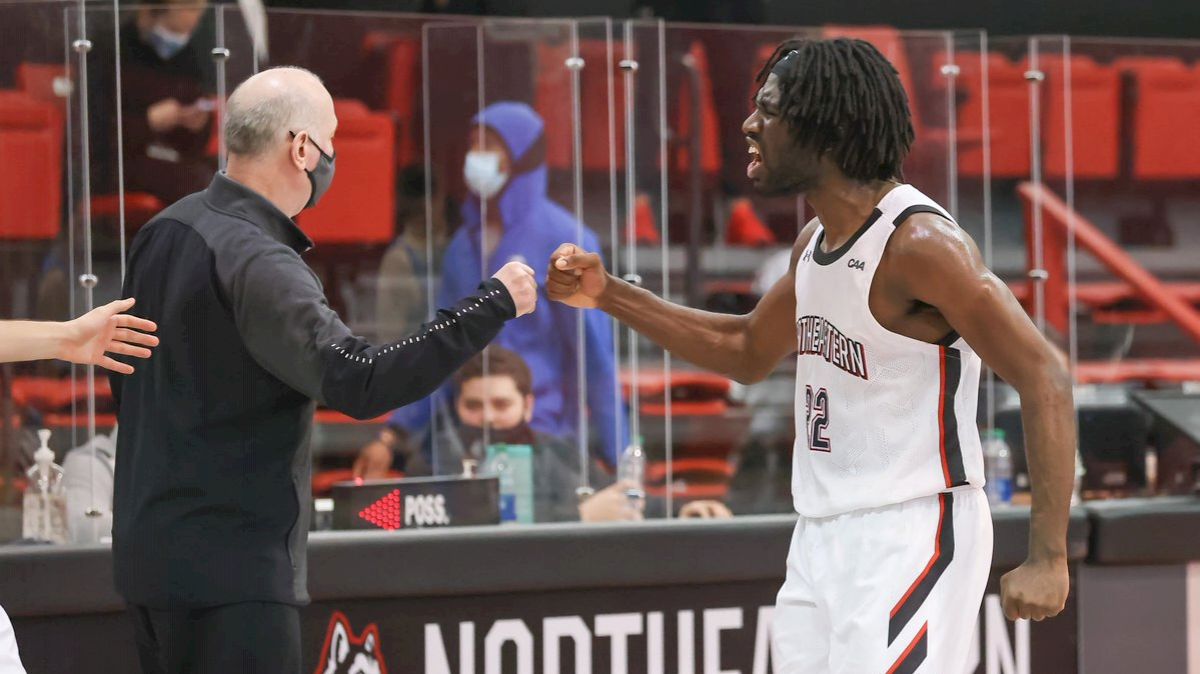 The aggressive and impromptu nature of Northeastern's non-conference slate this season appears to serve as a proper summation of Bill Coen's scheduling philosophy, which is the Huskies will play anyone anywhere at any time.
A home-and-home with cross-state rival Massachusetts was announced on Dec. 8, three days before the series opener. A game against Syracuse was announced on Dec. 13, three days before the Huskies headed to upstate New York. A game against West Virginia, ranked in the top 10, was announced Dec. 23, six days before the teams met.
And on Monday night, with pandemic-caused postponements making it impossible for the Huskies to find a league game on what should have been the penultimate weekend of the CAA season, Coen seemed to produce his magnum opus by scheduling a game for two nights later against North Carolina.
Sophomore point guard Tyson Walker continued to burnish his CAA player of the year resume by scoring 27 points Wednesday night, but the Tar Heels' front court size was too much as Northeastern fell, 82-62.
Yet even playing the bluest of blue bloods in quickly scheduled fashion might not top what Coen and Northeastern did in March 2009. After all, there's proving you'll play anyone anywhere at any time by heading to North Carolina in the middle of February.
And then there's proving you'll play anyone anywhere at anytime by heading to Wyoming on two days notice to play in a fledgling postseason tournament, which Northeastern did when it beat the Cowboys, 64-62, in the first round of the second College Basketball Invitational on Mar. 17, 2009.
"I think it might have been Wyoming, just given the nature of that and it's a lot less accessible," Coen said with a chuckle Wednesday night. "I think we got in about 4 o'clock in the morning — we rolled into Wyoming for that game and played that day in the CBI tournament. It was a great trip. I think it kind of helped us because our guys didn't know about the altitude or anything else. They just went and played the game."
Almost 12 years later, the trip to North Carolina was more direct, but the piecemeal preparation was much the same. In a uniquely 2021 twist, the game came together quickly after North Carolina — which had a Tuesday night home contest against Virginia Tech postponed due to coronavirus protocols within the Hokies' program — took to Twitter Monday morning to express its interest in playing someone at home this week. The home game Wednesday was just the sixth this season for the Tar Heels.
We're looking for a home game this week (February 16-18).

Please contact us if interested.

— Carolina Basketball (@UNC_Basketball) February 15, 2021
Northeastern, which completed a series split at Towson Sunday, had to take off Monday due to NCAA mandates. Playing any new opponent, never mind North Carolina, off a single shortened practice isn't optimal, but for Coen, the potential upside outweighed the inconvenience for the Huskies, who are 8-2 and a half-game out of first in the CAA despite a senior-less roster.
"We only had really one day of practice and trying to prep for a program of this caliber was a little bit of a challenge," Coen said. "But it was an opportunity we couldn't pass up. A great trip for our guys and another chance to kind of grow and learn about ourselves."
The Huskies continued to learn they have one of the best point guards in the country at any level — Walker scored 19 of Northeastern's first 21 points and finished the first half with 21 points — while getting a reminder of just how much bigger front courts are at the Power 5 level.
Four of the nine players to get at least 10 minutes of playing time Wednesday night for North Carolina stand 6-foot-10 or taller. The quartet combined for 45 points and 36 rebounds.
"We didn't tell them about the four (6-foot-10 players)," Coen said with a grin. "It's an opportunity that doesn't come along everyday. Programs like ours don't get the opportunity to kind of travel in these circles. But it's been a tremendous year for us and this just kind of capped it off. We've played at Georgia (Dec. 22), we've played at West Virginia, we've played at Syracuse and now at North Carolina. We have a lot of freshmen on our team. They've had a terrific freshman year, just going out and experiencing this."
The hastily scheduled game may also yield benefits next month for Coen and his staff as Northeastern tries to become the fourth program to make four straight CAA Tournament championship game appearances and the first since UNC Wilmington did it from 2000-03.
"Sometimes I found, at least with our weekend series and a full week to prepare, you can overly obsess on the opponent," Coen said. "But we had to get right to work and come up with an offensive and defensive game plan and try to get our kids to absorb that. I think that's great preparation for the CAA Tournament, where you're going to play back-to-back-to-back. Those scouting reports, you're going to have less time than this. So it was good prep for our staff as well as our team."
---
Jerry Beach has covered Hofstra sports since arriving on campus in the fall of 1993, when Wayne Chrebet was a junior wide receiver wearing No. 3, Butch van Breda Kolff was the men's basketball coach for the East Coast Conference champions and Jay Wright was a little-known yet surely well-dressed UNLV assistant coach. Check out Jerry's book about the 2000 World Series here and follow him on Twitter at @JerryBeach73.