In The Midst Of A Pandemic, A Subdued Senior Day For College Hoops
In The Midst Of A Pandemic, A Subdued Senior Day For College Hoops
COVID-19 has altered one of college basketball's most enduring traditions--Senior Day.
Feb 24, 2021
by Jerry Beach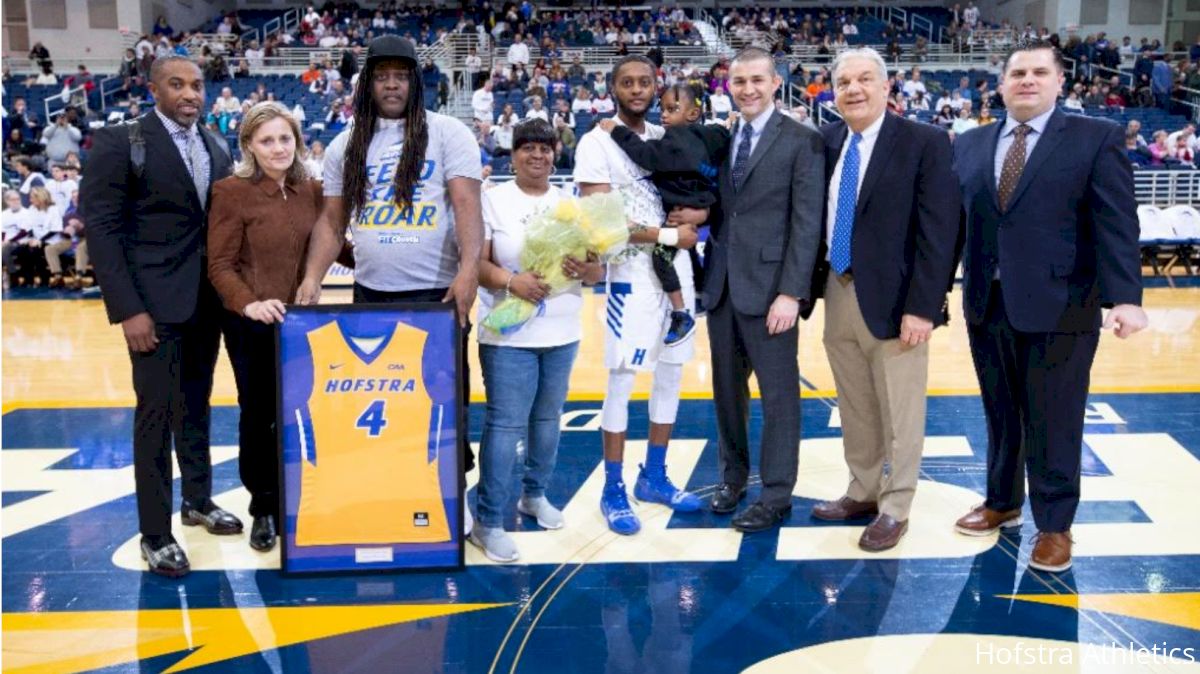 Zach Spiker, a veteran of 12 Senior Days as a head coach at two different stops, figured there'd still be some of the familiar trappings in a most unfamiliar season. Maybe he'd commission paintings of seniors, as he did during his seven years as Army's head coach. Maybe he'd oversee the framing of their uniforms.
Maybe he would have planned some of this for Jan. 17, if he only knew the Drexel Dragons were playing their home finale three weeks into CAA league play.
"We did have something planned (and) discussed for our seniors to thank them for their time and efforts and commitment and quite frankly their discipline this year," Spiker said "But we were never given that opportunity with our schedule."
Drexel is the most extreme example of the schedule wreaking havoc with one of college basketball's most poignant traditions. The last two weekends of February are usually packed with emotional farewells that help build to the crescendo of the conference tournament.
In 2021, though, those two weekends will come and go in the CAA with fewer than a handful of games being played at all.
With the coronavirus and its protocols still wreaking havoc within the CAA, just two league games were played over the weekend, when Elon swept William & Mary in a home-and-home.
As of this morning, there were three games scheduled for this weekend. That number fell to two in the afternoon when the Charleston-UNC Wilmington home-and-home was canceled because of coronavirus protocols and replaced with a Saturday game in which UNC Wilmington is scheduled to host Elon. James Madison remains scheduled to host Drexel on Friday.
If those two games are played, James Madison and UNC Wilmington will be the only two programs to play their home finales as scheduled. The other eight programs combined to have their final 18 home games canceled.
James Madison head coach Mark Byington said seniors Matt Lewis — who will miss the rest of the season with a knee injury suffered 12 days ago and is expected to go pro — and Zach Jacobs will be honored prior to the Drexel game.
"The way it's looking right now, it's going to be myself presenting them with a framed jersey," Byington said Thursday. "It's going to be quick. I wouldn't think we'd even shake hands Just look at each other. It's unlike any Senior Day I've been a part of."
Northeastern (Jan. 24), which has no seniors, and Delaware (Jan. 31) haven't played at home this month. The Blue Hens haven't played at all since their last home game against Elon. Hofstra (Feb. 7) and Towson (Feb. 14) each played their last home game in the first half of February while Charleston and William & Mary played at home on Saturday and Elon on Monday.
"I've had a lot of Senior Days," Spiker said. "For our players, I hate that they don't get to have that opportunity. Me personally, I want those guys to have the chance to be recognized for all they've done. And it's unfortunate we didn't have that opportunity this year."
Like Spiker and Byington, Towson head coach Pat Skerry and acting Hofstra head coach Mike Farrelly said they were planning for Senior Days on a far smaller scale than usual. Spiker, Skerry and Farrelly said they planned to honor all their seniors, even with the understanding they could return next year for a second senior year. The NCAA announced in October it would grant an extra year of eligibility to fall and winter athletes.
Skerry said Towson, which was scheduled to close out its home schedule this weekend against Delaware, still plans to give seniors the usual gifts as well produce for social media videos commemorating the players' achievements.
"You feel for those guys," Skerry said. "No one envisioned this for them."
Farrelly said Hofstra planned to present its four seniors with framed jerseys and invite their parents to attend the home finale. The eight parents, who would have been the only fans to attend a Pride game this season, also would have received flowers.
Farrelly experienced plenty of memorable Senior Days in his first seven years at Hofstra, which left him wondering if a tampered down Senior Day would have provided an even more jarring reminder of what has been lost this season than no Senior Day at all. The 2016 and 2020 Pride squads both clinched the CAA regular-season championship following Senior Day festivities honoring 1,000-point scorers Juan'ya Green, Ameen Tanksley, Desure Buie and Eli Pemberton.
"Nothing's been normal at all this year," Farrelly said. "If there were fans and you're getting your senior tribute and people are going to be giving you a standing ovation, then I think that'd be something that you're going to miss. But you'd be doing it in an empty arena in front of nobody. So I don't know. It'd seem a little bit hollow, I guess, certainly compared to normal standards."
---
Jerry Beach has covered Hofstra sports since arriving on campus in the fall of 1993, when Wayne Chrebet was a junior wide receiver wearing No. 3, Butch van Breda Kolff was the men's basketball coach for the East Coast Conference champions and Jay Wright was a little-known yet surely well-dressed UNLV assistant coach. Check out Jerry's book about the 2000 World Series here and follow him on Twitter at @JerryBeach73.