2021 Hercules Tires CAA Men's Basketball Championship
CAA Championship Preview: Unpredictable Tournament Is The Perfect Ending
CAA Championship Preview: Unpredictable Tournament Is The Perfect Ending
The NCAA basketball postseason is almost upon us, and the incredibly unpredictable CAA tournament is a fitting end to a chaotic year.
Mar 4, 2021
by Jerry Beach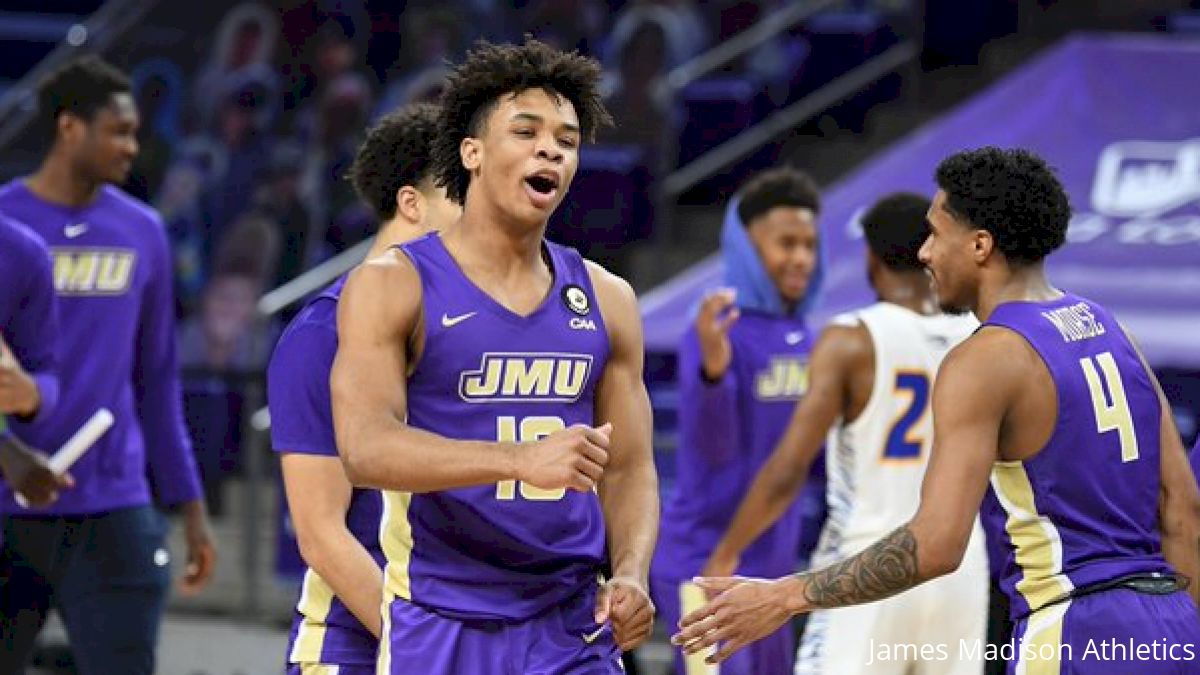 Towson head coach Pat Skerry figured nothing could be stranger than serving as a television analyst for a CAA Tournament in which his team would have been favored, if only the Tigers could have participated.
"My second year was a little weird," Skerry said during a Zoom call Tuesday. "I went down to the tournament and did TV because we were banned."
Eight years later, Skerry and the rest of the CAA are approaching — hopefully — a tournament all but guaranteed to put an appropriate cap on the weirdest season of all time, one played in the midst of a pandemic that wreaked havoc with the schedule.
Watch the 2021 CAA Men's Championship LIVE on FloHoops
In purely basketball terms, the CAA Tournament — scheduled to begin Saturday at James Madison's new on-campus arena — may be the most wide-open and unpredictable of the 30 conference tournaments expected to take place this month.
The regular-season co-champs, James Madison and Northeastern, were picked ninth and seventh, respectively, in the preseason. James Madison, which finished in last place last season, earned the No. 1 seed because it swept Towson, which split with Northeastern.
The CAA's top-ranked team at KenPom.com is Drexel, which is ranked No. 155 but enters the tournament as the sixth seed. The next three teams at KenPom.com are separated by just six spots — Northeastern at No. 172, followed by James Madison at No. 175 and Hofstra at No. 178.
The tournament simulations at KenPom.com give those four teams at least a 15 percent chance of winning it all. James Madison is first at 26.4 percent, but the Dukes will be without potential Player of the Year Matt Lewis, who suffered a season-ending knee injury Feb. 14.
Elon is given a 2.5 percent chance of winning the championship, yet the Phoenix will enter the tournament on a league-high four-game winning streak — which was produced immediately after it opened CAA play with a seven-game losing streak.
"I don't know how it could be any more wide-open," James Madison head coach Mark Byington said.
As compelling as the tournament could be, the sporadic regular season in the rearview mirror serves as a reminder of the hurdles that lie ahead.
Just 51 of the 90 regular-season games were played, and if all 10 teams are able to play at James Madison — the tournament was moved there from Washington D.C.'s Entertainment & Sports Arena — it will mark the first time since league play began that every CAA team played on the same weekend.
"If there was ever a year that was unpredictable, this is the one," said Northeastern's Bill Coen, the only other head coach who was in the league during the 2012-13 season.
While the tournament bracket was released Saturday night moments after Elon's 80-77 win over UNC Wilmington in the regular-season finale, the matchups won't be truly locked into place until this Saturday morning, when teams report the latest results of their coronavirus tests. Teams will continue to be tested daily thereafter, which opens up the possibility a positive test within a team could force a forfeit once the tournament has begun.
"Normally, you would think going into the tournament (just) win the first one and then (figure out) what it'll take to make a run," Byington said. "This year, we're just hoping you play the first one."
Teams played anywhere from seven (UNC Wilmington) to 14 (Hofstra) CAA games. The last three champions — Charleston, Northeastern and Hofstra — all ended the regular season in the midst of pauses due to positive coronavirus cases, as did Towson and William & Mary. Delaware hasn't played since Jan. 31 due to pauses within their opponents.
"It's been challenging," Delaware head coach Martin Inglesby said. "I told our group we had a great February — we went undefeated."
Drexel wasn't paused due to positive cases within the team during league play. But the Dragons played just nine CAA games and needed a road win last Friday at top-seeded James Madison in order to earn the sixth seed instead of the eighth seed.
"When we tip it off Sunday night at 9:30 against Charleston, that'll be our 10th game in the last 78 days," Drexel head coach Zach Spiker said. "Had some unfortunate luck in the scheduling category."
The scattershot nature of the regular season schedule created a silent but detectable tension within the league — with rescheduling decisions left up to the teams, some coaches felt their peers were less eager to play something close to a full schedule — and also made scouting and projecting the tournament harder than ever.
Tournament games usually mark the third clash of the season between teams. But if the 10-team format remains intact, the two Saturday outbracket games — William & Mary vs UNC Wilmington and Elon vs Towson — will pit teams who have yet to play one another.
Elon played eight games through January and seven games in February. Despite a pair of pauses during CAA play, Towson was able to play 12 league games — all in a 30-day span ending Feb. 14. William & Mary and UNC Wilmington combined to play just three games in February.
"Our opponent coming into Saturday is William & Mary, so you look at them before they went on pause (and) you look at them right after pause — I think it's two totally different teams," UNC Wilmington head coach Takayo Siddle said.
The winner of William & Mary-UNC Wilmington is slated to play Northeastern, which didn't play either team this season. The other scheduled quarterfinal games — James Madison vs the winner of Elon/Towson, Hofstra vs Delaware, and Charleston vs Drexel — all pit teams who played each other twice.
"It's really hard to handicap even when you have the road in front of you, because of the nature of the year," Coen said.
The chaotic 2012-13 regular season at least carried with it the certainty of a smaller-than-usual conference tournament. Old Dominion, a six-time league champion, finished in last place with a 3-15 CAA mark. Towson, which went 1-31 during the program's 16th straight losing season in 2011-12, finished in a tie for second place at 13-5 and won eight of its final nine games to finish at 18-13 overall — the largest single-season improvement in Division I history.
But the perennial contender and the surprising Cinderella were among the four teams ineligible for the conference tournament. Old Dominion and Georgia State were barred from participating because they'd already announced plans to depart for Conference USA and the Sun Belt, respectively. And Towson and UNC Wilmington were serving postseason bans due to APR issues under previous regimes.
Seven teams trekked to Richmond, where third-seeded James Madison beat top-seeded Northeastern in the title game to earn its first NCAA Tournament bid since 1994. A James Madison-Northeastern rematch this time around would both match historic precedent — the top two seeds have played in the CAA title game 15 times in the league's 38 seasons — while also serving as a microcosm of a season unlike any other.
"This is a whole different deal," Skerry said.
---
Jerry Beach has covered Hofstra sports since arriving on campus in the fall of 1993, when Wayne Chrebet was a junior wide receiver wearing No. 3, Butch van Breda Kolff was the men's basketball coach for the East Coast Conference champions and Jay Wright was a little-known yet surely well-dressed UNLV assistant coach. Check out Jerry's book about the 2000 World Series here and follow him on Twitter at @JerryBeach73.