2021 Xavier vs St. John's - Women's 1st Round
Can Creighton Make A Big East Tourney Run?
Can Creighton Make A Big East Tourney Run?
The Big East Women's Basketball Tournament begins on Thursday with three first-round games.
Mar 4, 2021
by Kevin Sully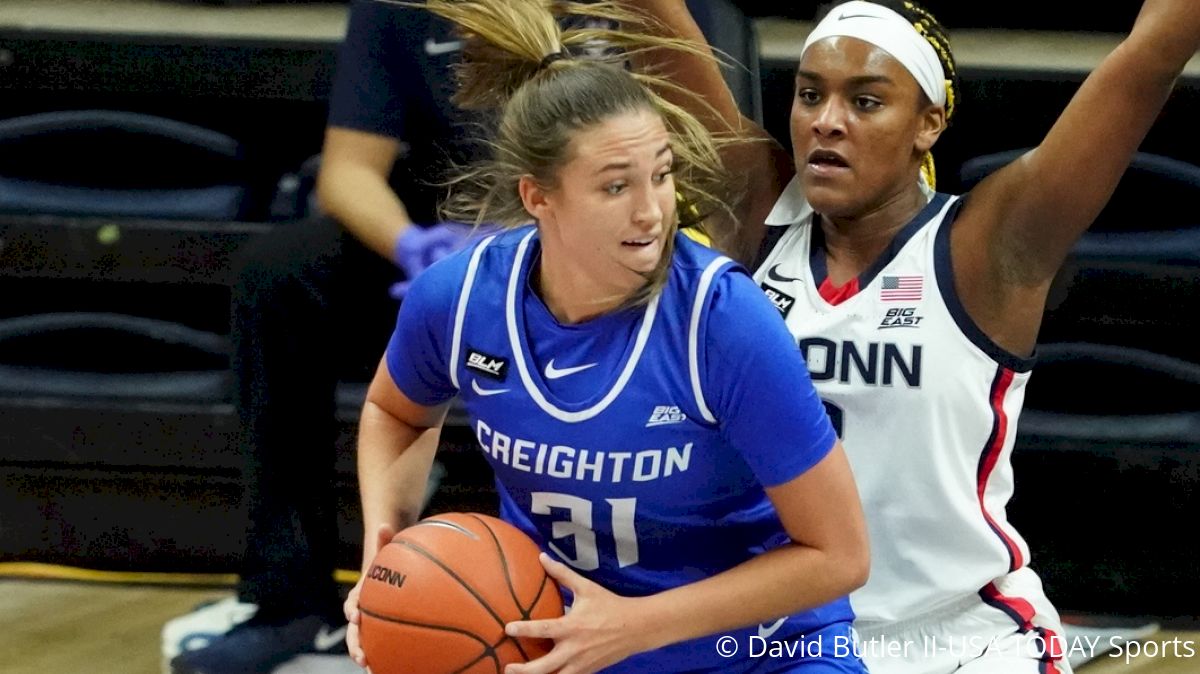 The uneven and unpredictable Big East women's basketball season comes to a conclusion this week with the conference tournament set to begin on Friday. Some teams (UConn, Marquette and Butler) played an 18-game conference schedule. Another, Xavier, played just 10. Everyone else landed somewhere in between.
Regardless, all 11 teams (seeded by winning percentage) will head to Uncasville, Connecticut to vie for the conference title.
The action begins on Friday with three first-round games. Here's what to watch for:
It's been a disappointing season for St. John's (7-14, 4-12), who entered the season projected to finish in the middle of the conference. Leilani Correa finished fifth in the Big East in scoring and had five games where she scored 30 or more points. But the Red Storm, never were able to get traction this year.
Xavier (5-9, 2-8) played the fewest games this season of anyone in the conference in a season filled with canceled games. Two of their cancelations came against St. John's making this the first game between the schools this year. Xavier is led by senior A'riana Gray and freshman Nia Clark. The winner of this game gets #1 UConn in the next round.
Providence (6-13, 4-10) swept Butler (3-16, 3-15) in their two regular-season meetings. Their December meeting was a blowout, with Providence's Kyra Spiwak going for 28 points in a 73-52 win. Their January game was a bit closer, with the Friars winning 62-50. Mary Baskerville has been a reliable inside force for Providence, averaging 13.3 points and 6.7 rebounds per game.
Butler only has a few wins on the season, but they did pull off the biggest upset of the Big East season when they beat DePaul, 86-81 on Monday. Every Butler starter scored in double figures, led by Upe Atosu's 22 points. A similar effort will put them in a good position to knock off Providence and play Marquette on Friday.
Creighton's (7-10, 6-7) end to the regular season (where they were blown out by UConn and Marquette) obscures what was a solid year for the Blue Jays. Prior to the big losses to the best two Big East teams, they won three-in-a-row with victories against Seton Hall, Georgetown, and DePaul.
In the game against Georgetown, Creighton rallied from six points down in the final 90 seconds to squeak past the Hoyas, 42-41.
The previous meeting at the end of January wasn't as tight, Creighton won 65-57, but it was close enough to give Georgetown belief that they can win this game.
Creighton will look to Temi Carda, who is averaging 13.9 points and 3.5 assists per game and is shooting 38% for three-point range. A win against Georgetown would mean another game against Seton Hall and the chance for Creighton to make a deep run in the tournament.