2021 Hercules Tires CAA Men's Basketball Championship
The Hendecagon: The 11 Mid-Majors That Punched 2020 NCAA Tickets
The Hendecagon: The 11 Mid-Majors That Punched 2020 NCAA Tickets
A hendecagon, for those who have buried the memories of geometry in the deepest recesses of the mind, is an 11-sided polygon.
Mar 5, 2021
by Jerry Beach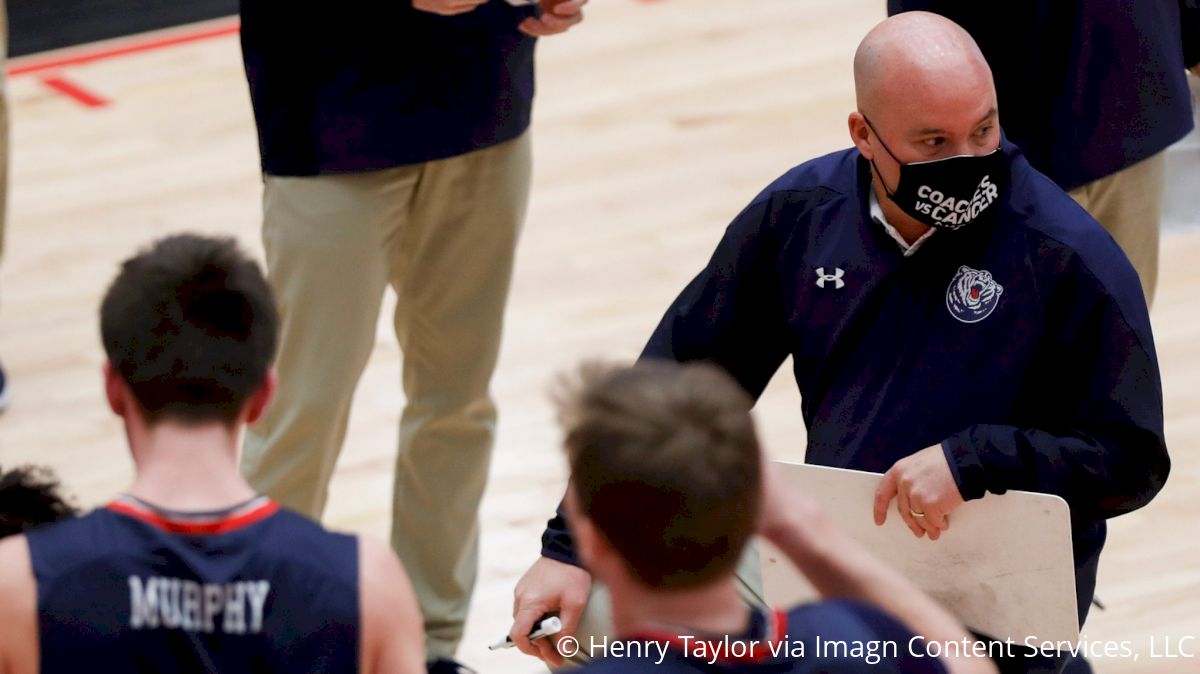 A hendecagon, for those who have buried the memories of geometry in the deepest recesses of the mind, is an 11-sided polygon.
The Hendecagon could be an entertaining, if oddly numbered and difficult to bracket, multi-team event played amongst 11 mid-major basketball teams, all established as perennial contenders in their leagues and featuring a trio of programs that have enjoyed extended moments on the national stage.
The Hendecagon was also the 2020 NCAA Tournament.
In the surreal 100-plus hours leading to the cancelation of the NCAA Tournament last March 12, these 11 programs — Belmont, Utah State, Liberty, Winthrop, Bradley, East Tennessee State, North Dakota State, Robert Morris, Hofstra, Gonzaga and Boston University — clinched, in that order, conference tournament championships and earned invitations to a tournament whose 57 remaining bids would remain forever unissued.
While trips to the NCAA Tournament are a regular occurrence for Gonzaga (22 appearances, including 21 straight prior to last season) and Utah State (21 appearances) and part of the fabric at Bradley (nine appearances, including three trips to the Final Four and two losses in the national championship game in the 1950s), the other eight programs to earn tourney bids last season have combined to make 55 appearances — from 10 apiece for East Tennessee State and Winthrop to four each for Hofstra, Liberty and North Dakota State.
Last year would have been the first trip to the NCAA Tournament since 2001 for Hofstra, which had the longest drought of the 11 schools, as well as the first trip as the head coaches at their respective schools for Hofstra's Joe Mihalich and Belmont's Casey Alexander and the first NCAA appearance for Boston University's Joe Jones.
For the 11 qualifiers to the 2020 NCAA Tournament, the last 51 weeks have been about navigating unprecedented circumstances while dealing with alternating emotions — the what-ifs regarding the missed opportunity to experience March Madness and the realization those who earned an automatic bid were able to reach the pinnacle of their professions by achieving one of the hardest feats in sports: Winning a one-bid conference tournament where the entire season comes down to a handful of days in March.
"We've got '2020' on our banner in our arena, even though the tournament was never played," Alexander said. "Because we earned the opportunity to go."
A year ago at this time, "bubble" merely described the state of mind for basketball coaches most of the season but especially heading into the conference tournament. Real-world events, even in the age of social media and a headline-making occupant in the White House, have a way of taking place without those who stroll the sidelines ever finding out what happened.
And as March 2020 began, even the details of the rapidly escalating coronavirus crisis were largely unknown to coaches.
"We're in our own world when it comes to this time of year — you're just locked into your prep, locked into your team and you kind of put your blinders on everything else," Bradley head coach Brian Wardle said.
The games unfolded in routine March fashion throughout the truncated championship week. Tens of thousands of fans attended games. Fans stormed the court at the Winthrop Coliseum after the Eagles beat Hampton for the Big South championship on March 8. Trophies were presented on small, sweaty and hug-filled makeshift stages. Athletes and coaches fielded questions during press conferences held in cramped interview rooms.
And teams and leagues alike began to daydream about Cinderella runs the following week.
"I can just remember leaving the conference tournament and one of the (league) officials said 'Go win us some money,' because we had a chance to advance in the tournament," said East Tennessee State's Jason Shay, who was an assistant to Steve Forbes for the Southern Conference-winning Buccaneers last season. "How far, I don't know. We had a pretty good team that went 30-4."
But off the court, even the most laser-focused coach couldn't miss coronavirus-related information. New York became the 12th state to issue a state of emergency order on March 7, hours before the Mountain West's Utah State and San Diego State tipped off in the first conference title game. An additional 17 states plus the District of Columbia followed suit by the time Boston University visited Colgate in the Patriot League championship game around 7:30 PM EST on March 11.
In the sports world, the Ivy League canceled its men's and women's tournaments on March 10 while stories circulated the NCAA Tournament could be played in empty arenas. The Utah Jazz announced the afternoon of March 11 that Rudy Gobert and Emmanuel Mudiay were questionable for the evening's game against the Oklahoma City Thunder due to illness.
Still, coaches vying for an NCAA Tournament berth or already looking ahead to their first game charged ahead with their preparation. Robert Morris beat St. Francis (PA) in the Northeast Conference championship game March 10, hours after Ohio governor Mike DeWine said he recommended any NCAA Tournament games played in the state be contested without fans in attendance.
With the Colonials a candidate to draw a play-in game in Dayton, head coach Andrew Toole said even an order from DeWine would not dissuade his family from traveling to watch Robert Morris' first NCAA Tournament appearance in five years.
"I would wish the governor luck in keeping my wife out of that game, if he decides they're not going to have fans," Toole said following the title game victory. "He's going to call my seven-year-old and my five-year-old and tell them they can't come to the NCAA Tournament? Good luck."
Jones said he saw news about Gobert's potential illness flashing on a television screen as he walked back from Boston University's team meal prior to facing Colgate.
"Even if other people had canceled their tournaments, I don't think I would have allowed that to impact how I was feeling, what I was thinking," Jones said. "I spent my whole career trying to get to this point. And that team that we had was so special. I was just kind of focused on trying to help them be at their best."
While Boston University beat Colgate, the Jazz-Thunder game was postponed after Gobert tested positive for the coronavirus. The NBA season was suspended by the time the Terriers boarded the bus for the trip back to campus.
When Jones arrived in his office early Thursday morning he suspected the NCAA Tournament wouldn't be played. About 1,100 miles to the south, Alexander felt the same even as he put Belmont through its second post-conference tournament practice.
"And then right after our practice is when we got the news that the tournament had officially been canceled," Alexander said. "It was a strange five days, to say the least."
It only got stranger from there. Classes went remote and graduations were conducted on Zoom while players and coaches continued sifting through the feelings generated by the cancelation of the NCAA Tournament.
"I think that as the summer went on, I started thinking about how cool that would have been, how cool the experience is, what the guys missed out on," Jones said. "But for the longest time, and even now, I'm just grateful that we had a chance to play for it at all."
Boston University, Hofstra, Robert Morris and Winthrop had a combined 10 seniors who'd never before reached the NCAA Tournament. In an especially ironic twist, the winning basket in Belmont's Ohio Valley Conference title game win over Murray State was scored by graduate transfer Tyler Scanlon, who transferred to Belmont after three years at Boston University.
"The initial reaction was the hurt and the pain of we didn't get the full experience, we didn't get to go play the tournament, go see if you can live that dream and win that first-round game," acting Hofstra head coach Mike Farrelly said. "After that, being home in the pandemic and being away from basketball and the team for so long, I think it became a little bit more of the appreciation of at least we got to have that moment. A lot of teams didn't get to do that."
Even coaches and players who have already been to an NCAA Tournament — Utah State earned an at-large bid the previous season while Bradley and Liberty were repeat champions in the Missouri Valley and Atlantic Sun — have a finite number of chances to experience March Madness.
"We got to play our tournament, but every kid's dream, every coach's dream, is to play in the NCAA Tournament, play on the biggest stage," Shay said. "And to not be able to fulfill that — when you had achieved that award — to not go play in that tournament is disappointing, especially for that team and the five seniors that we had."
The cancelation of off-season workouts and the events of the summertime recruiting circuit served as reminders of how it's impossible for college basketball programs to replicate successful seasons even in normal times.
Seniors graduate and new chemistries need to be developed. Sometimes coaches move on — Shay took over for Forbes after the latter accepted the job at Wake Forest — and realignment shuffles leagues. Robert Morris, which won the Northeast Conference a record nine times, moved to the Horizon League, where the Colonials finished last before becoming the first of last year's tournament champions to be eliminated from 2021 NCAA Tournament contention on Feb. 25, when they were knocked out of the Horizon tournament by Detroit.
Even in more normal times, fate can deliver far more serious and unexpected challenges. Farrelly began serving as Hofstra's acting head coach when Mihalich took a medical leave of absence in August.
With the pandemic still raging, questions remained regarding whether or not the season would be played and what it would look like. The Patriot League announced Nov. 9 it would play a league-only schedule beginning Jan. 2. Three days later, the Ivy League canceled winter sports.
"We had four games in six days to start the year, some crazy number like that, and that was just wild," Jones said. "I was like oh my God, we're not ready to play one game."
The scheduling has remained fragile throughout the season. Boston University (19 days) Bradley (18 days), Gonzaga (17 days), Robert Morris (14 days), North Dakota State (13 days), Utah State (13 days), East Tennessee State (two 13-day breaks) and Winthrop (12 days) all went through extended periods without playing a game.
Hofstra, which is scheduled to begin CAA Tournament play Sunday, hasn't played since Feb. 14 due to a positive coronavirus case within the program. Hours before Bradley was eliminated from the Missouri Valley tournament Thursday afternoon, the Braves thought they might have to forfeit against Southern Illinois due to what turned out to be a false positive.
"Here we are, a year later, and we're still battling it," Shay said. "That has been probably the toughest thing mentally is there's no light at the end of the tunnel. When are we going to get a handle on this virus and things get back to normal?"
Gonzaga, which is unbeaten and the nation's top-ranked team, is obviously bound for the NCAA Tournament, but the path back to the March Madness they didn't get to experience last season is familiarly all-or-nothing for the eight defending champions that have not been eliminated from their conference tournaments.
Winthrop is scheduled to play in the Big South title game Saturday while Belmont and Liberty are the top seeds in the Ohio Valley and Atlantic Sun tournaments. Utah State can still earn the no. 1 seed in the Mountain West. The road is a little more challenging for North Dakota State (third in the Summit), Hofstra (fourth in the CAA), East Tennessee State (fifth in the Southern) and Boston University (seventh in the Patriot).
"Our goal is to win the conference tournament," Farrelly said. "You don't set out as a mid-major to say, you know what, we want to win a game in the NCAA Tournament this year. Your goal is to get there."
But can a second straight NCAA Tournament berth and a chance to return to the big stage fully replicate or replace what was missing last March for conference tournament champions, those whose seasons ended in limbo and those who were a lock for one of the 57 remaining NCAA Tournament bids — including likely no. 1 seeds Dayton, Baylor and Kansas — yet never got the chance to find out if they could have achieved their Final Four dreams?
For the members of the Hendecagon — and everyone involved with Division I basketball — it will likely forever remain a question with no reassuring answer.
"Everybody lost something," Alexander said. "Some schools you mentioned were talking about national championships and Sweet 16s and so forth. So everybody lost something that was very tangible, experiences that none of us are going to get back even if you go this year.
"We still kind of lost the magic of last year."
---
Jerry Beach has covered Hofstra sports since arriving on campus in the fall of 1993, when Wayne Chrebet was a junior wide receiver wearing No. 3, Butch van Breda Kolff was the men's basketball coach for the East Coast Conference champions and Jay Wright was a little-known yet surely well-dressed UNLV assistant coach. Check out Jerry's book about the 2000 World Series here and follow him on Twitter at @JerryBeach73.