2021 Hercules Tires CAA Men's Basketball Championship
Tyson Walker's Defense Could Prime Northeastern For A March NCAA Run
Tyson Walker's Defense Could Prime Northeastern For A March NCAA Run
Northeastern guard Tyson Walker can score buckets, but his defense might be the part of his game that primes the Huskies for a run in March.
Mar 5, 2021
by Kyle Kensing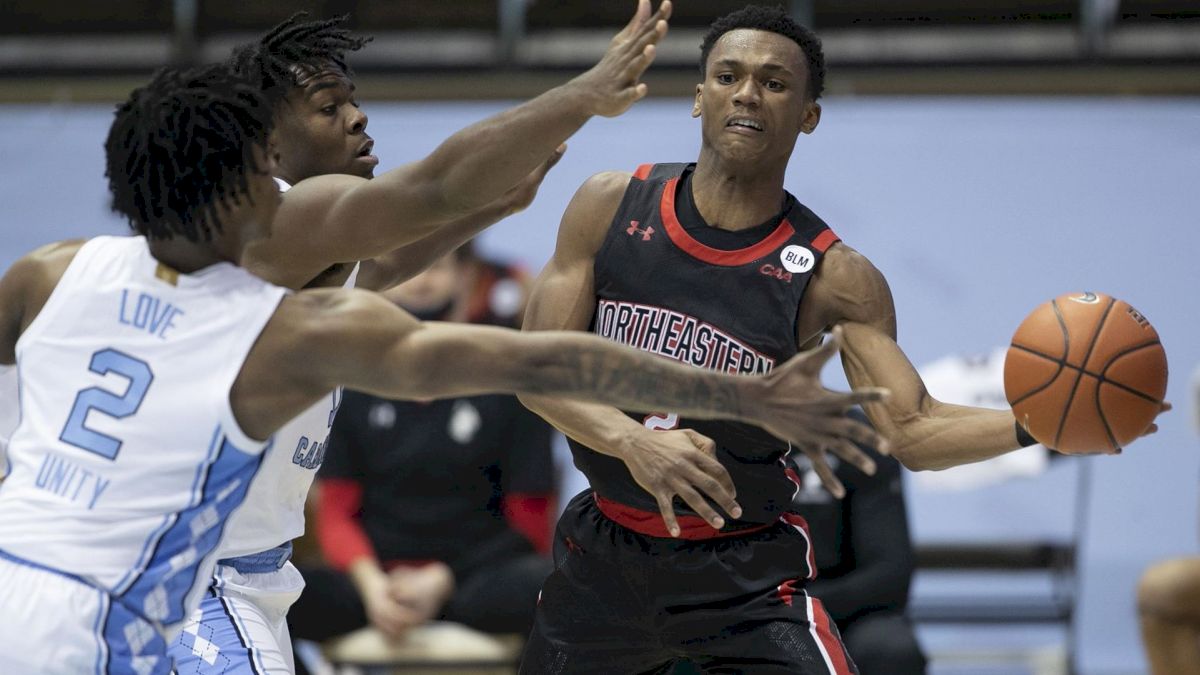 Seeing Northeastern guard Tyson Walker live in game action provides a much clearer picture than any highlight package can offer.
Just ask North Carolina coach Roy Williams.
"I didn't realize how good Walker was," Williams said after the Tar Heels' impromptu meeting with Northeastern last month.
Watch the CAA Championship LIVE on FloHoops
Walker went into Chapel Hill, under six national championship banners and the retired jerseys of such college hoops luminaries as Phil Ford, James Worthy, and Michael Jordan, and dropped 27 points. Twenty-one came in a single half.
"Maybe he was just tired from scoring all those points and wore himself out from making so many baskets," Williams theorized as to why Walker didn't score more after intermission.
Walker's ability to score in bunches gives Northeastern the kind of option built for a lengthy March run.
But as the Huskies return from a COVID-19 protocol layoff and begin the season of the Madness at the Colonial Athletic Association Tournament, pursuing the program's third NCAA Tournament appearance in six years, another facet of Walker's game just might be what gets the Huskies there: his defense.
Northeastern heads into the CAA Tournament on the news that Walker was named the conference's Defensive Player of the Year.
Now, the highlight package speaks to Walker's defensive prowess well enough:
Walker's defensive is seriously outstanding.
Diving into the numbers reveals even more about his impact.
The Huskies lead the Colonial in KenPom.com adjusted defensive deficiency, and approach the nation's top 100 in that category. Walker sets the tone, ranked in the top 50 of all Div. I players for percentage of defensive possessions resulting in steals at 3.8.
In total, Walker's averaging 2.24 steals per game — good for 18th in the nation.
With Walker generating takeaways on the perimeter, Shaq Walters has flourished as Northeastern's Swiss Army Knife defender; someone able to man up both in the paint and outside.
When the Huskies faced CAA champion James Madison at the end of January, they held the conference's Player of the Year Matt Lewis to 14 points on 6-of-15 shooting.
When asked his strategy for defending the explosive scoring Lewis, Bill Coen simply answered, "Shaq Walters. That was our game plan."
A team with one elite stopper can make postseason noise. A team with two is uniquely equipped to dictate the tone of a game.
One way in which Northeastern accomplishes this behind Walker and Walters is denying opponents looks from ball movement. Walker's turnover-creation disrupts designed plays, reflected in a low rate of field goals made off of assists (45.4 percent).
It's the kind of detail that does not jump out in highlights, but has profound impact in frustrating an opposing offense. Couple that with the scoring punch Walker has shown off against competition like North Carolina, and it could be enough to send the Huskies to the Big Dance.
---
Kyle Kensing is a freelance sports journalist in southern California. Follow him on Twitter @kensing45.