2021 Hercules Tires CAA Men's Basketball Championship
Elon, William & Mary Advance As The CAA Is Primed For A Huge Sunday
Elon, William & Mary Advance As The CAA Is Primed For A Huge Sunday
Elon and William & Mary advanced to set up a juicy slate of Sunday games.
Mar 7, 2021
by Jerry Beach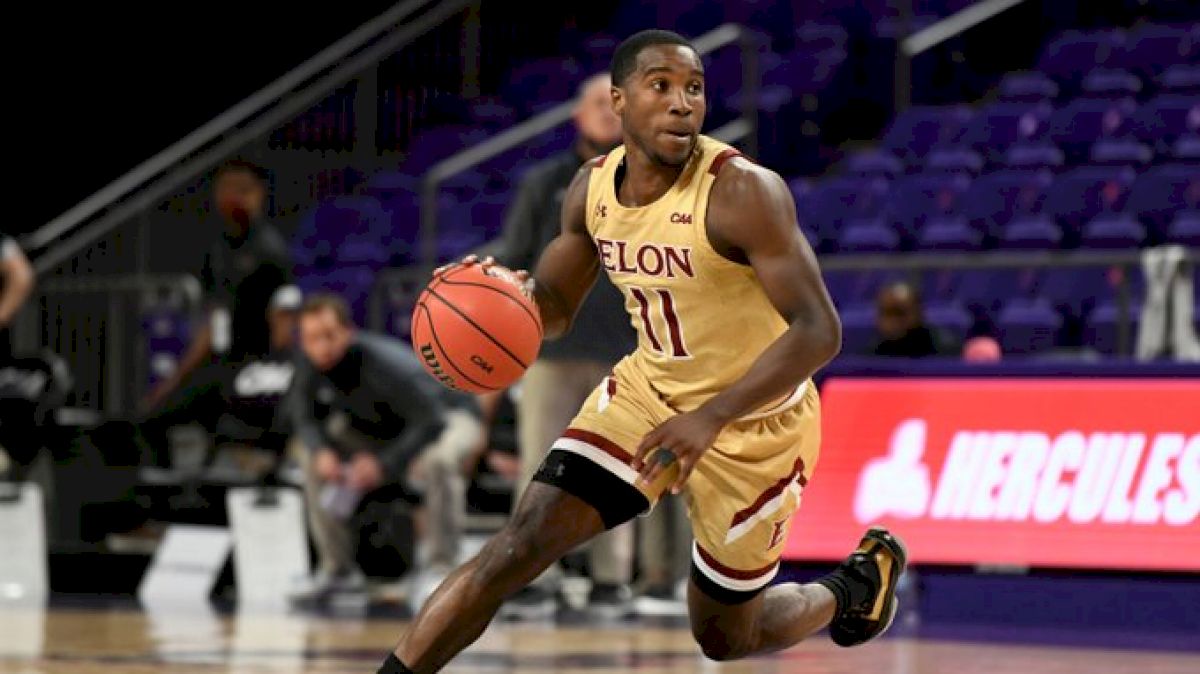 Several conference tournaments turned into chaotic free-for-alls Saturday — the equivalent of a road race being overtaken by the casual runners who sprint at the sound of the shooter's gun and run as hard as they can for as long as they can.
Fourth-seeded Hartford and sixth-seeded UMass Lowell stunned top-seeded Vermont and second-seeded UMBC to advance to the America East championship game. Ninth-seeded Loyola (Maryland) knocked off top-seeded Navy in the Patriot League quarterfinals. Fourth-seeded Mount St. Mary's upset Wagner in the Northeast Conference semifinals. The sixth and seventh seeds in the Southern Conference, Mercer and VMI, upset Furman and Wofford in the quarterfinals. Appalachian State, the fourth seed from the eastern division of the Sun Belt, beat Texas State, the top seed in the western division.
Watch the CAA Championship LIVE on FloHoops
The CAA, meanwhile, opened conference tournament play in the type of slow and steady fashion befitting a league that begins with a round filled with calmness and predictability. There's only so much craziness that can be wrung out of games pitting the league's bottom four seeds, and Saturday's games went about as chalky as possible as the eighth-seeded Elon led wire-to-wire in a 69-48 win over ninth-seeded Towson and seventh-seeded William & Mary never trailed in a 73-60 victory over 10th-seeded UNCW.
The CAA's chance to catch up with the other chaos-filled leagues arrives today, when four quarterfinal games are scheduled at James Madison. While March is the month of madness, the CAA's quarterfinal round usually proceeds in a reliably routine manner.
The top seed is 37-1 all-time in its first game and at least three of the top four seeds have made the semifinals 15 times in the last 19 seasons. No team that ever had to play four games in four days has ever won the CAA Tournament and only one champion — seventh-seeded East Carolina in 1993 — was seeded lower than fourth.
But…it was 52 weeks ago today when the CAA experienced its most topsy-turvy quarterfinal round in almost two decades. The only top-four seed to advance was no. 1 Hofstra, which was joined in the semifinals by no. 5 Delaware, no. 6 Northeastern and no. 7 Elon, which never trailed in stunning second-seeded William & Mary and CAA Player of the Year Nathan Knight, 68-63.
William & Mary was the first no. 2 seed to fall short of the semifinals since George Mason in 2002. And the semifinal seed combination (19) was the highest since the first, third, fifth and 10th seeds reached the semis in 2002.
"I hadn't really thought about last year," William & Mary head coach Dane Fischer said with a grin Saturday night following his first CAA Tournament win. "Thanks for bringing that up."
Now, of course, Fischer and the Tribe are hoping to get fitted for the Cinderella slippers Elon wore last season — slippers the Phoenix are aiming to wear again as well during a quarterfinal round that could be as unpredictable as any the CAA has ever experienced.
The 4-5 game, always tough to project, is even fuzzier this season considering Hofstra and Delaware haven't played since Feb. 14 and Jan. 31, respectively. Drexel is seeded sixth but is the CAA's top-ranked team at KenPom.com, which has the Dragons favored by four points over third-seeded Charleston. Last season, sixth-seeded Northeastern was favored over third-seeded Towson and earned a 72-62 win.
And Saturday's wins by Elon and William & Mary give them some momentum heading into games against James Madison and Northeastern, who shared the regular-season championship but could be more vulnerable than most top CAA seeds.
William & Mary has played just three times since Feb. 20, but second-seeded Northeastern, which ended the regular season on a coronavirus pause, hasn't taken the court since an 82-62 loss to North Carolina on Feb. 17 and hasn't won since beating Towson 76-67 on Feb. 13.
While James Madison swept the regular-season series from Elon, William & Mary and Northeastern didn't play each other, which provided an extra layer of preparation late last night that left Fischer and the Tribe little time to openly daydream of a Cinderella run.
"It's great to come in here and win our first game here," Fischer said. "I think the guys will have some confidence going into (Sunday). But we're obviously playing against a terrific team, program, coach — you name it. Just have the utmost respect for Northeastern. So comfortable would not be the word I'd use to describe it, but we're certainly excited to be playing."
James Madison, which earned the no. 1 seed by virtue of tiebreakers, is hosting the tournament, but the Dukes will be without CAA Player of the Year Matt Lewis when they face Elon, whose five-game winning streak is the longest in the league and whose roster features seven players from last year's run to the conference semifinals.
"We definitely look to last year for the good moments," said Elon guard Hunter McIntosh, who scored a team-high 13 points Saturday and collected 44 points in three tournament games last March. "But we're just trying to carve our own path this year."
It's one that's never been carved in the CAA. But after long-shot paths were mapped out around the country Saturday, it's Elon and William & Mary's turns today to try and turn a conference tournament into a free-for-all.
"Four games in four days is tough — three games in three days is tough enough," Elon head coach Mike Schrage said. "You see very few teams win the four games in four days. But we're going to try to pull it off and keep this momentum flowing."
---
Jerry Beach has covered Hofstra sports since arriving on campus in the fall of 1993, when Wayne Chrebet was a junior wide receiver wearing No. 3, Butch van Breda Kolff was the men's basketball coach for the East Coast Conference champions and Jay Wright was a little-known yet surely well-dressed UNLV assistant coach. Check out Jerry's book about the 2000 World Series here and follow him on Twitter at @JerryBeach73.