2021 Hercules Tires CAA Men's Basketball Championship
Elon Keeps Hot Streak Alive After Bouncing James Madison In Wild CAA Clash
Elon Keeps Hot Streak Alive After Bouncing James Madison In Wild CAA Clash
Elon topped James Madison in an epic — and controversial — CAA quarterfinal on Sunday.
Mar 8, 2021
by Jerry Beach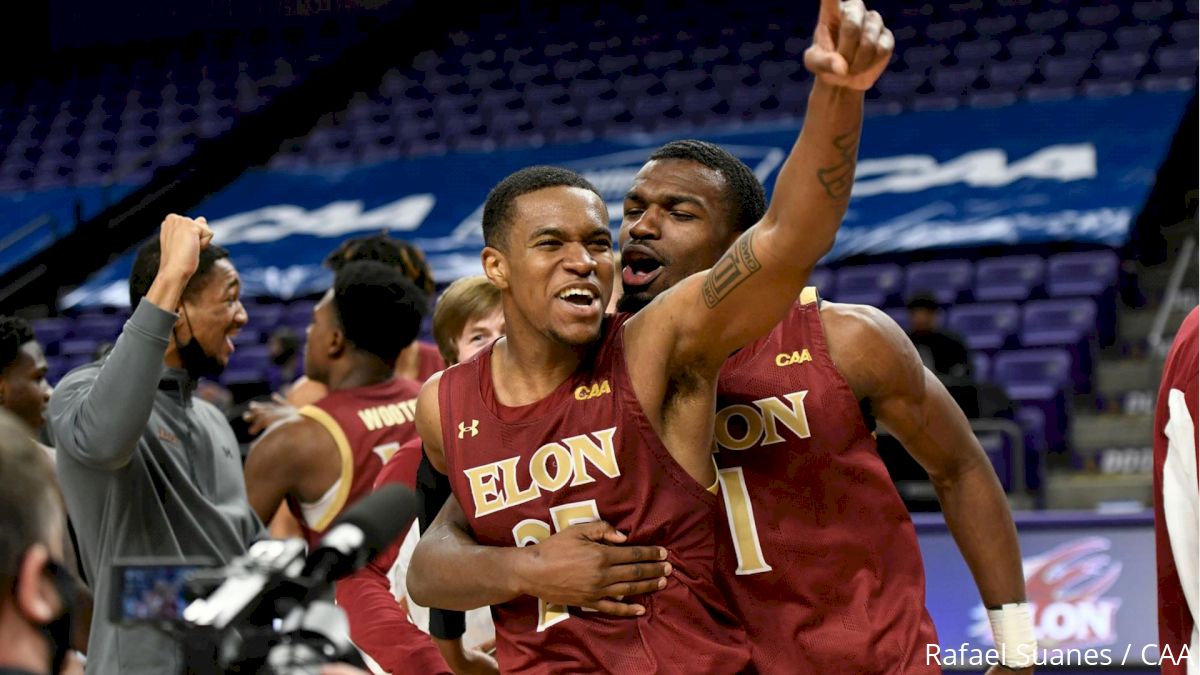 Years from now, no one will remember three of the four 2021 CAA Tournament quarterfinal games turned out as projected as fourth-seeded Hofstra and second-seeded Northeastern beat Delaware and William & Mary while sixth-seeded Drexel, favored by the computer models, beat third-seeded Charleston.
Years from now, people will still be doing what they're doing today — talking about an upset that was 30 years in the making.
An otherwise chalky morning, afternoon and evening in the CAA quarterfinals was overshadowed Sunday by eighth-seeded Elon's 72-71 win over top-seeded James Madison — a result that delivered shocks well beyond the rare early elimination of the regular-season champion.
Watch the CAA Championship LIVE on FloHoops
"There's tears and things like that in the locker room," James Madison head coach Mark Byington said. "When it ends, it ends, and it's an awful feeling."
James Madison's loss was just the second in a tournament opener for a top seed and the first since the Dukes fell to Navy in 1991. Over the next 29 years, the no. 1 seed won its first game by an average of 14.3 points and won by fewer than 10 points just six times. The top seed won its opening game by three points or fewer just twice — in 2001 and 2013, when George Mason and Northeastern received byes into the semifinals in seven-team tournaments.
For most of Sunday afternoon it appeared as if James Madison would extend the streak with minimal drama. The Dukes led 39-29 at the half and extended the lead to 15 at 54-39 with 13:52 left, when Elon head coach Mike Schrage called timeout and the Phoenix's win probability at KenPom.com was 2.6 percent.
But Elon charged back thereafter, limiting James Madison to 4-of-17 shooting and forcing four turnovers following the timeout. Schrage also shifted 6-foot-7 senior forward Simon Wright to center, a move that opened up the offense and sparked Wright — who scored nine of his career-high 18 points over the final 13:52 — as well as leading scorer Hunter McIntosh, who scored 13 of his game-high 24 points with Wright manning the middle.
"We had full belief the whole game we were going to win the game," Wright said. "Just couldn't be happier for the team, for myself. I'm playing for my career here, so it just feels great."
McIntosh's biggest points down the stretch were his easiest. The sophomore, a 90 percent free-throw shooter, drained three free throws — the first two stemming from a technical fall issued to Byington for arguing following the foul called on Terell Strickland on McIntosh's jumper— with 1:13 left to give Elon the lead for good at 68-66.
Byington said he didn't use profanity. A Virginia television station reported Byington told referee Tim Comer that the foul on Strickland was a foul that should have been called on Elon when Vado Morse missed a jumper on James Madison's previous trip. After the game, CAA Commissioner Joe D'Antonio released a statement in which he said he conferred with the officials, who said Byington received the technical foul for arguing outside the coaches' box.
From what I'm told by someone close to the floor, Byington got the tech for saying

"That was the same thing down here"

Byington wanted a foul on Vado Morse prior to the Elon foul and one

Two incredibly questionable technical fouls against #JMU in a 1-point game

— TJ Eck (@TJEck_TV) March 7, 2021
"It's a tough time to get one," Schrage said. "That's all I can comment there."
It was the second apparently surprising technical foul charged to James Madison. Zach Jacobs was whistled for a technical with 4:10 left in the first after he asked for an "and one" following a layup. McIntosh also hit the two subsequent free throws.
Byington chose his words carefully in the postgame Zoom but didn't leave much doubt how much he was smoldering over the calls.
"Zach scored a basket and he thought he was fouled and said 'and one,' which is the most common thing said in basketball, probably, across the country," Byington said. "It's probably said a hundred times in basketball games. That was the first time I've ever heard that (called).
"The one they called on me — it was nothing vulgar or anything like that. I couldn't get the referee's attention and I said 'It was the same call' (that wasn't made on Morse) and he thought it was out of line. You get to situations where basketball is played a certain way throughout the year and throughout the years and something's different in tournament games. So it was bad timing. I feel bad about mine, I'm sure Zach felt bad about his."
Byington also acknowledged the Dukes "…had a bad segment there at about the 11-minute mark" — the second straight season in which James Madison's tournament hopes ended with an ill-timed fade against Elon.
In the outbracket games exactly 365 days earlier, James Madison squandered an eight-point lead over the final six minutes as Elon went 6-for-7 from the field and took its only lead on Marcus Sheffield II's tie-breaking jumper with three seconds left in a 63-61 victory.
That sparked a surprising Cinderella run by the seventh-seeded Phoenix, who never trailed the next day in upsetting second-seeded William & Mary, 68-63. Elon was the first team seeded seventh or lower to reach the semifinals since Towson made it as the 11th seed in 2009.
Now Elon has single-handedly ensured teams seeded seventh or lower will make the CAA semifinals in consecutive seasons for the first time. Only once before had teams seeded sixth or lower made the semis in at least two straight years. The CAA had just eight teams in 1997, when sixth-seeded James Madison fell in the title game, and 1998-99, when seventh-seeded American and sixth-seeded VCU lost in the semis.
"We're so resilient," Wright said. "The coaching staff, every day, (they were) talking about our belief and how we just have to keep at it every single day and grow everyday and good things will happen. And for the second year now with our staff, that came true."
Despite its seeding, Elon is not a standard Cinderella candidate this time around in terms of resume and internal expectations. The Phoenix, which was picked fifth in the preseason poll, has won six straight following an 0-7 CAA start.
Nor is Elon fazed by its own history — the program has never made the Division I NCAA Tournament — and the long odds faced by low seeds in the CAA Tournament as it prepares to face no. 4 Hofstra tonight.
Since the CAA expanded to 10 teams prior to the 2001-02 season, only one team — sixth-seeded William & Mary in 2008 — has made the championship game after playing in the outbracket round. The only team to win it all while seeded lower than fourth was East Carolina, which won the title as the seventh seed in 1993.
"We don't really look at the seeding going into the game," Wright said when asked about upsetting James Madison. "They've still got to get past us. We hope to do a lot more things that have never been done in the league and at Elon. We're all about raising the standards."
Schrage said he's hopeful Elon can take some lessons from last season's semifinal appearance, when the Phoenix spotted Northeastern the first nine points and never led in a 68-60 loss.
"Obviously we're always trying to stay off playing the four games in four days," Schrage said. "This day three is where we're really going to have to fight through it. Last year, we got off to a slow start against Northeastern and we never were able to quite recover from that."
A few minutes later, Schrage was off to study Hofstra, whom Elon didn't face this season, while Byington and James Madison began the process of recovering from a painful loss that ended a season filled with rapid and surprising progress. The Dukes were only the third team in CAA history to win at least a share of the regular-season title the year after finishing last and the second to earn the no. 1 seed.
"This team just had a slow climb," Byington said.
And one historic, controversial and unforgettable fall.
---
Jerry Beach has covered Hofstra sports since arriving on campus in the fall of 1993, when Wayne Chrebet was a junior wide receiver wearing No. 3, Butch van Breda Kolff was the men's basketball coach for the East Coast Conference champions and Jay Wright was a little-known yet surely well-dressed UNLV assistant coach. Check out Jerry's book about the 2000 World Series here and follow him on Twitter at @JerryBeach73.