2021 Hercules Tires CAA Men's Basketball Championship
Mike Farrelly, Hofstra Proud After CAA Loss Amid 'Tough Circumstances'
Mike Farrelly, Hofstra Proud After CAA Loss Amid 'Tough Circumstances'
Acting head coach Mike Farrelly was emotional in the press conference after Hofstra's CAA Tournament loss to Elon.
Mar 9, 2021
by Jerry Beach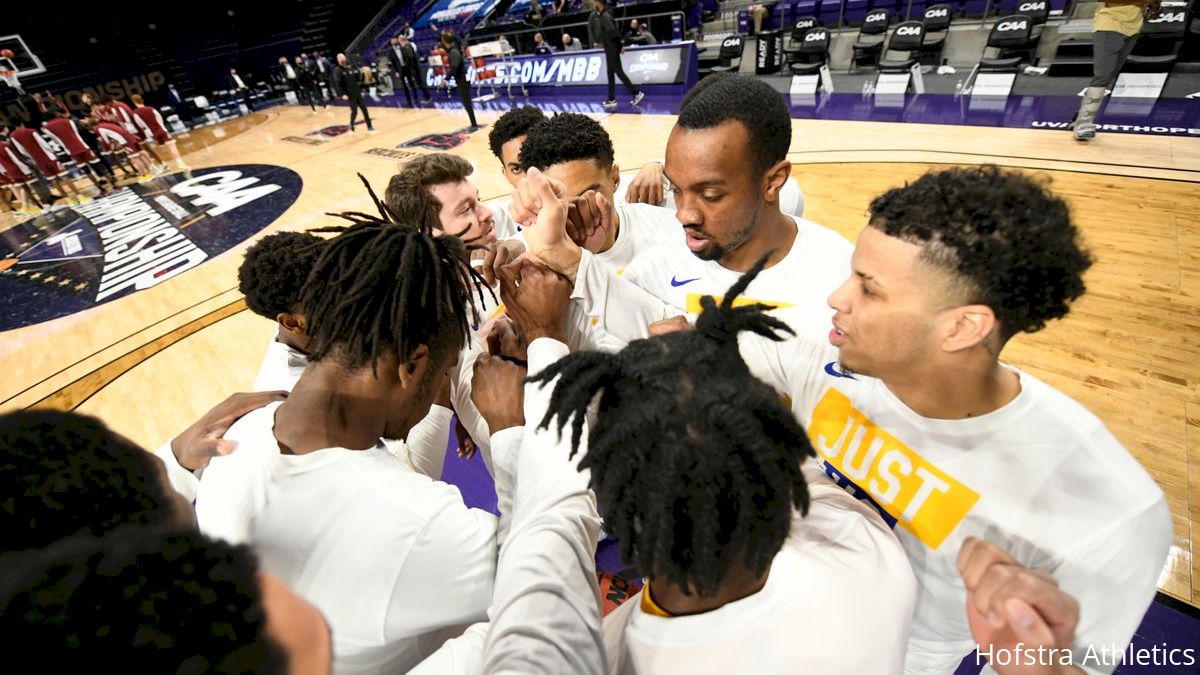 The head coach's teary-eyed press conference into as much a staple of March as brackets, buzzer-beaters and "One Shining Moment."
But even by the standards of the season-ending 2020-21 press conference — held via Zoom instead of a cramped media room — there was nothing routine about the tears shed Monday night by Hofstra acting head coach Mike Farrelly after the Pride's bid to repeat as CAA Tournament champions ended with a 74-56 loss to Elon.
"Tough circumstances — everybody's got tough circumstances, it's the 2020-21 season," Farrelly said moments after completing his rookie season as a head coach — a lifelong goal realized in an almost impossibly trying and heartbreaking fashion. "You know, I have to…"
Farrelly paused, put his head down, exhaled and nodded as the tears began to well.
"Been a crazy year," he said.
Hofstra, which finished 13-10, is one of 179 schools to play at least 23 games as of this morning and led CAA teams in overall games played while playing a league-high 14 regular-season conference games. The Pride avoided a coronavirus-related pause within the program until Feb. 15.
"I'm unbelievably proud of our guys," Farrelly said. "It's not a normal year. At all. There's no social life. There's nothing. You can't visit each other in another room. You can't hang out. You can't go anywhere. These guys have been unbelievable — they basically come to the gym and they do virtual classes, they go back and forth to the dining hall and that's it."
But as appreciative as Farrelly was of the efforts made by Pride players to meet the protocols necessary to play a season in the midst of a global pandemic, he wasn't speaking through tears when he discussed their sacrifices.
Nor did he tear up when talking about how Hofstra, one of the 11 teams to earn an automatic bid to the 2020 NCAA Tournament before it was canceled by the pandemic, couldn't repeat as CAA champions and get a second chance to enjoy March Madness as a participant.
In fact, the most plaintive what-if words spoken about Hofstra's inability to play in the NCAA Tournament the last two years were spoken by Elon's Mike Schrage.
"I feel for Hofstra in that they won the championship of our league last year," Schrage said. "As successful as coach has been, as successful as the program has been, they were not able to experience the tournament. If I was allowed to pick a bracket, I was picking them for the Sweet 16."
Farrelly had company when it came to trying to play something approximating a normal schedule and attempting to repeat as a conference champion in order to get a first chance to play in the NCAA Tournament. But there was a sadly singular nature to his first season as a head coach, something not even fellow rookies navigating a pandemic-riddled campaign could understand.
"It hits you all the time," Farrelly said.
Farrelly was the only head coach this season with an adjective attached to the title. He became the acting head coach in August when Joe Mihalich — whom Farrelly began working for at Niagara in 2011 before accompanying him to Hofstra in the spring of 2013 — went on medical leave.
The unexpected absence of the head coach would be felt anywhere, but Mihalich's created a particularly large void within a program where he both built and serves as the foundation.
Mihalich was hired at Hofstra after spending the previous 35 years at just two schools — as an assistant at La Salle and the head coach at Niagara. He said he would rebuild the Pride, which won just 17 games while enduring a spate of off-season issues in the two seasons before his arrival, in a "brick by brick" fashion.
Mihalich's vision of sustained thoroughness was fully realized the previous two seasons, when the experienced likes of Justin Wright-Foreman, Desure Buie and Eli Pemberton led the Pride to back-to-back regular-season championships and the program's long-awaited first CAA title.
He also infused the Hofstra staff with a familial, generation-spanning nature that can be difficult to build in an often-cutthroat industry that is growing younger and more insular every season.
In addition to bringing Farrelly and Colin Curtin with him from Niagara — where Curtin served as a student manager for four years under Mihalich — he also hired former Hofstra star Craig "Speedy" Claxton, who is forever synonymous with the program for helping to end the then-Flying Dutchmen's 23-year NCAA Tournament drought in 2000.
At 64, Mihalich is old enough to be their fathers, and there is an accompanying shared affection between the head coach and his assistants. His absence — as an architect as well as a father figure — was missed all season in ways both spoken and unspoken, especially as the CAA Tournament approached and another veteran-laden Pride team embarked upon its repeat bid.
"Coach lived for this week," Farrelly said through tears. "The final preparation — whether we were the no. 1 seed or the 10th seed. Here, Niagara, wherever. It was his time. It was the postseason — ramp it up and he was at his best. To play in his honor, trying to do my best coaching his team…"
The tears Farrelly shed 363 nights after he joined Mihalich and the rest of the Hofstra staff in weeping with joy were an acknowledgement the most important person was missing from the title defense, and that even two more victories would not have made the Pride whole.
After a pause, Farrelly offered a quivering sigh.
"He was the guy that set the culture and carried it along — made this a championship-level program," Farrelly said. "So to try and carry that on for him was important to me. Couldn't pull the troops through tonight."
Farrelly paused once more.
"I hope he's proud."
---
Jerry Beach has covered Hofstra sports since arriving on campus in the fall of 1993, when Wayne Chrebet was a junior wide receiver wearing No. 3, Butch van Breda Kolff was the men's basketball coach for the East Coast Conference champions and Jay Wright was a little-known yet surely well-dressed UNLV assistant coach. Check out Jerry's book about the 2000 World Series here and follow him on Twitter at @JerryBeach73.