2021 Hercules Tires CAA Men's Basketball Championship
Drexel Endures Chaotic Season En Route To First NCAA Tournament In 25 Years
Drexel Endures Chaotic Season En Route To First NCAA Tournament In 25 Years
For the first time in 25 years, Drexel is going to the Big Dance. And the Dragons did so after an absolutely chaotic season.
Mar 10, 2021
by Jerry Beach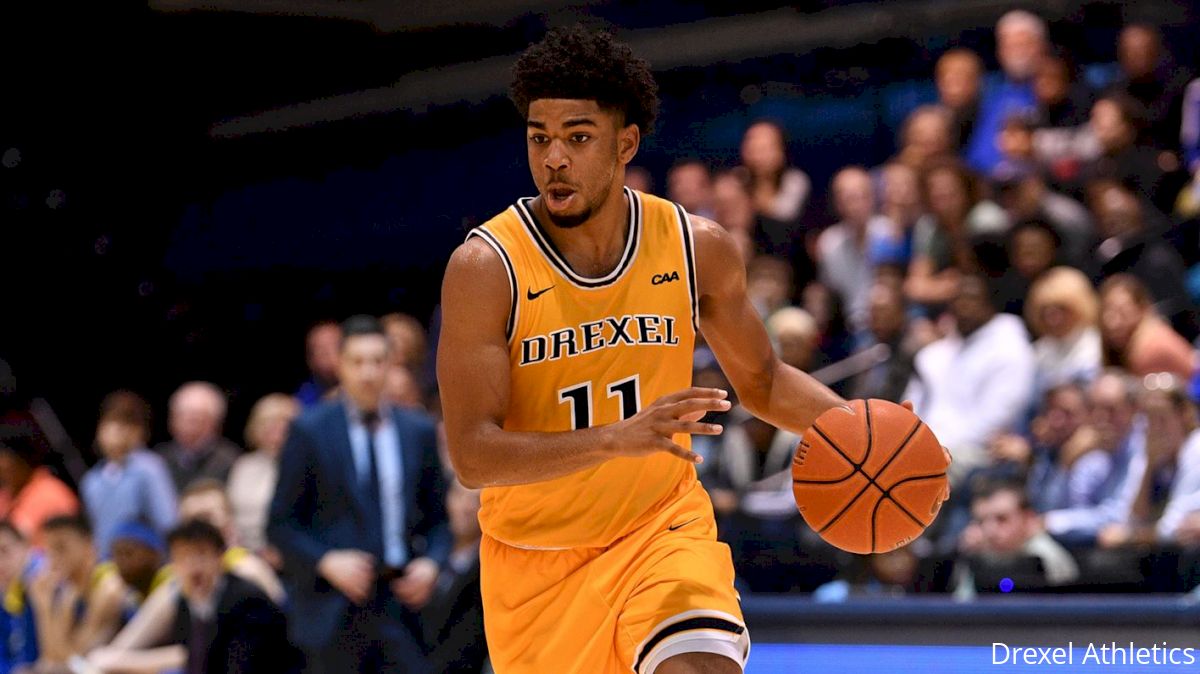 Zach Spiker appreciated how many friends and former co-workers wanted to text him as late Monday night seeped into Tuesday morning. But with the biggest game of his career awaiting in mere hours, Spiker shut off his cell phone.
"It kind of turns into Guy Smiley — 'This Is Your Life,'" Spiker said, referring to the Muppets character who hosted "Here Is Your Life," a parody of the TV show "This Is Your Life," which, as the title suggests, featured people having their life stories told by the family and friends who knew them best.
On Tuesday night, Spiker and Drexel flipped the "This Is Your Life" script by exorcising the Dragons' demons and clinching the program's first NCAA Tournament berth in 25 years with a 63-56 win over Elon in the CAA championship game.
"I probably can't put it in proper perspective," Spiker said.
The road — and by that we quite literally mean "the road" — the Dragons took to their long-awaited first CAA title provided all the perspective necessary to explain what it signified for a program long conditioned to watching the evidence of its star-crossed nature play out over and over again.
Going 6-2 in eight consecutive games away from the Daskalakis Athletic Center over a 46-day road trip — and completing the run by winning three tournament games at a conference rival's actual home arena — represented a familiar path tinged with irony and ending with a payoff that continually eluded Drexel during its first decade-plus in the CAA.
Spiker saying "…we'll go anywhere, we'll play anybody" during a chaotically scheduled season served as an appropriate bookend to a CAA journey that began with Drexel playing 75 of its 119 non-conference games on the road and going 91-103 overall in road and neutral site games in its first 11 seasons under Bruiser Flint, who was hired a day after the school left the America East for the CAA in April 2001.
But the aggressive scheduling and resume-building went unrewarded for Flint and Drexel, often in agonizing and inexplicable fashion.
In 2006-07, the year after George Mason received the CAA's first at-large bid and went all the way to the Final Four, Drexel beat Villanova, Syracuse and Creighton on the road, won 23 games and had an RPI of 43 but was relegated to the NIT after losing to VCU in the semifinals of the CAA Tournament at Richmond Coliseum, a "neutral site" located a little more than a mile from the VCU campus.
In 2010-11, Drexel beat Louisville on the road on its way to a 21-10 finish. But its season ended with a 62-60 quarterfinal loss to VCU in which the Rams took 25 free throws — to just three for the Dragons — in the second half and the famously profane Flint was whistled for a technical foul despite not uttering a curse word while arguing a call late in the second half.
VCU's Jamie Skeen muscled his way past Drexel's Yannick Farmbor, who was playing with four fouls, to hit the game-winning layup as time expired. The victory jump-started the Rams' run to the Final Four as an at-large team while Drexel headed home with the second-highest RPI of any team that didn't play in a postseason tournament.
The next season, Drexel won its final 17 regular-season games and its first two CAA Tournament games before losing to — you guessed it — VCU, 59-56, in the championship. The Dragons, with 26 wins, once again headed to the NIT.
Parity arrived in the CAA with VCU's for the Atlantic 10 following the 2012 season, but a black cloud hung above Drexel throughout Flint's final four years, when stars Chris Fouch, Damion Lee and Kazembe Abif suffered season-ending injuries in consecutive seasons and Lee chose to play his graduate transfer year at Louisville.
Drexel won just two CAA Tournament games — both in outbracket contests — between 2013 and 2020, a span in which six different programs won a championship and the three others made at least one appearance in the conference semifinals.
Both those conference tournament wins were earned under Spiker, who arrived following the 2016-17 season. But Drexel was just 49-81 and never finished higher than sixth place in his first four seasons, a span in which the Dragons went 16-56 away from the DAC.
Fortune this season once again did not appear to favor Drexel. The Dragons were the only CAA team that did not have to pause due to positive coronavirus cases within the program — "Our guys have been really disciplined, we live right across the street, they're not getting in cars, they're not driving anywhere," Spiker said — but they played just nine league games because of opponents' shutdowns.
A 2-4 start in CAA play included a pair of agonizing losses for Drexel. On Jan. 9, the Dragons fell to Charleston, 61-60, when Zep Jasper was fouled on a 3-pointer with under a second left and drained all three free throws. Eight days later, William & Mary scored its final 17 points from the free throw line to overcome a nine-point deficit in the last four minutes of a 67-64 win.
"We had some crazy games," Spiker said. "We lost a game where we outplayed a team. We had some tough, tough losses."
The loss to William & Mary on Jan. 17 turned out to be the home finale for Drexel, which played hastily scheduled road games later in the month at William & Mary and James Madison — the latter of whom the Dragons were originally slated to visit during the final regular-season series — and a regularly scheduled series at Hofstra the first weekend of February before an 18-day break.
"Did it make sense that we went to JMU for one game instead of two when we agreed to go down here?" Spiker said. "We didn't love it. But the whole season, we wanted to be respectful of our players. If we've got a chance to play a game, we've got to play it."
Tournament play unofficially began for Drexel on Feb. 26, when the Dragons returned to James Madison and earned an 84-78 win that clinched sixth place in the CAA. A loss would have dropped Drexel to eighth place and into the outbracket games.
The victory provided tangible evidence to Spiker that the improvement he was seeing from the Dragons in the seemingly endless preparation between their games was real.
"Coming down there, we knew we were getting better," Spiker said. "We saw practice. We saw the film. We knew what was going on."
James Madison also hosted the CAA Tournament — Spiker called the Atlantic Union Bank Center the "DAC South" — but Drexel's fortunes were already changing by the time the Dragons took the court for the final quarterfinal game Sunday night.
Top-seeded James Madison was eliminated hours earlier, when it squandered a 15-point second-half lead and fell to Elon, 72-71. The Dukes fell behind for good with 1:13 left, when head coach Mark Byington was whistled for a technical foul for non-profanely arguing a no foul and the Phoenix's Hunter McIntosh hit the two subsequent free throws.
Drexel trailed for just 43 seconds against Charleston in the quarterfinals and led for the last 25-plus minutes in both the semifinal win over Northeastern and in the championship game victory Tuesday, when the Dragons never allowed Elon to get within a possession after Zach Walton's buzzer-beating 3-pointer in the first half gave them a 32-27 lead.
"Our schedule and our record in our league looks very different than other schedules and records in our league," Spiker said. "But maybe we had some grit and some toughness and character in those miles logged on those busses and plane rides, that put us in a situation where we needed to adapt and adjust a couple games and make some big plays in some big moments."
And now the longest trek continues for Drexel — more busses and plane rides for a program well-acquainted with the road but not the NCAA Tournament path it finally began traveling Tuesday night.
"I'm not gonna trade with anybody," Spiker said with a grin. "Put us on the road all season if we get to go to the NCAA Tournament."
---
Jerry Beach has covered Hofstra sports since arriving on campus in the fall of 1993, when Wayne Chrebet was a junior wide receiver wearing No. 3, Butch van Breda Kolff was the men's basketball coach for the East Coast Conference champions and Jay Wright was a little-known yet surely well-dressed UNLV assistant coach. Check out Jerry's book about the 2000 World Series here and follow him on Twitter at @JerryBeach73.