2021 Hercules Tires CAA Men's Basketball Championship
'Resilient' Elon Pushes Drexel To The Limit In CAA Championship Game
'Resilient' Elon Pushes Drexel To The Limit In CAA Championship Game
Elon lost its first seven conference games only to make a run at the CAA Championship — that's resilience.
Mar 10, 2021
by Kyle Kensing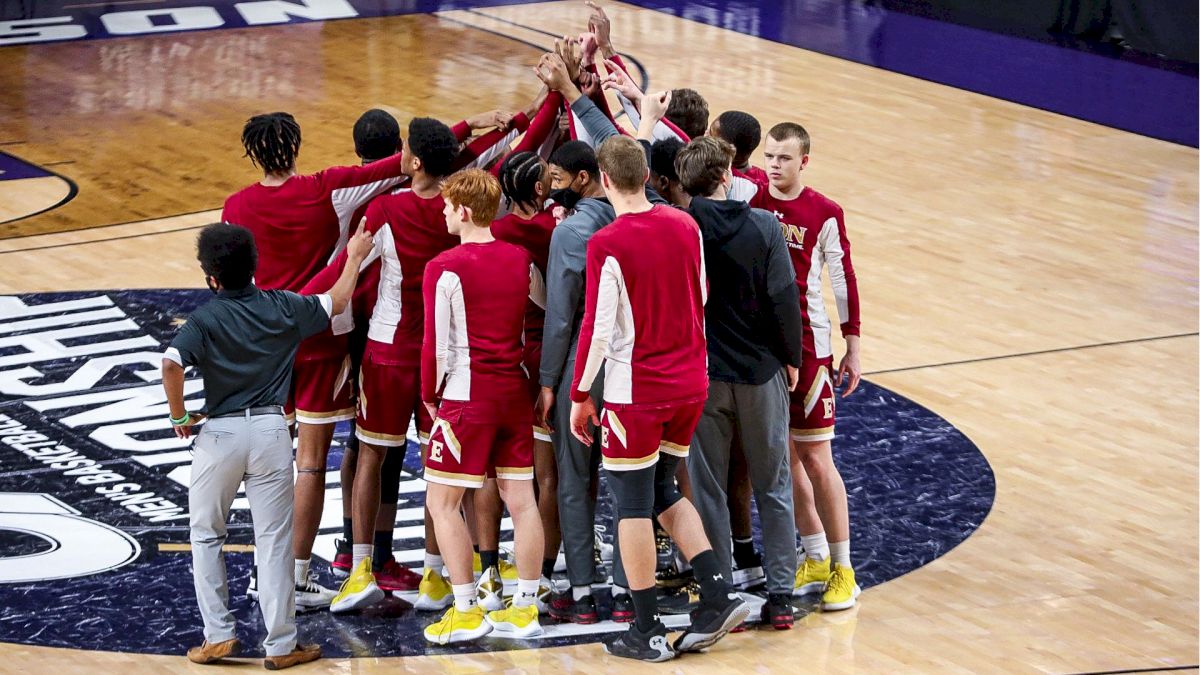 When Mike Schrage came to Elon in 2019, he brought a philosophy cultivated in tenures coaching alongside Chris Holtmann and Brad Stevens that each individual team should craft its own identity unique to the personalities, talents of and circumstances facing it.
The 2020-21 Phoenix — Team 108, as it's known — certainly forged its identity in the course of a trying year.
"Resiliency," Scharge said, describing the group. "They're a really resilient group."
This college basketball season goes down as arguably the toughest in the sport's history, a result of the COVID-19 pandemic. Playing in empty arenas with audiences of cardboard cutouts, taking regular tests for the infectious virus, and enduring stoppages in an already-truncated schedule all made for less-than-ideal conditions.
A mantra prevalent at the outset of the pandemic in March 2020 said, "We're all in this together." That remained true for basketball, with every team having to navigate the challenges. But not every team faced the same challenges, Elon wing Hunter McIntosh noted.
"Every team, every situation was different," McIntosh said. "The [Colonial Athletic Association] definitely had some struggles with pauses and interruptions. But...our coaching staff and players, we try to keep a positive mindset."
COVID-19-related pauses trimmed Elon's CAA schedule to just 11 games. In its semifinal and Championship Game matchups of the CAA Tournament, Elon faced opponents in Hofstra and Drexel it did not play in the regular season.
Beyond the varying degrees of difficulty related to the pandemic, Elon's Team 108 embarked on the campaign amid a bevy of other challenges.
Freshman Ja'Dun Michael underwent shoulder surgery in the offseason that limited his debut campaign. Zac Ervin sustained a torn ACL injury that sidelined him for the duration, and Jerald Gillens-Butler ruptured his Achilles tendon just a few games in.
After the Phoenix showed so much promise advancing to the semifinals of the 2020 CAA Tournament, and returned a host of key contributors from that squad, the '21 season appeared doomed on arrival.
And, indeed, Elon lost its first seven conference games. Combined with stoppages, the Phoenix waited until Valentine's Day before scoring their first league victory.
"Enduring this year, like all teams did, enduring through the pandemic and the limitations and everything we had to go through, it was the next step," Schrage said of Elon's goal to build off its strong finish a season ago. "A lot of people probably didn't think we'd be able to take the next step back in January and early February."
By the end of February and March, however, Team 108 established itself as a contender. Elon's run to the CAA Championship Game included a rout of a Hofstra team tabbed to repeat atop the Colonial, and a thrilling defeat of the 2021 regular-season champion, James Madison.
The program's first-ever NCAA Tournament bid eluded it in a competitive finale against Drexel, but closing the historically taxing campaign with seven straight wins and another expectation-shattering March molded the standard successors of Team 108 will strive to meet.
"We're building a program that's, every year, competing for conference [championships] NCAA [Tournament] berths," McIntosh said. "We made a step this season. We showed growth from last season to this season."
Expect more growth in a 2021-22 that should more closely resemble a traditional college basketball campaign. McIntosh returns after averaging 15.7 points per game and will be a contender for CAA Player of the Year.
Hunter Woods will be back. Kris Wooten, too. The return from injury of Ervin and Gillens-Butler forms one of the most experienced lineups in the CAA.
But, as Team 108 forged an identity separate from the year prior, changes are coming.
A choked-up McIntosh praised the efforts seniors Ikenna Ndugba and Simon Wright made in shaping Team 108. The duo was especially electric in the CAA Tournament, with Ndugba scoring double-figures in each of the last three games and notching a double-double against Hofstra.
Wright's play at the 5, an unusual spot in the rotation for him, threw opponents for a loop and allowed Elon to dictate pace.
"Just their leadership, their fight, their attitude on a daily basis," McIntosh said of the seniors. "It's special to be with, and I'm blessed to play with special players like that."
Assuming the seniors opt not to use the additional year of eligibility the NCAA granted in response to the pandemic, they can leave Elon knowing they crafted Team 108's character — and charted the course for the future.
"They'll be remembered for playing their best basketball in February and March, and that's what our program's going to be built on," Schrage said.
---
Kyle Kensing is a freelance sports journalist in southern California. Follow him on Twitter @kensing45.