2021 MEAC Men's & Women's Basketball Tournaments
One Storyline For Each Of The 6 MEAC Teams Vying For The Conference Title
One Storyline For Each Of The 6 MEAC Teams Vying For The Conference Title
Norfolk is the gateway to March Madness for the MEAC, which finally reaches an important milestone in a unique season.
Mar 11, 2021
by Kyle Kensing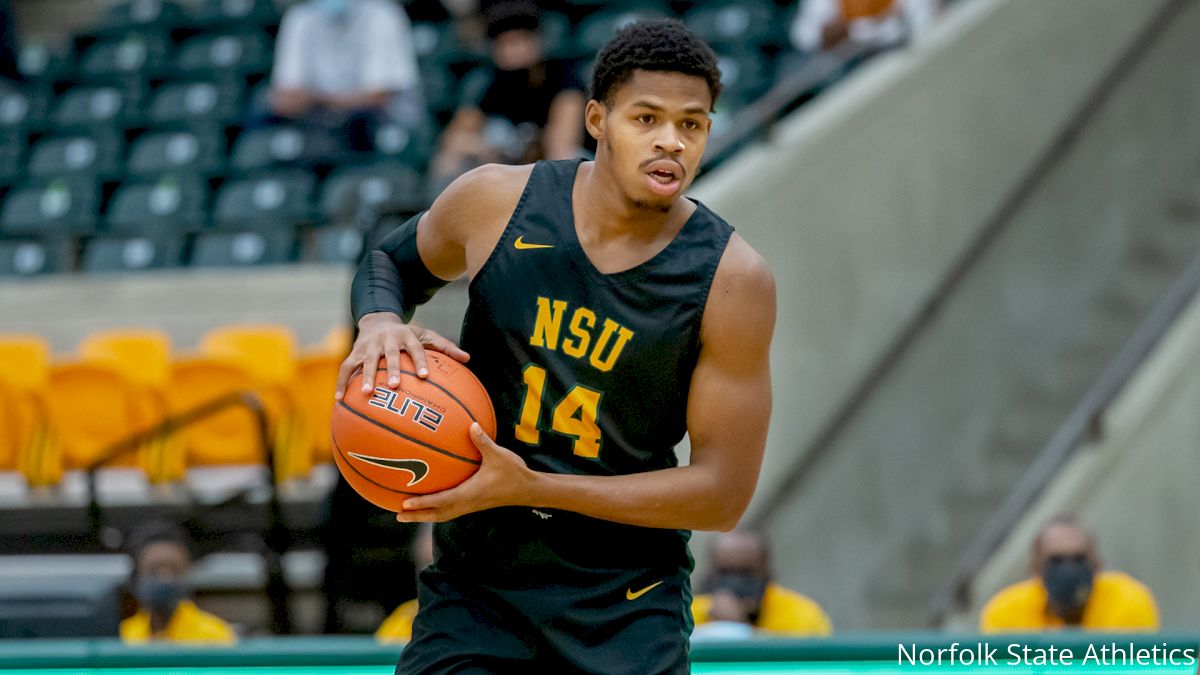 Norfolk is the gateway to March Madness for the MEAC, which finally reaches an important milestone in a unique season.
Watch the Men's & Women's MEAC Tournaments LIVE on FloHoops
The MEAC Tournament tips off Thursday with a modified format in response to the COVID-19-altered season. The conference's top six teams vie for the MEAC championship and NCAA Tournament berth.
FLORIDA A&M's DEFENSIVE PROWESS
With a KenPom.com adjusted defensive efficiency ranking of 141, Florida A&M comes into The Scope atop the MEAC. And, indeed, the Rattlers are downright overwhelming at times.
In wins, FAMU held opponents to an average of 59.4 points per game. In five of their last six victories, the Rattlers kept teams to fewer than 60 points.
Create their excellent turnover-generation, which produces a takeaway on 21.1 percent of defensive possessions. All-MEAC honoree M.J. Randolph keys FAMU with 1.8 steals per game.
The Rattlers' aggressiveness translates to its shot defense, too. They rank fifth in the nation among all Div. I teams with an incredible 28 percent 3-point yield.
BEARS BALANCING ACT
Styles make fights, and it's a reality especially prevalent in March. To that end, Thursday's quarterfinal between Florida A&M and Morgan State is a battle of two different but equally dangerous styles.
Morgan State flourishes when its offense is putting up points, generating fast-break opportunities, and above all, sharing the wealth.
Four different Bears head into the postseason scoring in double-figures, which gives coach Kevin Broadus options where and through whom to run the offense. But a development worth following is how often successful teams in March have a single scorer get hot to buoy the squad.
MOTON'S MARCH MAGIC
LeVelle Moton's teams seem to hit their peak come March. North Carolina Central represented the MEAC in each of the last three NCAA Tournaments. In the last two, 2018 and 2019, the Eagles entered the MEAC Tournament as No. 6 and No. 3 seeds.
All that is to say don't let North Carolina Central's seeding fool you. While the Eagles are the South division No. 3, Moton's teams' ability to elevate their game in March should not be discounted.
Neither should guard C.J. Keyser. The senior is averaging better than 16 points per game, and in 2019-20, shot almost 41 percent from 3-point range. If he catches fire, so too could the Eagles.
DeVANTE CARTER'S RISING STAR
Norfolk State guard DeVante Carter has been the picture of consistency for Norfolk State in his second campaign, scoring in double-figures in every game but one. His emergence as a reliable scorer, picking up his scoring by almost seven points per game from his impressive debut season, hit a crescendo down the stretch.
Carter opened the month of February with 31 points in a win over Coppin State, and closed it out with back-to-back games hitting above his season-long field-goal percentage.
Carter's a unique rising star for the Spartans, having signed on with very little fanfare in his JUCO days. All he's done since getting a Div. I opportunity is land on the All-MEAC team. He could be the catalyst for the Spartans to get back to the NCAA Tournament for the first time since beating Missouri in the 2012 edition.
THE THEORY OF MOMENTUM
The idea of momentum in sports comes with some controversy. Momentum isn't rooted in any scientific data or metrics, more so a feeling; a team playing with confidence as wins pile up or a shooter making seemingly every shot they put up.
North Carolina A&T will test the theory of momentum at The Scope. The Aggies come in as the MEAC's hottest team, winners of 8-of-9.
The divergent way in which A&T has won is worth noting. The Aggies dropped 97 on South Carolina State when their roll began on Jan. 2, then book-ended their South division No. 1 seed with a 55-53 win over rival North Carolina Central.
While momentum may not be quantifiable, or even something that exists, a team that wins shootouts and rock fights alike with consistency has something special going. And in a season that has seen teams' rhythm disrupted due to the pandemic, stringing together victories in the manner A&T has bodes well for a format predicated on winning two games in two days.
TARKE ATTACK
North division No. 1 seed Coppin State flourished with a combination of scoring balance and the star power of MEAC Player of the Year Anthony Tarke.
Among the supporting cast to Tarke, who closed the regular season averaging outstanding numbers across the board, is his brother Nendah. Nendah Tarke won MEAC Rookie of the Year for his 9.6 points, 4.7 rebounds and 1.7 steals per game.
The brother tandem packs a potent punch. With DeJuan Clayton in the mix, they form arguably the most well-rounded trio in the MEAC.
---
Kyle Kensing is a freelance sports journalist in southern California. Follow him on Twitter @kensing45.