2021 WNIT - Round 1, Charlotte Regional
Previewing The 2021 Women's NIT: Star Power In Delaware, CBU's Perfection
Previewing The 2021 Women's NIT: Star Power In Delaware, CBU's Perfection
The women's NIT is just days away. Here's everything you need to know before tipoff.
Mar 17, 2021
by Kyle Kensing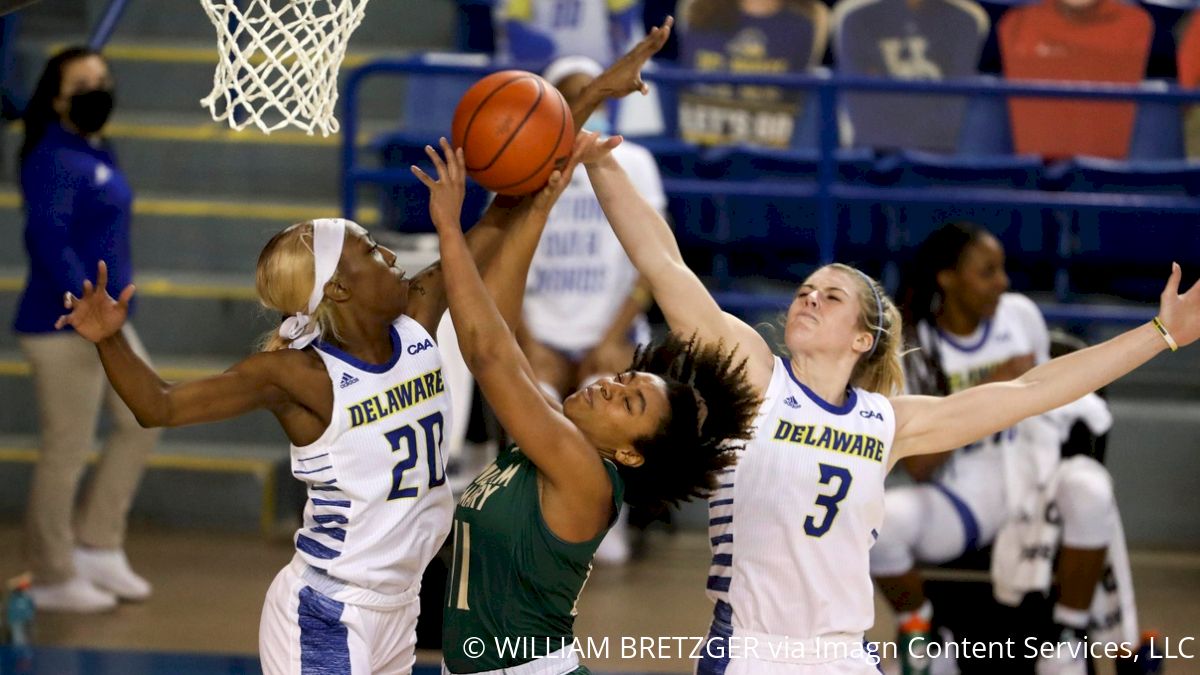 The women's NIT is just days away. Here's everything you need to know before tipoff.
CHARLOTTE REGIONAL
Fordham (12-4) vs. Delaware (21-4), 11 a.m.
Ohio (14-8) vs. Clemson (11-13), 2 p.m.
Charlotte (10-10) vs. Florida (11-13), 5 p.m.
UMass (14-7) vs. Villanova (15-6), 8 p.m.
Looking for star power in the Women's NIT? Look to Charlotte.
A remarkable six of the nation's top 43 scorers headline the Charlotte Regional, including four of the leading 12: Delaware's Jasmine Dickey (22.4 points per game), Villanova's Maddy Siegrist (22.6 PPG), Fordham's Anna DeWolfe (21.8 PPG) and Ohio's Cece Hooks (25.9 PPG).
Watch the Women's NIT LIVE on FloHoops
Octavia Jett-Wilson of Charlotte rounds out the region's 20-plus-point per game scorers at 21.1, while Florida's Kiara Smith stepped up to fill the void left when Lavender Briggs sustained a season-ending injury in February.
Three of the six won Player of the Year in their leagues: Dickey in the Colonial Athletic Association, DeWolfe in the Atlantic 10 and Hooks in the Mid-American Conference. Hooks doubled up as MAC Defensive Player of the Year, a quality that will be put to the test against the many playmakers the Charlotte Region has to offer.
That group includes Jett-Wilson, who did not win Conference USA Player of the Year...but was the ESPN National Player of the Week late in the regular season.
FORT WORTH REGIONAL
Arizona State (11-10) vs. Rice (18-4), 11 a.m.
Fresno State (16-10) vs. Missouri (9-11), 2 p.m.
San Francisco (15-10) vs. Houston (16-7), 5 p.m.
California Baptist (24-0) vs. New Mexico (15-4), 8 p.m.
Three teams with four losses or fewer, including undefeated Cal Baptist; quality programs out of the powerful Pac-12 and SEC; and one of the nation's best 3-point shooters shape the Fort Worth Regional.
CBU, ineligible for the NCAA Tournament during its transition from Div. II, putting a perfect record on the line is one of the most intriguing storylines in any bracket around college basketball. The Lancers do not have an easy path to perfection, though, opening with a New Mexico team that was near top of the Mountain West Conference all season.
The Lobos' pursuit of the MW Tournament championship ended against Fresno State. The two could see each other again in Fort Worth, where explosive scorer Haley Cavinder leads the Bulldogs against a Missouri team with wins over Florida and Mississippi State.
Missouri is one of two teams in the region from one of the nation's strongest conferences. Arizona State, a fixture in the NCAA Tournament over the past decade-plus, competed in the stacked Pac-12. The Sun Devils ended their regular season with an overtime win over a top 20-ranked Arizona.
Taya Hanson of ASU is one of the 3-point shooters who could catch fire and swish their way to the semifinals. So could San Francisco's Ioanna Krimili.
Krimili knocked down 88 3-pointers in the regular season, third-most in the nation.
MEMPHIS REGIONAL
UT Martin (20-5) vs. Nebraska (12-12), 11 a.m.
Louisiana (16-6) vs. Colorado (10-10), 2 p.m.
Samford (14-9) vs. Ole Miss (11-11), 5 p.m.
Illinois State (15-7) vs. Tulane (17-8), 8 p.m.
A winner of 18-of-19 over a stretch, Ohio Valley Conference regular-season champ UT-Martin is one of two teams in the Memphis Regional to have finished atop their league. Louisiana likewise finished the regular season with the Sun Belt Conference's best record, but slipped up in the tournament.
Chelsey Perry leads the Skyhawks into the postseason with an average of 22.5 points per game. A matchup with Nebraska and 17.9-point per game scorer Sam Haiby kicks off what should be an exciting and competitive regional.
The Huskers also feature Isabelle Borne, averaging almost 14 points and eight rebounds per game. Borne's production approaches that of Colorado's Mya Hollingshed, a 16.7-point, 8.6-rebound per game performer.
The Buffs matchup with Louisiana's stingy defense and balanced scoring in a standout, opening-round matchup.
In the same vein as UL, with three double-figure-point per game scorers, Tulane and Illinois State's nightcap pits two balanced scoring teams head-to-head.
ROCKFORD REGIONAL
Northern Iowa (14-12) vs. Dayton (14-3), 11 a.m.
Creighton (9-11) vs. Bowling Green (20-6), 2 p.m.
Saint Louis (12-4) vs. DePaul (14-8), 5 p.m.
Milwaukee (19-7) vs. Drake (16-11), 8 p.m.
An interesting feature of the Rockford Regional is the combining of six different teams from three conferences. The Atlantic 10, Big East and Missouri Valley all send two programs each into the regional, with Dayton coming in boasting a regular-season conference title.
The Flyers finished with the best record in the A-10 behind one of the nation's most aggressive defenses. Tenin Magassa with 42 blocked shots and Araion Bradshaw with 28 steals help key Dayton on that side of the ball.
UD draws one of two Missouri Valley teams in the regional, Northern Iowa. Karli Rucker's ball distribution and scoring punch led the Panthers. Their MVC counterparts Drake open with Milwaukee, and the Bulldogs bring Missouri Valley Newcomer of the Year Grace Berg and Sixth Player of the Year Maggie Bair into Rockford.
The Big East's two representatives in the region — Creighton and DePaul — produced three combined All-Conference honorees: Temi Carda (Creighton), and DePaul's Lexi Held and Sonya Morris.
---
Kyle Kensing is a freelance sports journalist in southern California. Follow him on Twitter @kensing45.