MEAC
'Swiss Army Knife' Carter Leads Norfolk State Into The NCAA Tournament
'Swiss Army Knife' Carter Leads Norfolk State Into The NCAA Tournament
Devante Carter's ability to impact the game in multiple ways is going to be key for Norfolk State when they play in the First Four of the Big Dance.
Mar 17, 2021
by Kyle Kensing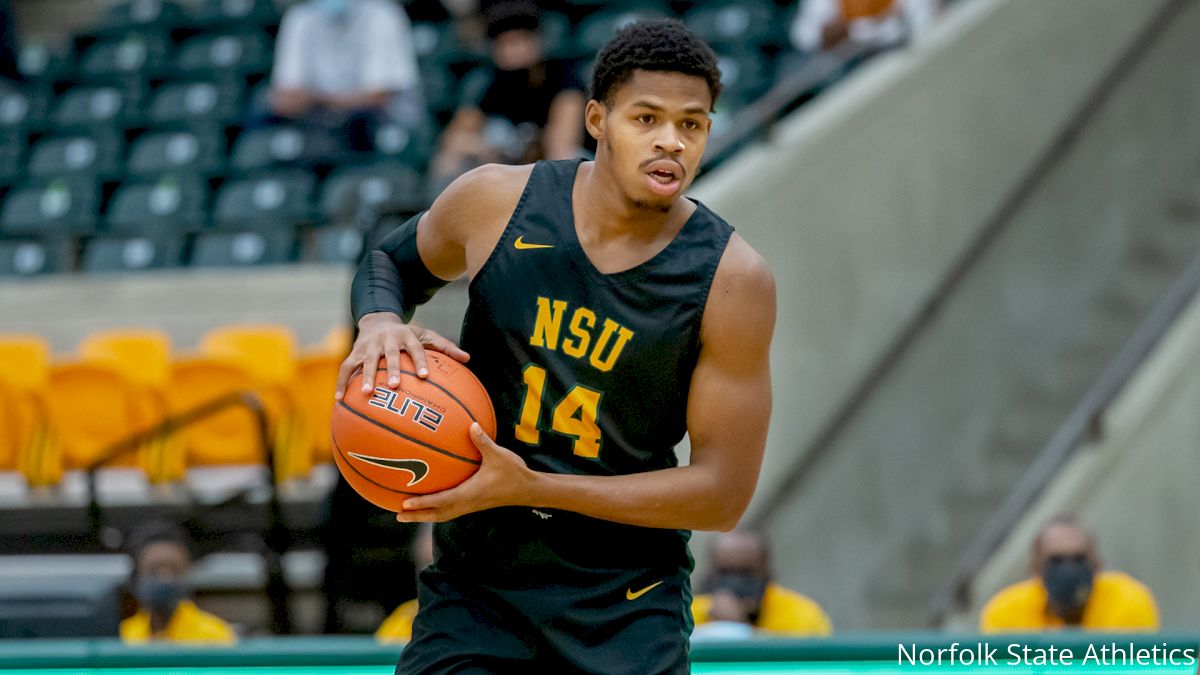 Devante Carter is "the Swiss Army Knife" of Norfolk State basketball, as coach Robert Jones describes him.
At 15.5 points, 5.3 rebounds and four assists per game, Carter leads the Spartans in all three categories. His production isn't necessarily an outlier in this era of basketball, when perimeter players like Russell Westbrook and Luka Doncic have similarly been all things when needed to their teams.
But Carter thrives with an element to his game not too often seen in the modern landscape.
"He actually shoots it at a very high clip from mid-range," Jones said.
Mid-range jumpers seem to be going the way of the set shot or Granny free throw with heightened emphasis on 3-pointers. Offensive philosophies, particularly in the last half-decade, have driven emphasis on high-percentage attempts from inside the paint or 3-point attempts.
What's lost from the typically lower percentages on shots beyond the arc is compensated with higher point value.
Shot attempts worth fewer but that go down in practice are ultimately worth more than those worth more in theory. Carter's 3-point percentage of 28 percent suggests he won't be channeling Steph Curry's 2008 NCAA Tournament as Norfolk State embarks on the 2021 Big Dance, but the guard has learned how to turn that into an advantage.
"It causes teams to back up with his 3-point shot, but then it gives him a spot to shoot from mid-range, so it works out well for him," Jones said.
Defenses sagging actually working to Carter's advantage runs contrary to conventional wisdom, but it's worked well for the Spartans. He uses the space to create scoring opportunities off the dribble, whether for his own shot, or distributing to teammates, which Carter does exceedingly well:
March 17, 2021
In a MEAC Tournament performance that nearly produced a triple-double with 10 points, 10 rebounds and nine assists, Carter set the tone early with back-to-back dimes to Joe Bryant Jr. Bryant's two quick 3-pointers were part of a 30-point night for Carter's NSU backcourt mate.
"He's a great teammate. He's a great leader," said Bryant. "He gets guys involved."
The contrast and balance between Carter and Bryant makes them a dangerous duo. With Carter stroking the mid-range shot off the dribble, Bryant connects from beyond the arc at an average better than 42 percent.
Carter's ability to distribute to open teammates ranks him No. 115 among all Div. I players in assist rate, per KenPom.com metrics. It will also be central to Norfolk State's NCAA Tournament aspirations.
Jones said ahead of the Spartans' First Four matchup with Appalachian State that their depth is key against a Mountaineers starting five that averaged considerable minutes while playing four games in four days at the Sun Belt Conference Tournament.
And who knows? March draws the best out of players, so the Norfolk State Swiss Army Knife could show off an unexpected 3-point tool.
"He does actually the 3 better than his percentage shows," Jones said. "Hopefully he'll have a Dan Majerle night or a Steve Kerr night for us Thursday night."
---
Kyle Kensing is a freelance sports journalist in southern California. Follow him on Twitter @kensing45.