CAA Men's Basketball
Zach Spiker & Drexel Attempt The Impossible vs Championship-Minded Illinois
Zach Spiker & Drexel Attempt The Impossible vs Championship-Minded Illinois
The CAA's Drexel Dragons face a seriously talented Illinois team in the first round of the NCAA tournament.
Mar 18, 2021
by Kyle Kensing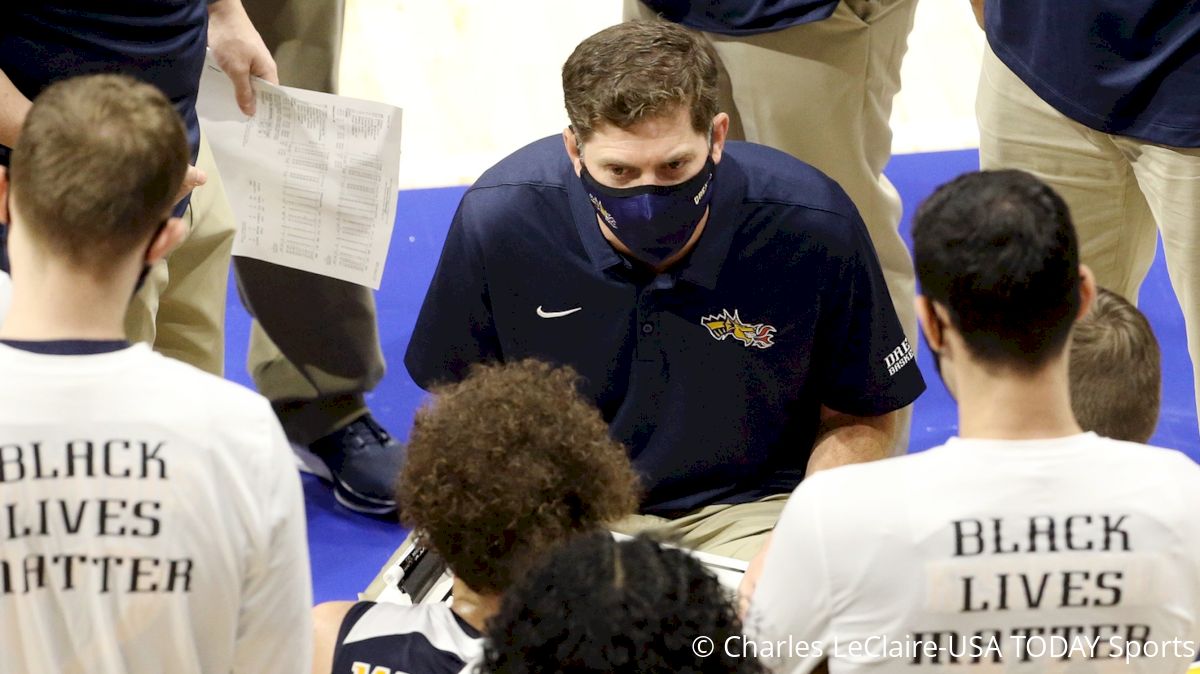 Twenty-one years ago in Indianapolis, Michigan State won what is still today the last national championship claimed by a Big Ten Conference program.
At that same Final Four, Div. III basketball player Zach Spiker did as countless active and aspiring coaches do and made the pilgrim to the national championship's host city.
These two histories converge in the 1st Round of the 2021 NCAA Tournament when Spiker leads Drexel against championship hopeful Illinois.
The Fighting Illini earned one of four top seeds, their reward for an outstanding season and Big Ten Conference title. Illinois emerged from the most top-heavy league in college basketball on a seven-game winning streak, including three games in the conference tournament.
Illinois' stay in the so-called Indiana bubble — with every Tournament game played in and around Indianapolis to mitigate spread of COVID-19 — began with its Big Ten Tournament run.
Its familiarity is one factor fueling belief that Brad Underwood's squad will be the one to end the Big Ten's drought. Another is just how good the Illini are up and down the roster.
Kofi Cockburn is one of the best big men in the game, averaging 17.6 points and 9.6 rebounds per game. Trent Frazier adds more than 10 points and a steal per game. The Illini bench goes deep, bringing on an elite talent like freshman Andre Curbelo.
And then there's Ayo Dosunmu. The 20.7-point per game scorer is one of the most well-rounded players in the country in addition to being an explosive scorer. He grabs rebounds, he sets the table for teammates as Illinois' assists leader, and altogether, it earned Dosunmu Co-Big Ten Player of the Year and USA Today Player of the Year.
"When coach [Brad Underwood] told us that, I was the first one to scream," Frazier said. "I was the first one to dap him up, because he deserves that. I've been saying that since the beginning of the season. I truly believe he's the best player in the country."
The last time Big Ten Player of the Year was split was 2000, when Michigan State's Morris Peterson shared Player of the Year with A.J. Guyton.
Its combination of talent and depth is indeed reminiscent of the 1999-2000 Michigan State team that cut down the nets at the old RCA Dome. The venue was replaced later in the decade by Lucas Oil Field, but the Hyatt-Regency that houses the 2021 NCAA Tournament participants and was a central meeting place for players and coaches at the 2000 Final Four remains.
The extended Final Four weekend functions as a job fair of sorts, and the current bubble hotel is one of the prime networking spots when the Final Four makes its regular pass through Indianapolis.
Spiker wasn't staying at the Hyatt-Regency in 2000; he said he didn't have the money to stay at any hotel then and instead crashed with a family friend. But the resort was important to his career.
"Coach Mark Downey, from my hometown, introduced me to Damon Stephenson, who was on the staff at Winthrop, at the bottom of these escalators right over there," Spiker said, pointing to the same spot where he had a fateful encounter in 2000.
Spiker, fresh off a playing career at Ithaca College, began his coaching career in the 2000-01 season at Winthrop. He went from a graduate assistant position with the Eagles, to an assistant's job under John Beilein at West Virginia.
After a stint at Cornell, he landed his first head-coaching job at Army. The most successful tenure of any Black Knights coach since Mike Krzyzewski propelled Spiker from West Point to Drexel, where this two-decade odyssey is at a new milestone.
The 2021 Dragons are the program's first to reach the NCAA Tournament in 25 years.
While getting to the Big Dance brings Spiker back to Indianapolis, any strong emotions he said he feels are the same as those he felt at the end of the Colonial Athletic Association Tournament: satisfaction for his players having this opportunity.
"When I walked by the scorer's table," Spiker dead-panned, "Somebody happened to be chopping onions."
From a veteran like forward James Butler to younger talent like T.J. Bickerstaff, Drexel's steadily built under Spiker to reach this point. And the Dragons are not in the bubble through any accident or fluke.
"Everybody here's good. Everybody here's worthy of being here," Underwood said. "Drexel knows how to win. They just won four in a row, they just won their conference tournament, just like we did, so don't undervalue that.
"The other thing is, they want it just as bad as we do it. We're all trying to fight for something only one of us can have," Underwood added.
Underwood might be at the helm of a power-conference program loaded with top 100 recruits and future NBA players, but he knows as well as anyone how quickly that can go out the window when the ball tips.
In 2016, his Stephen F. Austin team zoomed past West Virginia in the 1st Round then came one shot away from the Sweet 16. Guard Thomas Walkup, who also played a critical role in SFA advancing in the 2014 Tournament, became part of March lore with his play in '16.
Illinois sees a similar playmaker in Drexel's Camren Wynter.
"Really great guard. He can shoot the basketball. Really good on ball screens," Frazier said of Wynter.
It's been 21 years since a Big Ten team won the national championship, but a lot fewer than a No. 1 seed lost to a No. 16 seed. UMBC's defeat of Virginia in 2018 serves as a reminder that in the NCAA Tournament, anything truly can happen.
---
Kyle Kensing is a freelance sports journalist in southern California. Follow him on Twitter @kensing45.