Men's CAA Basketball
'Island Of Misfit Toys': East Coast Conference Curiosity & The Big Dance
'Island Of Misfit Toys': East Coast Conference Curiosity & The Big Dance
Remembering the "island of misfit toys" — diving into East Coast Conference history, reflecting on 2020 Hofstra, and thinking about the Big Dance.
Mar 19, 2021
by Jerry Beach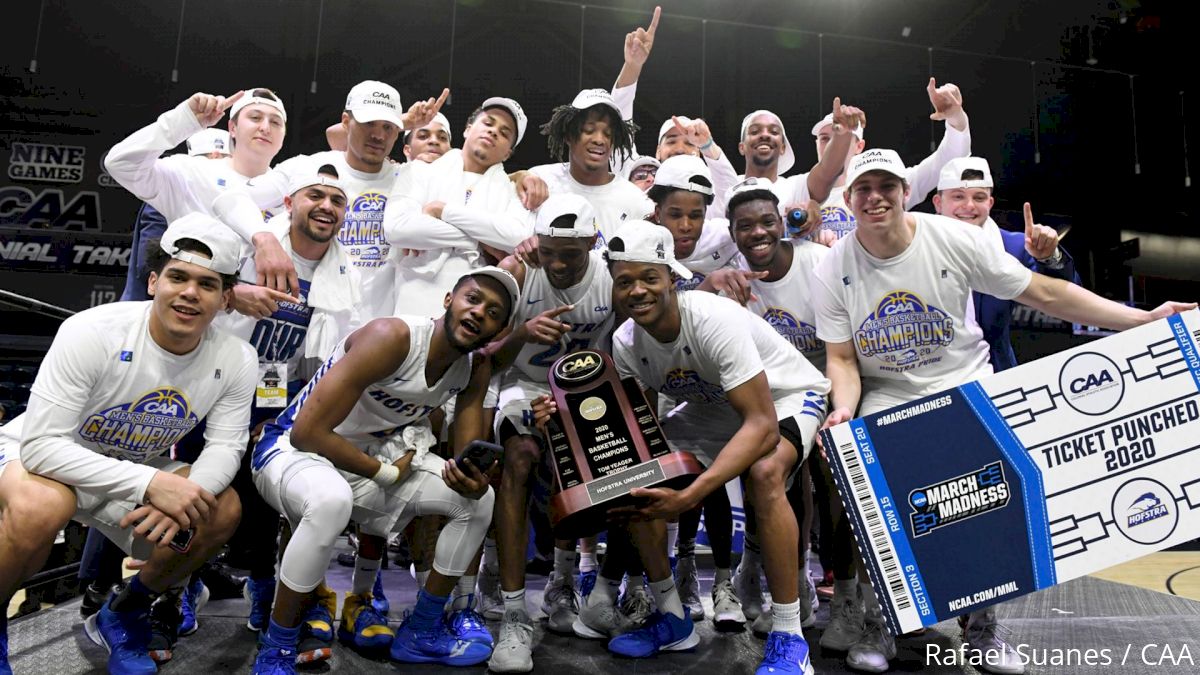 The previously unimaginable — winning a conference tournament yet not getting to perform in the NCAA Tournament — became reality over the span of a few days last March for 11 programs including, of course, CAA champion Hofstra.
But playing an entire season with the knowledge that there'd be no trip to the NCAA Tournament even with a victorious run through the conference tournament? A generation ago, it was a yearly reality as a wave of conference realignment left a handful of leagues — some new and ineligible for an NCAA Tournament berth and some trying to stay afloat without the NCAA-mandated minimum of six members with at least six years in Division I — playing without the lure of a trip to the Big Dance for their champions.
The Big South, founded in 1985, didn't get an automatic bid until the 1991 NCAA Tournament, which meant Winthrop — one of the 11 schools to earn a trip to the NCAA Tournament last year — did not dance after earning the first conference championship in program history in 1987. The Trans-America Athletic Conference, now known as the Atlantic Sun, didn't meet the NCAA's standards for an automatic bid during the 1992-93 season, nor did the Midwestern Collegiate Conference — now known as the Horizon League — during the 1993-94 season and the Mid-Continent Conference, now known as the Summit League, during the 1994-95 campaign. The American West lasted just two seasons and had just four teams, which meant neither of its champions went to the NCAA Tournament.
But no league had as unusual and winding a path to this odd purgatory than the East Coast Conference, whose roots stretched back to 1958 and featured at its height national powers such as La Salle, Rutgers, Saint Joseph's and Temple and also eventually welcomed future CAA mainstays Delaware, Drexel, Hofstra and Towson.
The latter three schools combined to win five ECC titles, with Towson winning back-to-back crowns in 1990 and 1991 — the last two seasons in which the ECC had an automatic bid. Towson, then known as Towson State, also won the title in 1992, when the ECC was down to seven schools, including four fledgling Division I programs.
Four schools exited after the 1991-92 season, leaving the holdovers — Buffalo, Central Connecticut State and Hofstra — to play an independent schedule before things got really weird when the ECC returned for one final go-around in 1993-94 with a six-school alignment made up of members based on Long Island and Connecticut, as well as in upstate New York, Illinois and Alabama.
"Yeah, it was an odd group of schools," said Dave Van de Walle, who was the sports information director at Chicago State. "We were able to bond mostly around the fact we didn't know why we were thrown together. So it was almost sort of a reality show before the reality shows were a thing."
Indeed, today there'd be a pretty good Last Chance U-esque show produced out of the 1993-94 season. Hofstra was coached by Butch van Breda Kolff, in the last season of a brilliant and nomadic career that included directing Princeton — and Bill Bradley — to the Final Four in 1965 and keeping Wilt Chamberlain for the final minutes of Game 7 of the 1969 NBA Finals, which the Lakers lost to the Boston Celtics by two points.
The remaining five schools were all in their nascent stages at Division I — or, in the case of Buffalo, a return to Division I. Central Connecticut State, Chicago State and Northeastern Illinois were trying to establish themselves in the shadows of powerhouse programs. Troy State, based in Alabama, was in its first year in Division I after advancing to the Division II national championship game the previous season, when the Trojans generated headlines by beating DeVry Institute 253-141.
"The island of misfit toys — not the players, but the schools in that conference were nothing more than a collection of misfits," former Hofstra assistant coach Joe Dunleavy said. "They had nowhere else to go."
With the schools all forced to operate in a frugal manner, the conference schedule, such as it was, consisted of one game against each opponent, which left plenty of opportunities to schedule profitable "buy" games — or, in the case of Chicago State, a profitable home-and-home with an unusually high-profiled school, Utah.
"Chicago State was supposed to play at Marquette and Marquette had to back out for one reason or another," Van de Walle said. "Somehow they brokered a deal where they did a home-and-home with Utah."
On Dec. 11, 1993, Utah cruised to an 84-65 win in front of 259 fans and in a building silent except for the action on the court.
"The person who had the keys to the room that had the PA system was off that day," Van de Walle said. "So it was a game played without the benefit of a public address system."
With Hofstra as the league's most-established program and the NIT still run as a New York City-centric operation, there was some chatter the ECC champ would at least get a bid to the NIT. But it didn't take long to realize that wasn't going to happen.
Hofstra opened 1-14, with the victory by a point over Yale. Chicago State was 1-19 through 20 games. Central Connecticut beat one Division I team all season. Troy State scored 119 points in its first Division I game on Nov. 27, 1993 — and lost to George Mason by 10. It was the first of eight losses in which the Trojans fell despite scoring at least 90 points. Buffalo had two six-game losing streaks. The only team to finish with a winning record was Northeastern Illinois, which won three games against non-Division I foes.
By the time everyone gathered in Buffalo for the conference tournament the first weekend of March 1994, the six teams were a combined 53-103 and everyone knew there'd be no Selection Sunday parties for the champion.
And everyone knew it was really the final hurrah for the ECC. All the schools except Hofstra agreed earlier in the school year to join another geographically far-flung league — the Mid-Continent Conference — for the start of the 1994-95 season.
In the shorter term, Hofstra wasn't sure it had a head coach. Van Breda Kolff missed the final four games of the regular season while being treated for an irregular heartbeat and still didn't feel 100 percent as he traveled upstate. Shortly before the opening tip against Chicago State, van Breda Kolff told a skeptical Dunleavy, who was the interim head coach down the stretch, he was fine.
"Two minutes into the game, a questionable call goes against us," Dunleavy said. "And he got so pissed off at the ref, he jumped up and I'm like 'Oh no I'm gonna lose him here.' He came back and sat down next to me and said 'Joe, goddamnit, I feel pretty good now.'"
The adrenaline rushes were just beginning. Hofstra, which was the fifth seed after going 1-4 in the regular season, beat Chicago State 86-77 in the opener to advance to the semifinals against top-seeded Troy State, which went 5-0 in ECC play. But the then-Flying Dutchmen pulled off a 90-89 upset when Darius Burton hit a layup just before the overtime buzzer. The other semifinal went two overtimes before Northeastern Illinois outlasted Buffalo, 83-81.
The championship game — aired to about 10 million homes on ESPN2, which was launched about seven months earlier and stylized as espn2 — also went into double overtime before Hofstra earned an 88-86 win.
The Flying Dutchmen mobbed each other before cutting down the nets and receiving championship watches. On the flight home, forward James Parisi said the pilot alerted passengers "…the ECC champs were on the plane."
While the Flying Dutchmen knew they weren't going to the NCAA Tournament, not everyone else in the pre-Internet era realized it. The Los Angeles Times ran a headline titled "Hofstra Makes NCAA Field As 9-20 Team."
"We won and we came away as champions — albeit, no one else knew it, there was no ESPN, no this, no that," Dunleavy said. "(To) everyone in that room, it meant everything in the world to us. That was our chance to win something and we did."
A little more than a month later, Hofstra solidified itself by joining the North Atlantic Conference (now known as America East). Over the last 27 years, Hofstra, Buffalo, Central Connecticut and Troy (which dropped the State in 2005) have combined to qualify for the NCAA Tournament 12 times while finding long-term homes in the CAA, Mid-American, Northeast and Sun Belt, respectively. Jay Wright began his Hall of Fame-bound career by succeeding van Breda Kolff at Hofstra while Buffalo made three NCAA Tournaments in four years under Nate Oats before he left for Alabama in March 2019.
Stability was harder to find for the Illinois-based schools. Northeastern Illinois dropped sports entirely following the 1997-98 season. Chicago State, a commuter school comprised largely of adult-aged students, finished over .500 in league play once in 12 seasons in the Mid-Continent and then spent three years as an independent before spending the last dozen years in the closet things to a modern-day ECC.
Chicago State won the Great West — a short-lived start-up with no automatic bid to the NCAA Tournament — and an accompanying berth in the CollegeInsider.com Tournament in 2013 before joining the Western Athletic Conference, the one-time powerhouse league which managed to hang on to its automatic bid by welcoming a mix of Division I newcomers and hodgepodge schools from states such as Missouri, Texas and Washington. But the Cougars have won just two WAC games in the last six years and went 0-9 in non-league play this season before opting out of the remainder of the campaign due to coronavirus concerns.
With the NCAA Tournament having turned into a program-defining goal for mid-majors, a curiosity such as the East Coast Conference of 1993-94 is unlikely to be repeated anytime soon — which makes it all the more unique for those who experienced it and, for Hofstra, far more joyful memories of a championship season that ended before the NCAA Tournament than those the program experienced in March 2020.
"We were a bunch of misfits and I think that added to the fun," said Van de Walle, who moved into corporate communications following his stint at Chicago State.
"It was great — I think it went under the radar a little bit," Burton said. "When you look back, we're only one of three teams to end their season with a win."
---
Jerry Beach has covered Hofstra sports since arriving on campus in the fall of 1993, when Wayne Chrebet was a junior wide receiver wearing No. 3, Butch van Breda Kolff was the men's basketball coach for the East Coast Conference champions and Jay Wright was a little-known yet surely well-dressed UNLV assistant coach. Check out Jerry's book about the 2000 World Series here and follow him on Twitter at @JerryBeach73.